Update 11:53am CT, Dec. 21: In a tweet posted Thursday, Rober that said some elements of his viral video had been prearranged without his knowledge. It turns out that two of the so-called thieves in the video below were friends of one of his acquaintances. Which means those reactions were set up and faked, something that wasn't obvious to Rober when he uploaded the original video.
He has since edited out that 93-second portion of the video, and he apologized.
"I'm really sorry about this," Rober said on Twitter. "I am responsible for the content that goes on my channel and I should have done more here. I can vouch that the reactions were genuine when the package was taken from my house. Having said that, I know my credibility is sort of shot."
Here's Rober's entire statement.
I posted this as a comment response to my recent viral tweet/video but I'm posting it as a new tweet as well: pic.twitter.com/g2VHsQWh1z

— Mark Rober (@MarkRober) December 20, 2018
The original story follows below.
Package thieves are common around the holiday season. As consumers stock up on gifts for friends and family, thieves take advantage of the unattended packages left on the stoops of homes and apartments. One former NASA engineer has had enough—and spent six months engineering the most complex, glitter-filled deterrent we've ever seen.
Mark Rober uploaded a video of his quest for vengeance to YouTube on Monday. He details the series of events that led to the creation of his thief deterrent. About seven months ago, Rober explains, a package was stolen from his front porch. Video confirmed the theft, but police were unable to catch whoever stole it.
Rober felt powerless and violated. Then he remembered that he had a very particular set of skills—skills that could perfectly contribute to vengeance on those who'd stolen from him. This realization led to six months of research and development.
Someone stole a package from me. Police wouldn't do anything about it so I spent the last 6 months engineering up some vigilante justice. Revenge is a dish best served fabulously. Vid link- https://t.co/9OjD6ETdbZ pic.twitter.com/u4o0doWglr

— Mark Rober (@MarkRober) December 18, 2018
Rober's impressive resume—which includes nine years spent designing hardware for the Curiosity Rover, which is currently on Mars—allowed him to create this over-engineered glitter bomb. His desire to record the reactions of any hapless thieves forced him to get creative.
A custom-printed circuit board ran the whole operation, with a built-in GPS to notify Rober when the package was removed from a small radius surrounding his home. Along with some impressive hardware, four phones are nestled inside the nifty device. They are set to start filming as soon as the package leaves the premises, promising a filmed reaction to Rober's retaliation.
Rober didn't stop there. Tucked in with the phones and tech was a simple can of fart spray. A small motor, activated by removing the lid, rotated and sprayed the can five times every 30 seconds. This all but guaranteed any would-be thieves ditched the package before discovering the phones inside. Most importantly, the top of the complicated device sported a small spinning cup attached to a hidden motor. Inside, Rober heaped as much high-quality glitter as he could fit. When thieves opened the lid, the motor kicked into gear and sprayed glitter in every direction.
This arduous revenge scheme had everything: Nifty tech, a can of farts, glitter, and even an homage to Kevin McCallister and the Home Alone series. Rober planned this prank perfectly, which is perhaps why it worked out so well.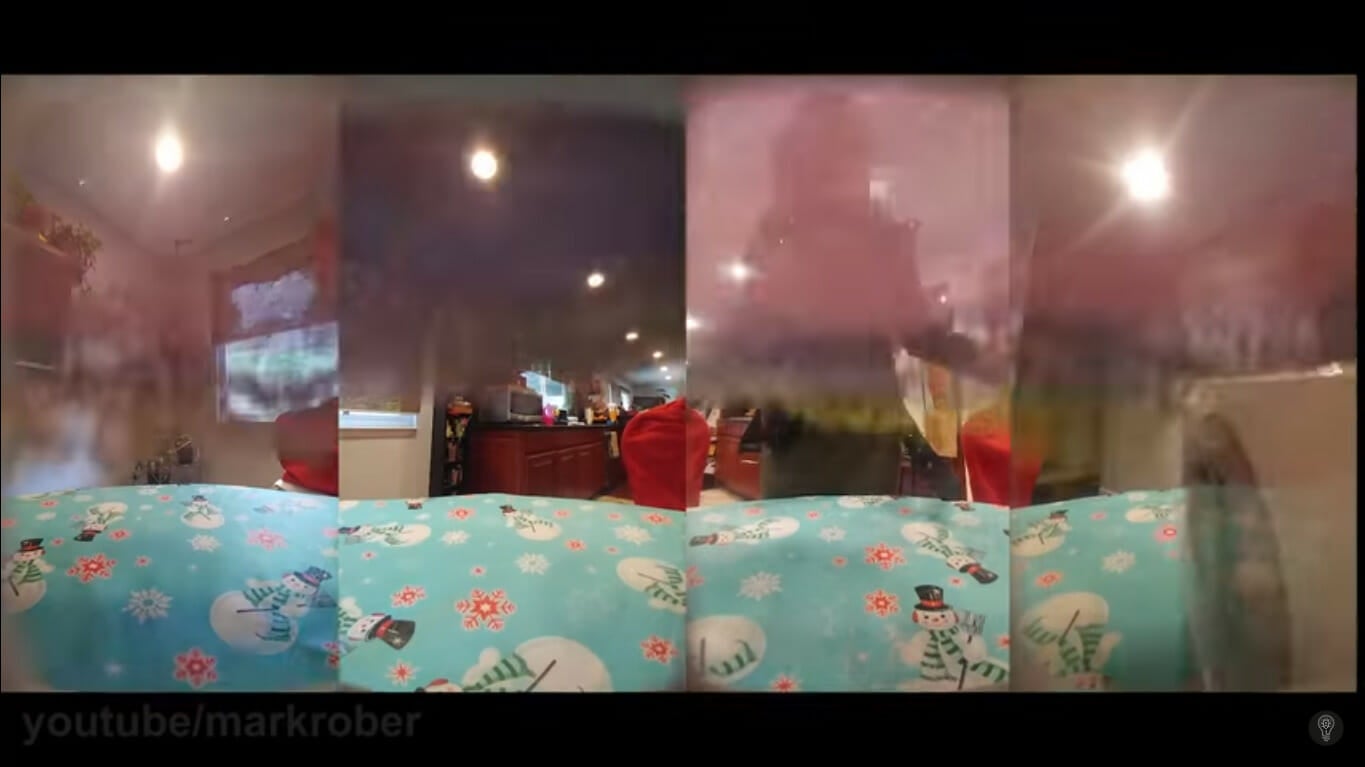 Watching that wave of glitter coat the clothes, cars, and homes of all the package thieves in Rober's neighborhood is jaw-dropping. Their outrage, which grows as the motor turns and fills their space with the choking smell of farts, is the cherry on top.