Every parent knows that the hour before you load your kid on the bus and ship them off to school is the most chaotic sixty minutes on the planet. "No you can't wear your Chewbacca costume to school. Where's your backpack? Stop fighting with your sister. What do you mean the science fair is today? Oh my god I forget to pack your lunch!"
So maybe this mother in Queensland, Australia can be forgiven for letting her daughter pack a Smirnoff vodka frozen cocktail instead of a juice pouch in her school lunch. Thankfully the mother didn't get in any trouble. She even posted a picture on Facebook with the caption: "EPIC lunchbox fail… when you tell your five-year-old Preppie to put a frozen juice pouch in her lunchbox and you forget the other pouches in your freezer!"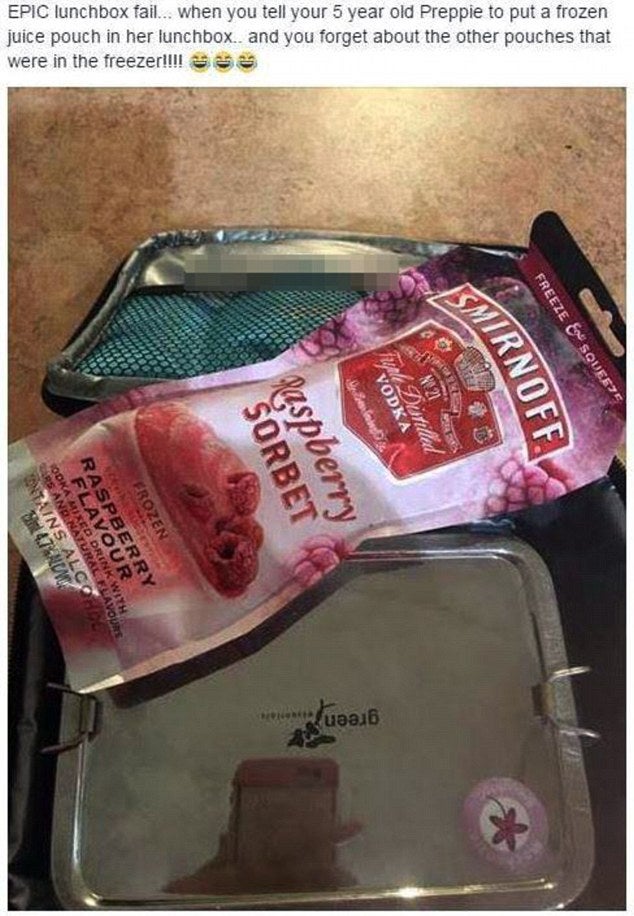 The upside of her kid being that young is that her teachers assumed it was a mistake. No way you're explaining your way out of this one if you're in high school.
Still, it had to be a shocking phone call for the mother to get.
"I apologized for not sending enough for the teachers and they just laughed thankfully," she wrote.
So the daughter avoided getting in trouble at school, the mom avoided getting in trouble with the police, and everyone had a good laugh.
Sounds like it's time for a drink.
H/T the LadBible