It started as just another day on the police force.
In early June 2011, Constable Suzanne Bourque received a call about a bear cub being fed by motorists at a Canadian rest stop.
When she arrived and saw the bear in the distance at the central Newfoundland rest stop near Terra Nova National Park, she sounded her car's siren, scaring the bear off into the woods.
Bourque, a constable in the Royal Canadian Mounted Police (RCMP), spent the next 45 minutes talking to motorists who were feeding the cub and waiting for her colleague to arrive. By the time she did, the bear had returned to the rest stop looking for more food. Bourque's colleague snapped this photo right after the bear brushed up against her leg: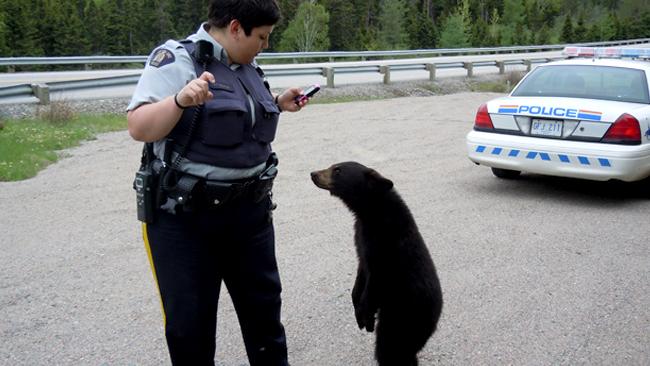 "It startled me," Bourque told me on the phone Thursday afternoon. 
From there the photo went sorta-kinda viral.
Bourque's story was initially reported on by Canadian news organizations like the CBC and The Telegram. But for the next two and a half years, the photo of Bourque and her furry friend slipped into obscurity, until it recently resurfaced on Tumblr. That's where a comic artist named Ami Guillen (lemonteaflower) saw Tumblr user roboticappendage mention how it would make for a great comic.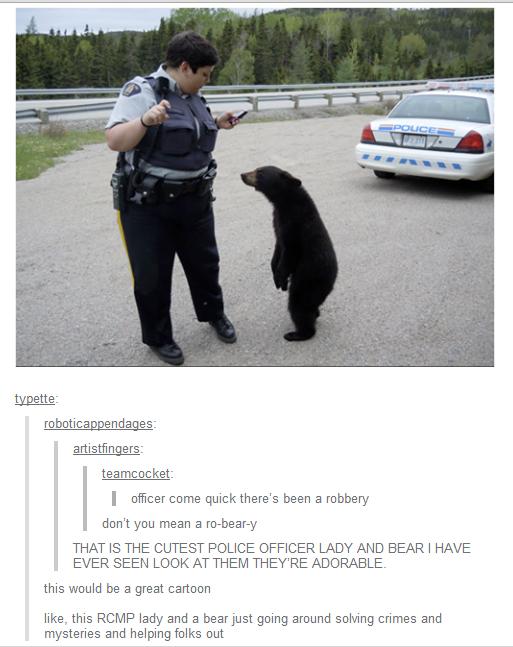 Ami Guillen called her series "Miss Officer and Mr Truffles." It featured Bourque and the bear "solving crimes, helping people, and jamming to Spice Girls."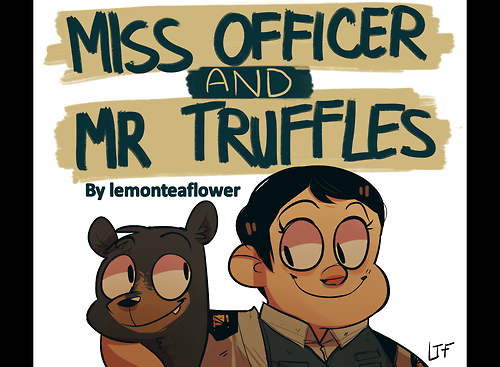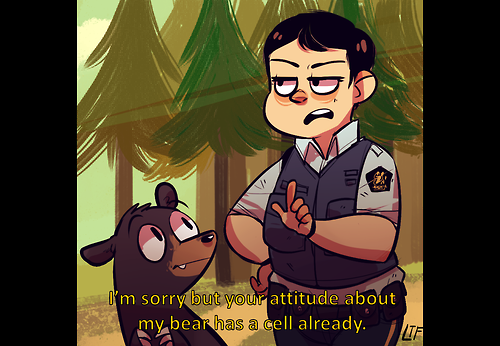 "I felt the need to make something close because that picture looked way too cute to pass on the opportunity," Guillen told us. "And I'm so glad I did it because it might be one of the best choices I've made up to now and I'm just so full of joy since everyone has been really nice about it, it's unbelievable."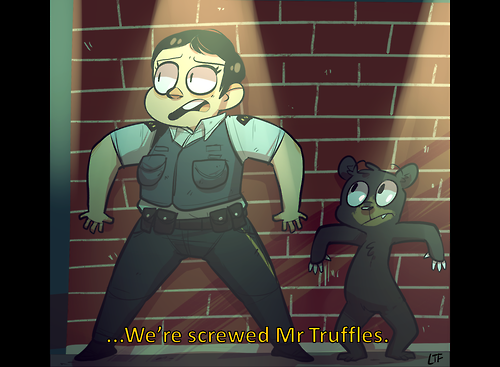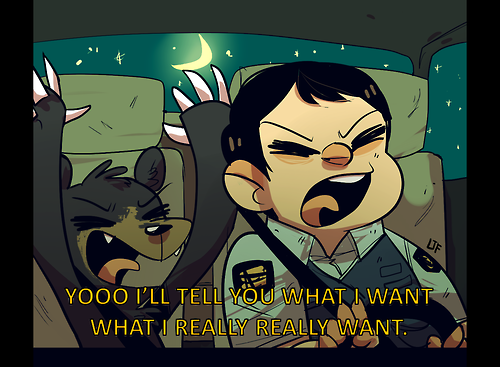 The series has been a massive Tumblr hit, collecting more than 169,000 notes in just the past six days. Two of those notes—a reblog and a like, to be specific—were from Know Your Meme cocreator Kenyatta Cheese. 
"I study fandoms for a living," Cheese told me. "The most fascinating fandoms are the ones that come not from TV or books or podcasts but the ones that emerge without canon … Miss Officer is pure fan canon. The story and characters developed out of reblog notes. There is art, music, and fanfic being created out nothing more than the shared emotion and narrative in the heads of those participating. And that's just f**king awesome."
What Cheese and the thousands of Tumblr users didn't realize was while Ari's comic had a fun ending, the real life bear did not.
A few weeks after Bourque was photographed, reports circulated claiming the bear had been killed.
"Wildlife officials caught the bear before moving it to a more isolated area, but the animal still returned to a restaurant on the Trans Canada Highway," The Telegraph reported."Kirby Tulk, acting director of conservation with Terra Nova National Park, said he had no choice but to euthanize the cub, after the warnings about not feeding it were ignored."
Bourque doesn't believe these reports are accurate.
She explained there were two bear cubs in the area that the RCMP was trying to capture. The one they euthanized wasn't the same one from the photo.
"I would never be able to prove it, obviously, [but] I like to think my corporal [wouldn't lie to me]," Bourque told me. "I said, 'You don't have to say this to me to make me feel better.' He said, 'No Suzanne, I wouldn't lie to you. I'm pretty confident it's not the same one because he looked bigger. He was too big.'"
Bourque, 31, still works in the RCMP in Whitbourne, Newfoundland. Two local news organizations have seen Guillen's comics and are running more stories on Bourque and her bear starting today.
"I thought [the comics] were quite awesome," Bourque said. "She's quite talented. I don't know what caught her attention about it. I must say, I'd like to be in contact with her to see how she got it in her mind."
So she did: Last night, lemonteaflower very excitedly posted a message she'd received from "IRL Miss Officer" that read, in part: "[W]hen I'm having a rough one at work, I'll be looking at these to make me smile!"
And really, that's its own sort of happy ending.
Photo via The Telegraph