As much as I'd love to fly to South Korea in a non-pandemic scenario and go to one of its famous beauty treatment facilities, it's just not in the budget right now (at least, not until I figure out how to become independently wealthy). That said, thanks to an innovative group of Korean scientists, the next best thing is here, and it's called a microcurrent facial.
If the idea of a treatment that's been called a "non-invasive" facelift sounds too good to be true to you, I hear you. After all, as much as I love the world of skincare, I'm also the first to say it's full of false promises. But skincare that can support its claims with exactly how it works–solid science, is what I'm saying–is a total turn on in my book. And when it comes to science, the Franz microcurrent mask is pretty much a game changer.
What is a microcurrent facial?
A microcurrent facial works by stimulating the muscles of the face with a very low level of electrical current. If your chiropractor has ever used a TENS unit on you, it's a similar idea but at a level of electricity so low you can hardly feel a thing. However, that low level dose still has a major effect on your skin. The results are a plumper overall appearance, lymphatic drainage, a more defined jawline and cheekbones, and an overall look of having had the best day ever.
Typically a microcurrent facial is performed by a technician in a spa setting, as you obviously need someone proficient enough to handle a machine that's going to send electrical current into your face. But one group of Korean scientists from Seoul National University thought there just might be a way to do this treatment at home, no machine needed. After five years of research, a collaboration with Biosensor Laboratories, and 49 patents, the Franz microcurrent mask was born.
Why would I want a microcurrent facial?
A natural function of aging is drooping, which we see everywhere from our faces to the skin on our bodies. Sending electrical stimulation into the muscles of the face is like lifting a weight at the gym to tone the muscles of another body part. We all know the difference between a toned butt and one that's never done a squat a day in its life, for example. It's a result of repeated toning.
Facial massage is also a great way to care for and tone your facial muscles, but you can't reach the deepest layers with your fingertips alone. Microcurrent, however, can reach it just fine. In addition, it's also been scientifically proven to stimulate the production of Adenosine triphosphate (ATP), which in turn boosts collagen and elastin production.
How does a microcurrent facial mask work?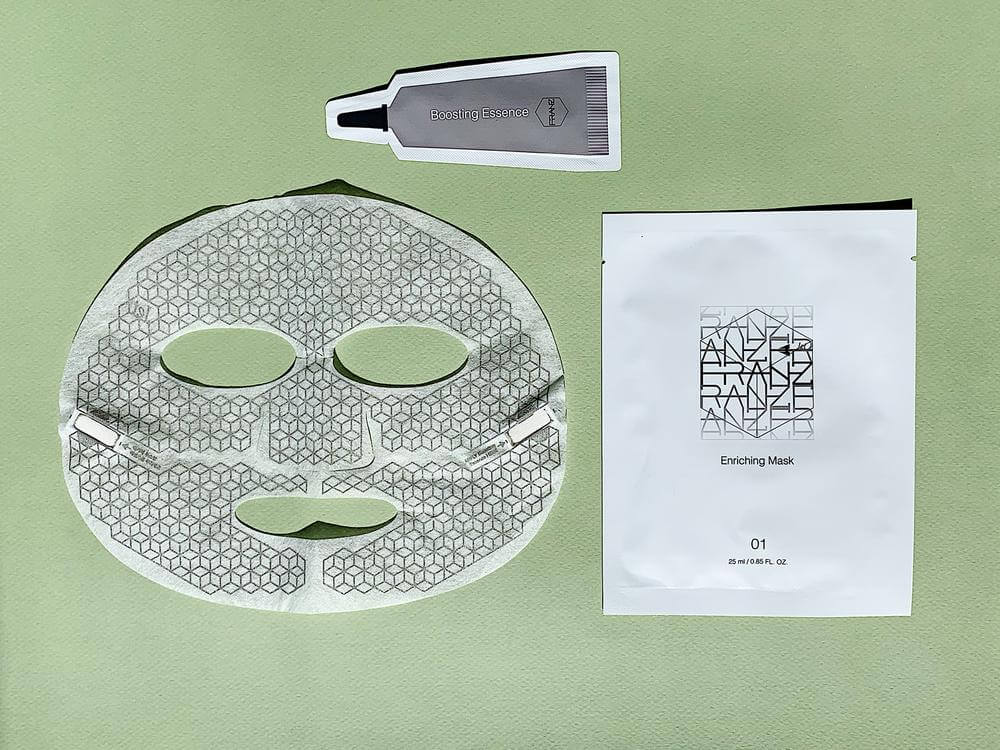 The only retailer you can buy the microcurrent mask from is Peach & Lily, which I highly recommend for its excellent products and thoughtful curation. Alicia Yoon, Peach & Lily's founder, says that she chose it because the technology is so breakthrough.
"It's the first product of its type to be used without a battery (or machine)," Yoon told the Daily Dot in a Facetime interview. "And it really is foolproof to use. You can leave it on for five or for 20 minutes because the level of microcurrent is so gentle."
So how does the mask actually work with no machine to power it? The secret is a thin layer of silver throughout the mask which acts as a conductor. The mask comes with a serum that is applied to the two tabs on each side. This serum activates the current, which is then evenly applied all over the face. Yoon says there is no noticeable sensation for her during most uses, but every once in a while she does feel a tightening in her facial muscles.
In addition to all this powerful tech, the mask also contains star ingredients skincare junkies already know and love, including hyaluronic acid, peptides, ceramides, and retinol. Yoon recommends doing the mask once a week and says it's the best way to see cumulative effects from its use.
Peach & Lily is running a limited BOGO deal on the masks right now, which comes with two boxes of the masks (four in total) and its bestselling Matcha Pudding Antioxidant Cream for $80. Considering that a microcurrent facial is priced between $250-$500 per session, $20 per session at home is pretty much the deal of the century.
While Peach & Lily has not yet decided if it will stock the masks regularly yet, it is seeking feedback from its customers on it, so if you try it and realize you can't live without it, let them know via Instagram.