We already know that memes play a role in shaping public opinion and spreading hateful content. White supremacists turned Pepe the Frog into a symbol for Trump supporters during the 2016 presidential election. The members of one of Reddit's most active forums, r/The_Donald, post anti-immigrant memes. On a lighter note, Hillary Clinton referenced an amusing Facebook post in her book What Happened. 
But how do these memes evolve and gain popularity across the internet? A recent study looked at millions of images posted between July 2016 and July 2017 in an attempt to answer that question. The study, which was conducted by researchers at Cyprus University of Technology, University College London, the University of Alabama at Birmingham, and King's College London, focused on four communities: Twitter, Reddit, Gab, and 4chan's Politically Incorrect Board, or /pol/. These communities were chosen because they all impact the "information ecosystem" and disseminate "weaponized memes" for political propaganda.
Although it's probably not surprising to anyone who spends a lot of time on the internet, the researchers found that these communities post very different types of memes. Reddit and Twitter post more of what they call "fun" or "neutral" memes, while Gab and 4chan's /pol/ skew toward racist and political memes. Sad Frog, a Pepe meme, was the most popular meme on /pol/, while ManningFace was the most popular meme on Reddit and Roll Safe (featuring actor Kayode Ewumi pointing at his head) was the most popular meme on Twitter. Reddit users are also interested in political memes above all other types of memes.
READ MORE:
"When measuring the influence each community has with respect to disseminating memes to other Web communities, we found that /pol/ has the largest overall influence for racist and political memes, however, /pol/ was the least efficient, i.e., in terms of influence w.r.t. the total number of memes posted, while The Donald is very successful in pushing memes to both fringe and mainstream Web communities," the study concluded.
The study also found that r/The_Donald is "the most efficient community in pushing memes to both fringe and mainstream Web communities" and that Donald Trump was the most popular person featured in memes across all the communities. Since the study looked at memes beginning a few months before the 2016 election, and the months after Trump became president, that's not exactly revelatory information.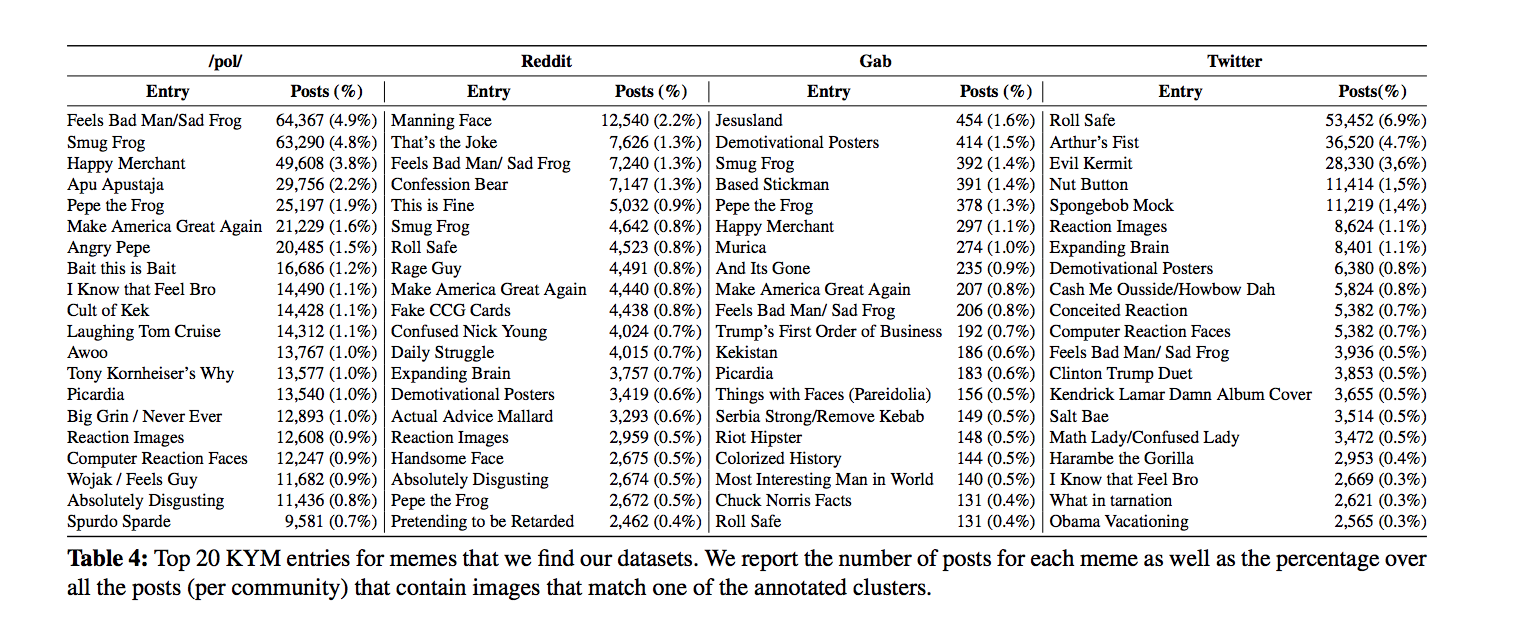 The entire study is 20 pages long and includes some interesting details on how memes are created and propagated across different websites. It's worth checking out the entire document if you're into dissections of internet culture.
"Our work constitutes the first attempt to provide a multiplatform measurement of the meme ecosystem, with a focus on fringe and potentially dangerous communities," the researchers wrote. "Considering the increasing relevance of digital information on world events, our study provides a building block for future cultural anthropology work, as well as for building systems to protect against the dissemination of harmful ideologies."
In the future, the team plans to study the textual content in memes, as well as video memes.