A&E has canceled its popular documentary crime show, Live PD, amid nationwide protests against police brutality and reports that the show deleted footage of a fatal arrest in 2019.
People, who appeared to be mostly white and conservative, started the trending hashtag "#BoycottAandE," saying the network shouldn't cancel the show just to "appease a tiny number of fringe activist cranks."
"Jaw dropping….this is f*cking bullsh*t…#BringBackLivePD #BoycottAandE and a BIG f*ck you to @AETV spineless scumbags," Twitter user @gbaby97 wrote on Twitter.
In response to the meltdowns, people hijacked the hashtag to make fun of the "Karens" and "Kyles" who are sad about not being able to watch their cop show.
"This hashtag is funny. Y'all so damn funny in your desires to be oppressed," Twitter user @Gemini_527 wrote. "Make mountains outta molehills for every damn thing."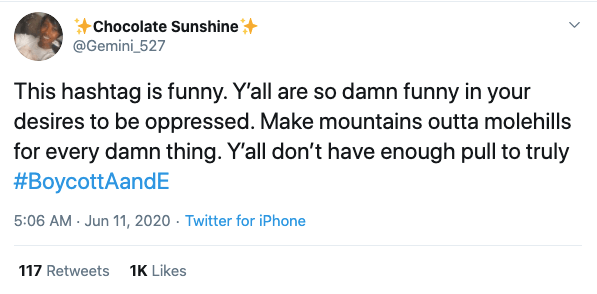 The show was in hot water over the last couple weeks as protests against police brutality swept the nation. Advocates have long said the series fetishizes police, makes policing people of color entertainment, and cultivates racist stereotypes.
"Going forward, we will determine if there is a clear pathway to tell the stories of both the community and the police officers whose role it is to serve them," A&E said in a statement.
The fate of Live PD came into question this weekend when A&E pulled new episodes from the TV schedule in light of the protests against police brutality.
Then the Austin American-Statesman slammed the show earlier this week with a report that the series deleted footage of the arrest of Javier Ambler, the 40-year-old unarmed Black man in Texas who died after begging for his life and saying he couldn't breathe as he was tased four times. The police pulled him over for not dimming his headlights for oncoming traffic.
The Statesman reported that the show didn't turn over the footage to investigators and instead deleted it. A&E denied the reporting, saying investigators never asked the network for the footage.
But less than two days after the Statesman released its report, A&E pulled the plug on the show. Live PD host Dan Abrams said on Twitter that he was "shocked" and "beyond disappointed."
"To the loyal #LivePDNation please know I, we, did everything we could to fight for you, and for our continuing effort at transparency in policing," he wrote. "I was convinced the show would go on."
READ MORE: