Nine-year-old rapper Lil Poopy continues to scoff in the face of logic, reason, and legitimate, undeniable conceptions of truth and actuality. 
Pressed by YouTube over the way his "Lil Poopy Gettin' It In" video depicts the young rapper slapping grown women on the butt, and under the watchful eye of Massachusetts' Department of Children and Families for the fact that his father let him make such a video, the fascinatingly connected Lil Poopy (real name Luie Rivera Jr.) has remained unwavering and unapologetic in his certainty that the world belongs to him. 
Wednesday afternoon, right before YouTube removed his video from the site for violating a very loosely maintained Terms of Service guideline, Poopy turned to Twitter to let the world know how he felt about his prowess: Even Justin Bieber wants to stand in his shoes.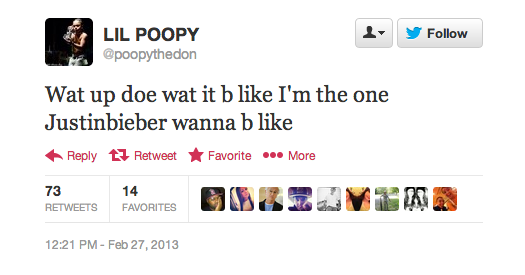 Justin Bieber, currently jetsetting through England on a tour with a million models, did not respond to the claims. 
Photo via Hot97 Boston/Facebook