Every year around Mother's Day, the Social Security Administration releases its annual list of the most popular names parents chose for their children in the most recent calendar year. And one of the newest entries on that list rising in popularity has gone to the dark side.
It's not unusual for parents to name their children after popular characters. Khaleesi, the Dothraki word for "queen," has been among the top 1,000 girls' names for a few years now. And with Leia and Anakin in past years, parents have looked to Star Wars to name their babies before. But more than a year after the release of The Force Awakens, the first trending baby name to emerge from the newest edition of the Star Wars franchise is Kylo.
That's right. Parents are now naming their sons after Kylo Ren, the name taken up by Ben Solo, the son of Han Solo and Leia Organa.
According to the SSA's website, 238 people named their sons Kylo in 2016, putting the name's debut on the top 1,000 list at 901.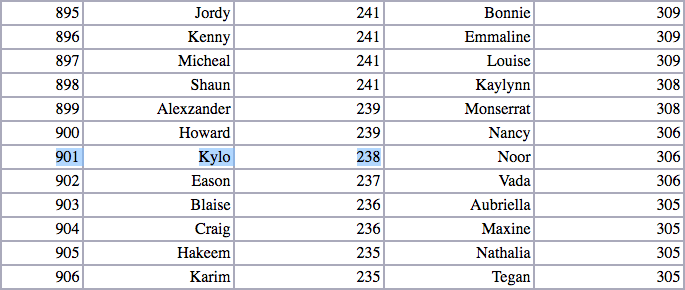 It's not many compared to the overall list—the top 10 boys' names on the list alone accounted for more than 153,000 boys—but it's a dramatic debut for a name that until recently would've been mistaken as a typo for "Kyle."
Laura Wattenberg, who writes about baby name trends on her blog Baby Name Wizard, called Kylo the fastest-rising boys' name of 2016, noted some of the other factors that would've made Kylo an appealing choice for new parents despite Kylo Ren's dark streak. For one thing, he killed his father—one of Star Wars' most beloved characters—in The Force Awakens.
"This name stands as a supreme demonstration that celebrity-inspired naming today is all about style, not about homages," Wattenberg wrote. "The name's sound couldn't be hotter, a Kai/Milo hybrid that puts a fresh coat of cool on old favorite Kyle."
Wattenberg also named Bodhi as another fast-rising boy's name of 2016, which Rogue One fans will recognize as the name of the Imperial pilot who defected to the Rebellion. However, the name Bodhi has appeared on the SSA's top 1,000 baby names list since 2010—it's gone from 907 to 363 in seven years—so its rise in popularity can't completely be attributed to Star Wars.

Other popular Star Wars characters' names such as Finn and Rey have shown up on the SSA's list, although neither can link their appearance strictly to Star Wars. While Rey been among the top 1,000 baby names since 1999 it has yet to break into the girls' list. Finn's popularity has risen long before John Boyega's character took up the name, and it's now the 175th most popular boys' name.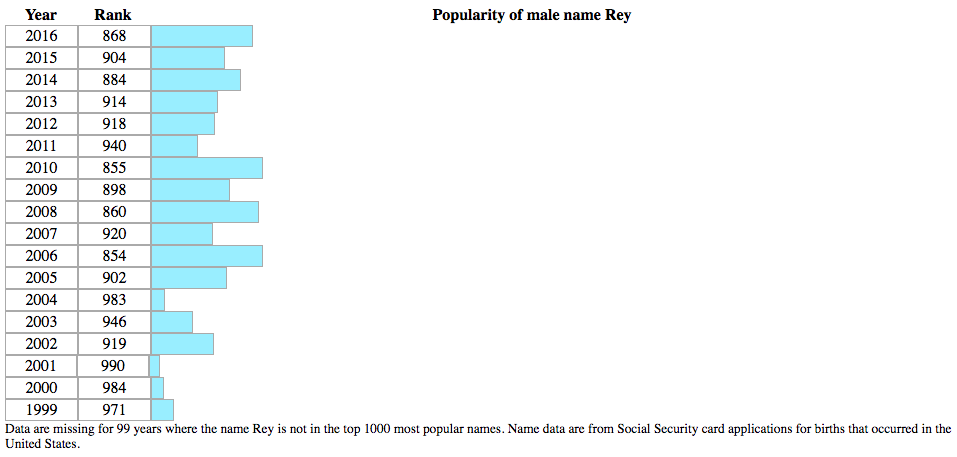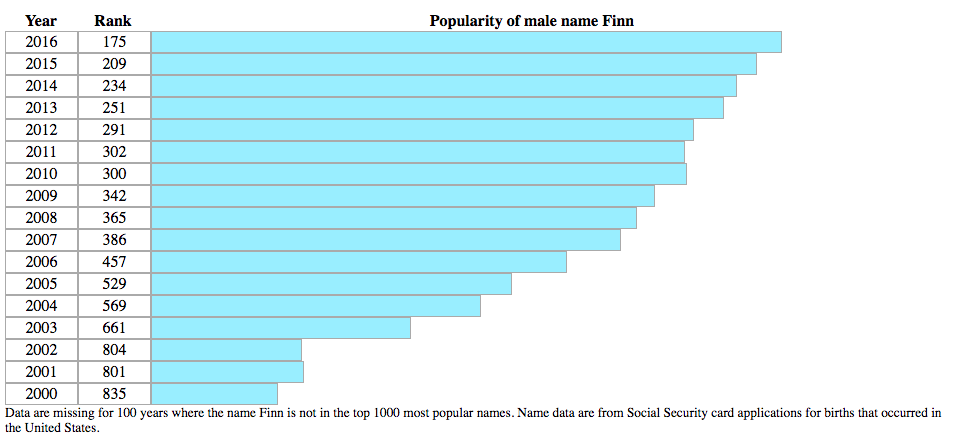 With the success of Rogue One and the release of The Last Jedi coming out this, we'll have to wait to see if other beloved characters' names like Rey, Jyn, Cassian, and Poe will break through next year.
H/T Baby Name Wizard