Kodak Black uploaded an Instagram post seemingly throwing $100 bills in the ocean, sparking outrage across social media.
In a video posted early Wednesday morning, the rapper could be seen throwing what appeared to be stacks of $100 bills off the side of a boat. In an Instagram Story posted later that day, he also filmed himself flushing money down the toilet.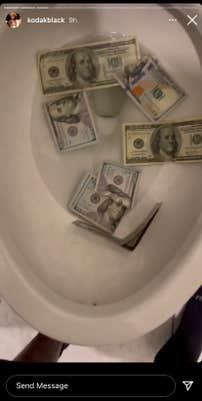 The videos caused such a stir that Kodak Black began trending on Twitter, with folks sharing mixed reactions to the post. Some people felt that he should've donated his money to charity and criticized the video for being "out of touch."
"Hes from one of the poorest places in Florida and yet he rather impress people for views instead of giving that money to black poverty stricken families," one tweet read. "This could be one of the saddest and out of touch videos I've ever seen."
Others took the opportunity to bemoan their own financial woes, posting memes about their own bills and jobs compared to Kodak Black's flex.
Some people defended the rapper, saying he's entitled to do what he wants with his money. Folks even tweeted about swimming to find the discarded cash.
People were also in his Instagram comments asking the rapper to drop a pin so they could find the money.
"Drop that longitude and latitude," @snipergangapparel, a merch account affiliated with the rapper, wrote. "Asking for a friend."
"What part of the water you in send me the coordinates imma need allat you just threw in the water," @cjgocrazy_ said.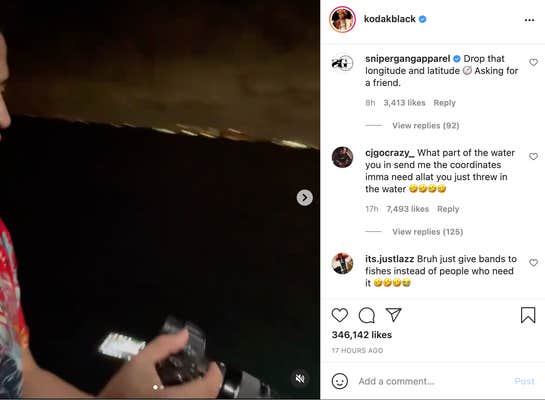 Kodak Black has posted about using fake money to flex in the past, so it's likely no real currency was wasted. Still, the Daily Dot reached out to the rapper's representatives for comment.
"That money you be seeing me with on Instagram that be fake money, that be prop money," he said in an old clip reposted by XXL on Twitter.
Fake money or not, some folks still had a problem with the vids—namely, the environmental harm.
"It is probably about $10 worth of fake money but still pollution and wasteful," one person tweeted.
---
More essential culture reads
---