Kirk Cameron, the former child star turned evangelical gay-hating wunderkind, is convinced he's at the center of a vast social media conspiracy. He wants the world to see the trailer for his new film, but when its not getting blocked on Facebook, it's getting dumped from YouTube.
Is this an honest mistake, or part of a campaign to silence religious conservatives on Facebook? You can guess how his supporters see it.
The movie, called Unstoppable and funded by Jerry Falwell's Liberty University, is about finding God "in the midst of tragedy and suffering," This is a less hate-filled divergence than many of Cameron's other favorite topics—like how the gays are destroying civilization—so it was indeed a little odd when Facebook banned links to the trailer, claiming the content was "abusive" and "unsafe."
On his Facebook account, Cameron marshalled his fans to complain directly to Facebook. About 250,000 people liked that post, 80,000 shared it (again, on Facebook) and soon enough they'd made enough noise for Facebook to change its tune. People power!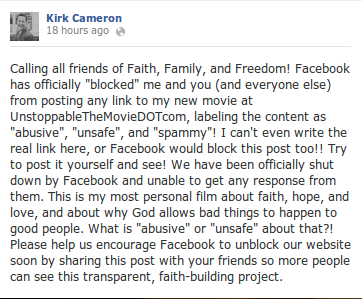 But as soon as things were safe on Facebook, the trailer got booted from YouTube.  "Can you all talk to YouTube??" Cameron asked his followers earlier today, shortly after declaring victory over Facebook.
They have blocked and labeled the Unstoppable trailer as 'spam," "scam' and 'deceptive'! We did it once, we can do it again.
Cameron's supporters are convinced it's a Facebook censorship campaign—and they've actually got a pretty good case. Facebook's had a bad habit recently of temporarily booting well known conservatives or blocking their posts, including those from Fox News' Ted Stearns and blog duo Chicks on the Right.
There's a more likely culprit, however, and the fact that Unstoppable's troubles followed it from Facebook to YouTube provides a pretty compelling clue.
Here's what's probably happening: Conservatives' ideological enemies are trolling them with phony abuse reports, initiating automated bans. Both YouTube and Facebook rely on these user reports to police and report content, and while the specifics of how these processes work are not clear, it's likely that they automatically block content after reports cross a certain threshold.
So conservatives probably aren't being victimized by corporate censorship. They're falling prey to trolls.
Photo via Kirk Cameron/Facebook