United States defender John Anthony Brooks' goal in the 86th minute of yesterday's thrilling, white knuckle-inducing 2-1 World Cup victory over Ghana proved one of the all-time vindicating and relieving goals in the history of American soccer. 
But did you know that it also made Brooks one of the most storied Americans since Abraham Lincoln? That's what the devious minds at Wikipedia would have you believe, at least.
Brooks' goal, made via a header on a corner kick, sent rogue Wikipedia editors into a frenzy. Their amendments came swiftly and steadily, first via the defender's introductory paragraph, in which his basic facts (name, birth date, club team) received a brief footnote of "HE IS AMAZING AND SAVED THE USA AGAINST GHANA."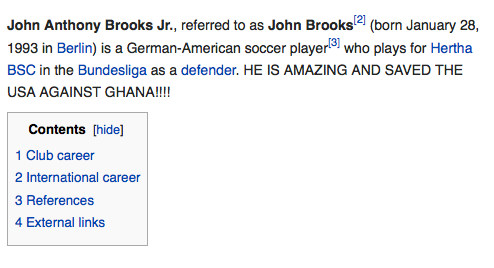 A few minutes later, it was discovered that Brooks ranked amongst John F. Kennedy, Chuck Norris, and Abe Lincoln as true American heroes
His dossier on international activity became brighter just two minutes later, as it was determined that he was "A GOD AMONG MEN." Three minutes after that, he became "the greatest American import since the British."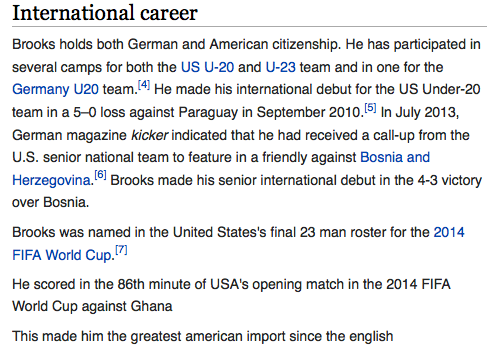 Wikipedia moderators protected the page from receiving edits from unconfirmed users one minute before 8pm, but not before a few wayward editors had the chance to once again compare him to Abe Lincoln and assert him as a God.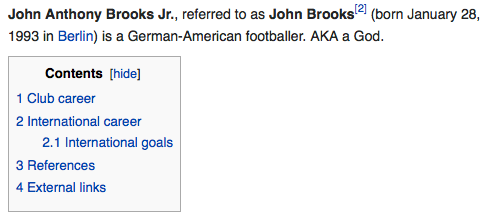 Clearly, that goal Brooks scored meant a whole lot.