Italian authorities have searched the homes of 35 members of Stormfront.org, the most popular white nationalist forum online. 
Individuals ranging in age from 17 to 35 from across Italy are under investigation for spreading ideas "based on racial and ethnic hatred and incitement to commit acts of discrimination and violence for racist and ethnic reasons," reports Forward.
Sergio Bettoni, a 51-year-old local politician in Mantova, Italy, was arrested for harboring illegal weapons in addition to inciting racial hatred, reports La Gazzetta di Mantova. Police say Bettoni was found with rifles, grenades, bayonets, and a swastika flag.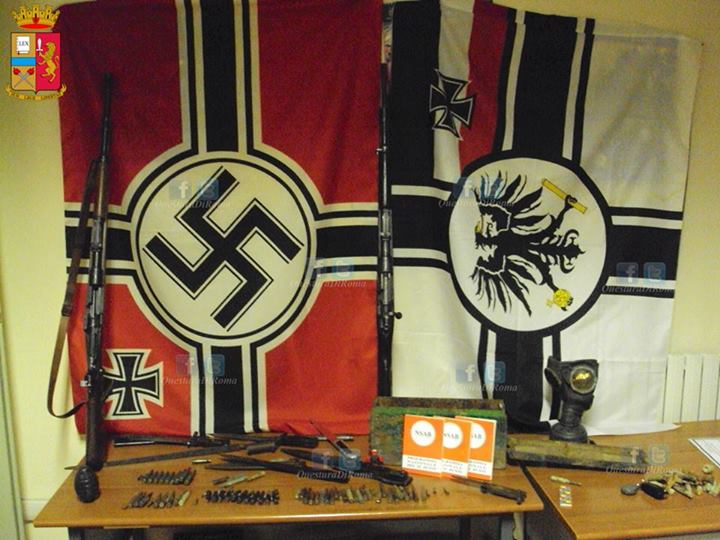 Photo via olodogma.com
Bettoni allegedly used the name "adolf galland1" on Stormfront. Adolf joined the forum in November 2010 to "share initiatives and ideas." Throughout his time on Stormfront, he professed an anti-theistic, pro-Italian Nazi ideology. He expressed intense disdain for gays and Jews while penning birthday tributes to Adolf Hitler and wondering how to solve the "Jewish problem."
Stormfront is the home of white supremacism on the Internet.  Launched in 1990 to help former KKK Grand Wizard David Duke organize a failed U.S. Senate campaign in Louisiana, it's been called "the most influential hate site on the net" by the Southern Poverty Law Center. The website opened to the public in the mid-1990s and came to national attention in 2000 when CBS featured the site in Hate.com, a documentary about the online white supremacy movement.
By 2002, Stormfront had 5,000 members. In the past 12 months, the website has gained 81,210 members, for a total of 276,146 and growing.
"This is a dangerous organization under an ideological profile that finds its roots in a historical period that apparently seems distant," Italian prosecutor Giancarlo Capaldo said, according to Forward. "We must deal with the ideological extremism that is stirring in Europe."
Last year, Italian authorities blocked access to Stormfront, raided 17 homes, and arrested four people "on charges of inciting racial and ethnic hatred and anti-semitism."
On Stormfront, members are appalled by the arrests based on laws that do not exist in the United States.
"Americans find it hard to believe," wrote Stormfront staffer Jack Boot, "but yes, throughout the West, including Canada, you can be jailed for holding 'wrong' opinions."
Members claim the arrests are for "thought crimes," a callback to George Orwell's dystopian novel Nineteen Eighty-Four.
"Just more intimidation," Stormfront member StAloysius wrote. "They arrest people for the crime of posting on a forum. Once again, they show that 'democracy' means nothing. Denying people their rights won't solve anything."
Photo via Dave Kellem/Flickr