The trailer for the latest adaption of Stephen King's IT looks as terrifying as we'd all hoped it would be. King's classic tale of an ancient evil stalking children in a small American town struck fear into the hearts of readers back in 1987. Now with '80s horror nostalgia at an all-time high, thanks to shows like Stranger Things, the movie has blockbuster written all over it.
The monster from the novel is a shapeshifter who can take the form of its victims' greatest fear, so a clown seems like a perfect choice. What else could so terrify both child and adult alike?
Well, here's one answer: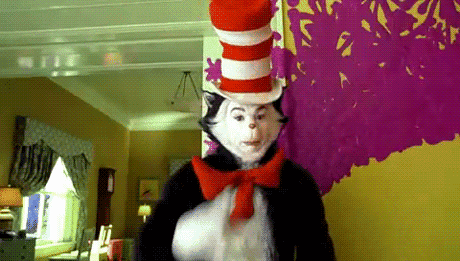 Back in 2003, Mike Myers starred in a movie version of another classic book: Dr. Seuss' The Cat in the Hat. It's a film which currently stands at a whopping 10 percent on Rotten Tomatoes. Myer's clown-like makeup, and the fact that this grown-ass man is willing to waltz right into the home of two children while their parents are gone, makes this cat every bit as terrifying as Pennywise the clown. Maybe that's why it was so easy for people to imagine him pulling off some history's best-known assassinations.
Now, in what might be the ultimate form of terror, someone recut the IT trailer, replacing Pennywise with Myers' cat. Warning: This video is not for the faint of heart.
IT premiers in theaters this September and will be the first part of a two-part series. Hopefully, that means we'll get another re-imagined trailer in a few years. Lord knows there are enough terrifying children's characters to work with.