The first day of April used to be an occasion on which you were shocked that mom didn't taste all that salt you poured into her coffee. Now it's a day to distrust the Internet more than usual, as every brand, message board, and social media player endeavors to make you freak out over untrue facts. Because who doesn't love getting pranked by a website?
Google, as usual, is the guiltiest of all.
For starters, the company rolled out several unlikely inventions, including a "Magic Hand" smartphone assistant, a Pokémon-enhanced version of Google Maps, a Branson-approved method of controlling seat temperature on Virgin Airlines, a crowdsourcing dating service, a Chrome feature that helps to "emojify" the Web, and a résumé-tweaking tool called "AutoAwesome."  
Google additionally suggested that the YouTube staff creates, edits, and uploads every viral video ever shared on the site—a transparently bogus claim that a majority of commenters were sadly predisposed to believe.
Log into AdSense, meanwhile, and you'll find out about the "Top planets and moons."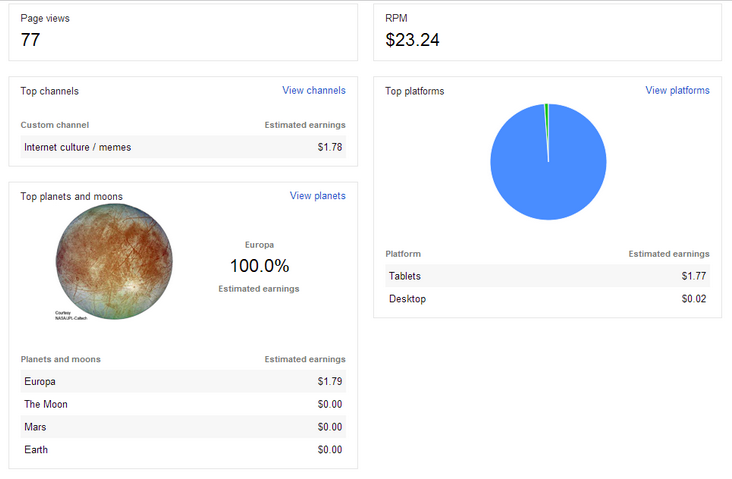 There was also the announcement of the "Gmail Shelfie," which theoretically made it easier for other users to set a selfie of you as their custom Gmail theme… because that was so difficult beforehand? Kind of weak, Google.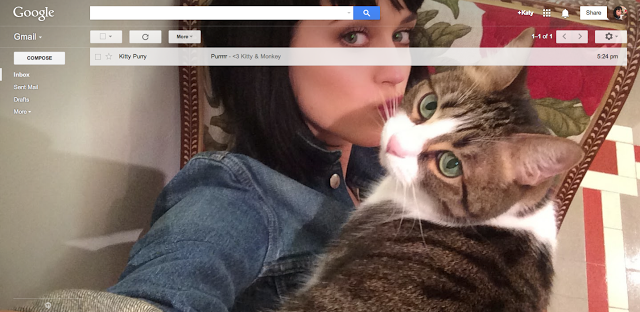 Far better ideas, we'd argue, are the AutoAwesome "update" that allows the addition of epic photobombs to your snapshots (but only if the photobomber is David Hasselhoff, much to the guy's apparent delight/endorsement) and the kitty keyboard, which will translate your fussy feline's casual QWERTY stompings into something like human language.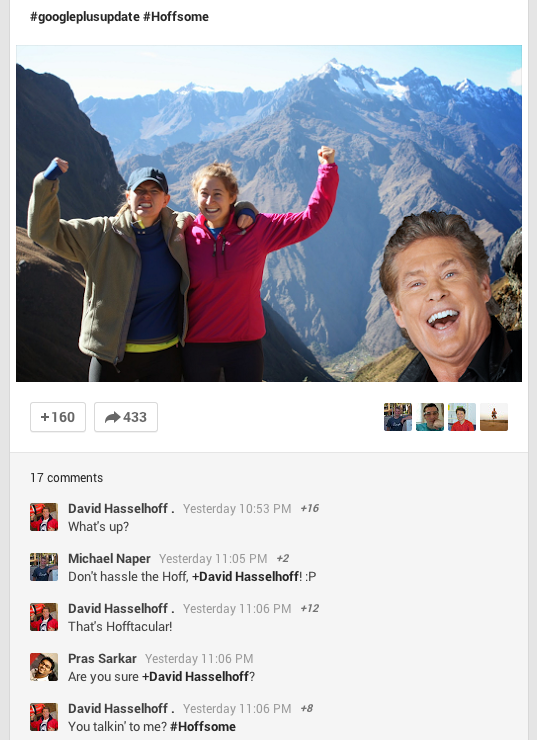 Google wasn't the only Web company gunning for guffaws, of course. Netflix unveiled the slow-burning but sensuous 73-minute film Rotisserie Chicken, a sequel of sorts to their beloved holiday offering Fireplace for Your Home. (For some reason, it's not available in the U.K.—sorry lads.)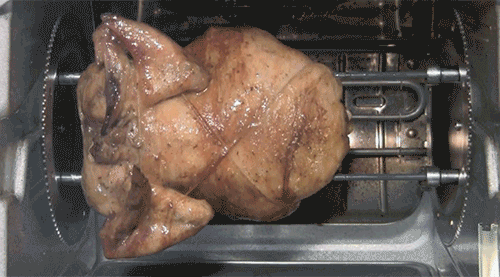 Tumblr trolled people with a new "Pro" option that should have raised alarms by dint of its price: zero dollars. Anyone who installed it had a top hat superimposed on their avatar, which seemed innocuous enough until it appeared that all such accounts were marked for deletion by Tumblr staff. 
Reddit took the opportunity to roll out "headdit," a "revolutionary way" to browse the site that relies on facial cues and gestures. The subreddit r/books got an early start on the holiday with a post declaring that discussion of certain overly popular titles—including George Orwell's 1984 and the Song of Ice and Fire series—would be effectively banned.
HTC and Samsung must have been embarrassed to offer identical and totally predictable gags—wearable tech gloves. Toshiba did the same. Twitter really half-assed things this year with a paragraph about the Twitter Helmet™, a similar phony gadget. ThinkGeek pulled out all the stops, "product testing" a host of items that include a Flux Capacitor, the NERF Nuke weapon, a Rosetta Stone program for learning to speak Klingon, and a laser-guided tactical necktie.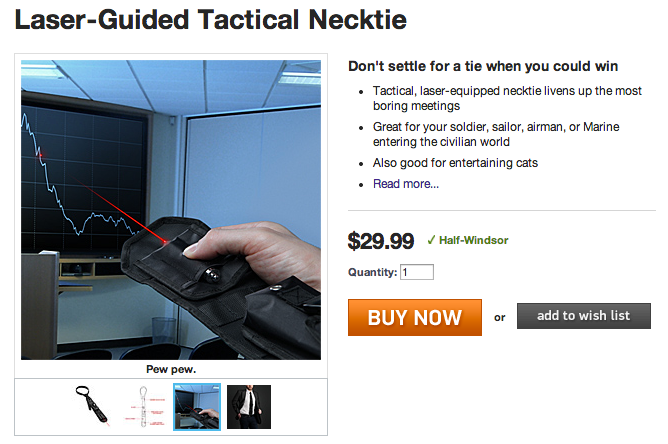 Roku went with the "Roku Watch," another piece of high-tech apparel. (Are we seeing a theme? Thanks a lot, Google Glass.) Pirate Bay went further, teasing a William Gibson-ish development that would soon have torrenters living inside or acting out the various digital media they download. Hewing closer to plausibility, though not by much, was a rumor that Facebook was acquiring the Linux operating system Ubuntu for a cool $3 billion. Giphy is just straight up GIF-bombing every website in the world with animated text.
@coolhunting Did you guys redesign your website? Looks great! https://t.co/mjOhjzELYc

— Giphy (@giphy) April 1, 2014
There were also some flavorful fake campaigns from Cheetos (a cheesy fragrance called Cheetau by Chester), Tic Tac (a "shakeless" bubble-wrap-lined package to prevent telltale rattles), and BuildDirect (edible chocolate flooring). In the fashion world, we had American Eagle's "American Beagle" clothing line and True&Co.'s bras for cats—who can also now peruse customized onesies that give them the appearance of a small, bloated human.
We think that covers just about everything—except for a tourism office in Florida fabricating evidence of a manatee-dolphin hybrid. And Michael Bay telling everyone that two more Bad Boys sequels are forthcoming. But surely there's plenty more pranks to come, or a handful of efforts that didn't even register as funny. When a traditional round of low-stakes japery is eclipsed by corporations hoping to appear whimsically creative and non-threatening, it can be difficult to tell disastrous marketing apart from a lackluster joke, so remain vigilant.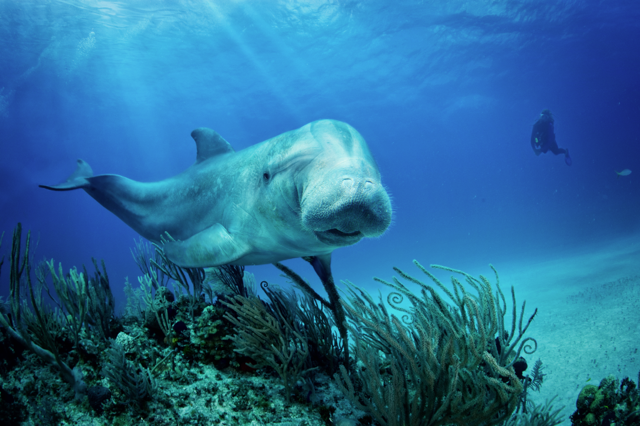 Oh, and Deadmaus5's Twitter account wasn't actually hacked. Happy nothing-is-real day!
#MillionMau5March pic.twitter.com/EboulR1OWr

— Anonymous (@YourAnonNews) April 1, 2014
Update: More forced humor for you: Reddit's /r/pics has gone all-ASCII, Fark is posting news from 2004, the Electronic Frontier Foundation cooked up a bunch of goofy stories, the Guardian highlighted an unusual Instagram filter, the Colbert Report Twitter feed has gone temporarily dark following the #CancelColbert outcry, CERN is switching to Comic Sans, Nokia's got a new outdated phone, Asana launched a nightmarish productivity tool, CrowdTilt is raising funds for Silicon Island, Apple bought iFixit, Sega is going after Oculus Rift, Missouri University of Science and Technology has been taken over by doge, and TechCrunch posted something gross that you absolutely should not read. Finally, here's a promotion for Shoestagram by Fueled, plus videos from Lyft and other would-be startups angling for pity lulz.
OK, one more bonus gag:
The FRAKTA duvet cover set made from #IKEA Blue Bags! Rest easy, because your Swede dreams are made from these pic.twitter.com/0g0HLCaiqD

— IKEA USA (@DesignByIKEA) April 1, 2014
Photo via manaphin.com