On Tuesday, Tory Lanez was sentenced to 10 years in prison for the 2020 shooting of Megan Thee Stallion. Before the sentencing, the judge read a series of letters supporting Lanez, and one was from Iggy Azalea.
Parts of the letter circulated this week, leading Azalea, who claimed she didn't know it would be read publicly, to attempt some damage control on Twitter. But the full three-page letter, obtained by reporter Meghann Cuniff, contradicts the rebuttals in Azalea's now-deleted tweet.
In the letter, Azalea starts by stating she's been a "successful musician for the last decade," which many people immediately took issue with. Cuniff notes that the letter was written in February, and Azalea says in it that she spoke to Lanez "last week." She also refers to him by his real name: "Daystar Peterson is not the pest you've heard about, he's a gardener. He helps others bloom. Any leniency you may afford him would be something you can be proud of."
She says that she never witnessed Lanez "loose [sic] his temper or raise his voice at a woman. He's always been incredibly respectful of me and I refuse to believe that he would do anything in malice especially to a woman."
Azalea also mentions being a victim of abuse, but Lanez was convicted of doing something in malice to a woman, Megan Thee Stallion, and people took this as an opportunity to call out what's always been Azalea's schtick.
"It's not enough this Australian white woman has decided to cosplay as a black American woman as her career choice, she is protecting a man who is out here being violent towards black women on top?" said @xm_muva.
Azalea also said she hired six of Lanez's employees "so that they remain in a position to transition back into running his business when he's completed his sentence," and reveals that "prior to his conviction," she hired Lanez to be the "executive producer on my next album."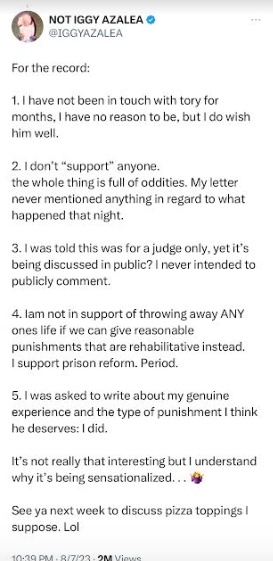 One of the bullet points in her deleted tweet claimed she doesn't "'support' anyone," but this letter disproves that.


We crawl the web so you don't have to.
Sign up for the Daily Dot newsletter to get the best and worst of the internet in your inbox every day.