Stock photo modeling is a goofy business. Through distributors like Shutterstock, you can find photos of people doing just about anything, from eating eggshells to shooting a hamburger with a gun. The absurdity of these images has been celebrated in listicles like "50 Completely Unexplainable Stock Photos" and subreddits like r/wtfstockphotos, but it's rare that anyone cares about the real people behind the photos. "Hide the Pain Harold," known in real life as András Arató, is a wonderful exception.
Internet fame came knocking for Arató, 72, back in 2010. Arató worked as a lighting technician in Budapest, and he had just picked up the hobby of posting his selfies on a Hungarian image sharing site. His rugged older gentleman vibe caught the attention of a photographer who sold photos to the stock photo website Dreamstime. Did Arató want to become a model? Sure. Why not? He didn't realize he was also about to become an online icon, beloved worldwide by meme-making strangers a quarter of his age.
Arató stars in dozens of stock images, playing chess and golf, typing on a laptop, and working as a doctor. But you most likely know him for this one, where he looks at the camera with what seems to be a forced, pained smile: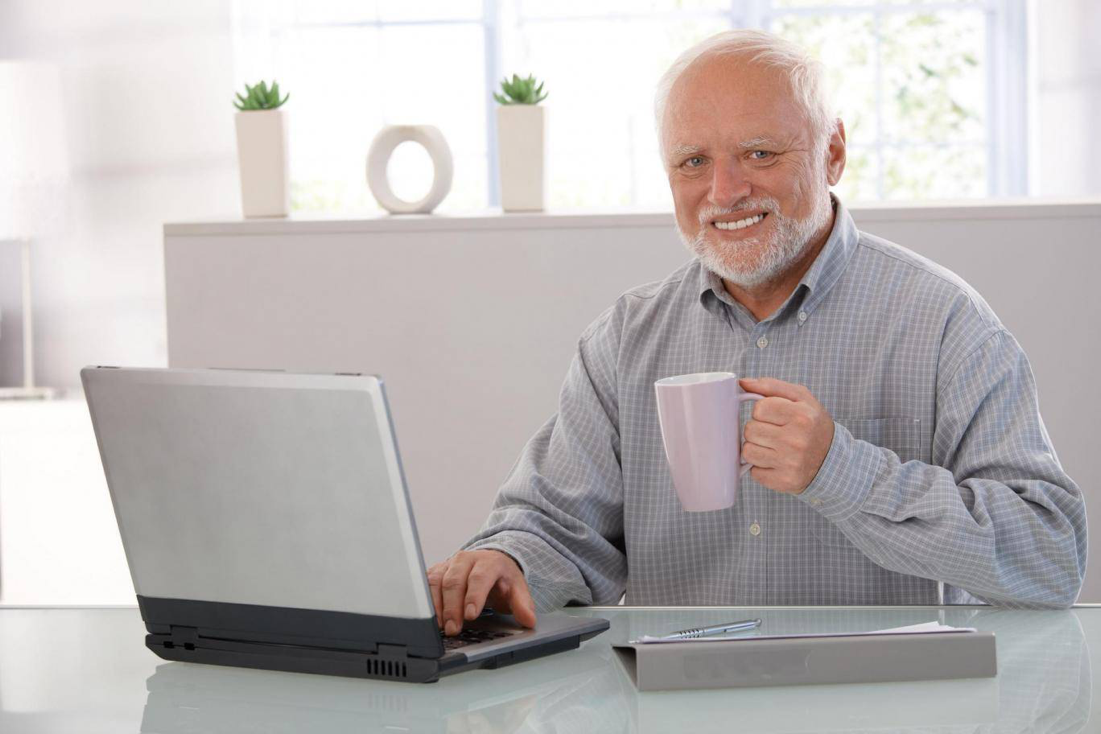 He first got the nickname "Hide the Pain Harold" in 2011, when posters on the forums for British game developer Facepunch Studios discovered his photos. On the freewheeling forums, Photoshopping "Harold"—sometimes called "Maurice"—became a recurring challenge. Something about the barely disguised sadness in his eyes spoke to these early meme-makers, and they made a game out of pasting his face into fine art or other stock photos.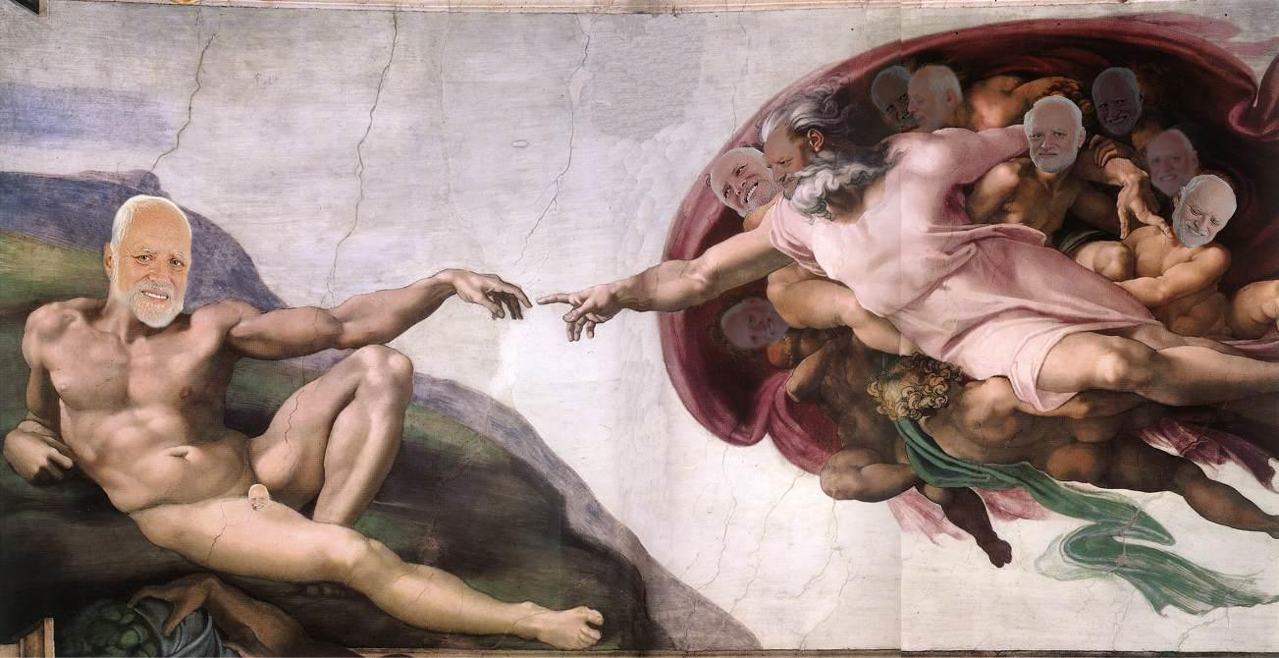 Like many memes of the early aughts, "Harold" became popular on 4chan before the wider internet discovered him. In 2014, an anonymous 4chan user narrated the story of Hide the Pain Harold, illustrated with dozens of his stock photos. The Harold character was officially "loved by everyone, except himself."
András Arató was becoming a star—although he didn't know it at the time.
It wasn't until years after he first took the photos that he decided to Google them and see how they turned out. He found the photos, but he also found the burgeoning Hide the Pain Harold meme.
"At first, I was surprised and did not like the idea of my photos being used for memes," Arató told the Daily Dot. "Sometimes, there are memes that are controversial or cruel so I didn't enjoy my face being used for those."
But as he gradually grew more comfortable with the idea, and young people in Budapest started asking to take photos with him, he decided to reveal himself online.
He found a Hide the Pain Harold page on VK, the Russian answer to Facebook, and in March of 2016 he posted a photo of himself holding up a sign that said, "I'm alive!"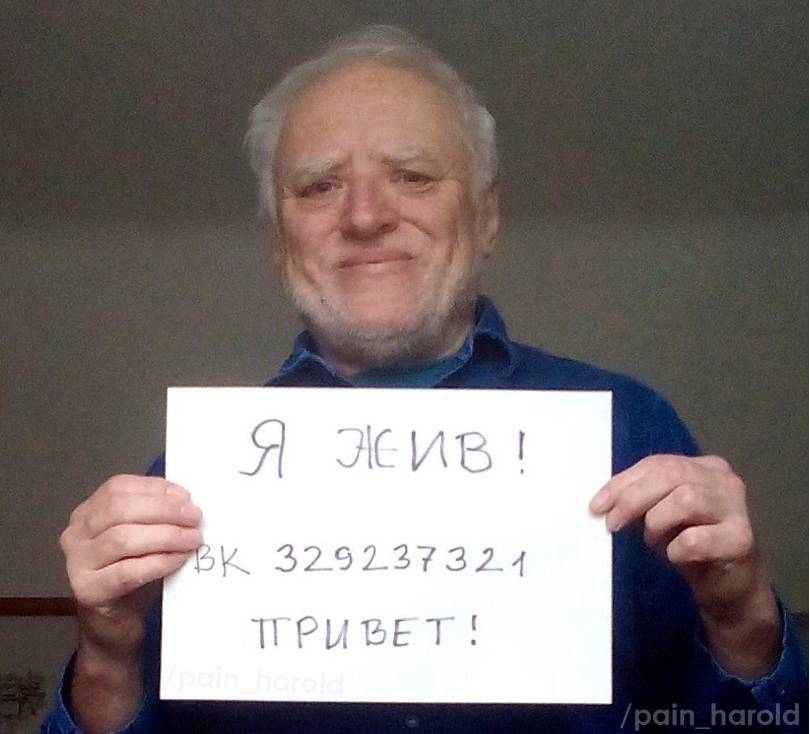 The news quickly made it to Reddit: "Harold" was really a Hungarian engineer named András Arató.
From the beginning, the internet's reception for Arató was just as warm as it was for his character.
"People recognized that I'm a human being and not a Photoshop creation," he said. "The rude or disobliging memes have completely disappeared. For the most part, the memes are funny."
His fans have been "positive and supportive." They've even sent him funny memes to help him understand the internet culture that he is now a part of. "Now I know more about [memes] than I did before," he said. "However, I can't choose a favorite because there are too many!"
Harold's relationship with his fans sets him apart from most of the other regular people who've been vaulted into meme stardom. Most either shy away from their meme status completely or embrace their fleeting fame and try to make a quick buck by selling merchandise. Arató is content just to chat with his fans. He spends three or four hours a day online, and he actively updates his Instagram, Facebook, and YouTube accounts. Becoming a meme hasn't made him rich, but he's content with his online life.
"I don't get paid when my photos are used in memes," he said. "However, I have gained a great fanbase!"
He even got to appear in a music video earlier this year for Hungarian rock band Cloud 9+. He plays a darker version of the Harold character, one who's been pushed to the breaking point by his office job and decides to do something about it. Harold is hiding the pain no longer.
Although people relate to Harold's struggles, it's Arató's openness and positive attitude that have kept the Harold meme alive for eight years while other meme stars fade out in months. The trio of models from the Distracted Boyfriend meme—easily the most viral stock photo meme since Harold—are recognizable around the world, but beyond a few interviews, they've remained relatively private. Arató said hello to the internet, and now everyone knows him as more than a meme. They see him as a real person—one who hasn't ruined his online notoriety with a history of bad acts or distasteful opinions.
The only comparably beloved person-as-a-meme who comes to mind is Stefan Karl Stefánsson, the actor behind LazyTown's Robbie Rotten. And Stefánsson had a role on a popular kids' show and a well-publicized battle with cancer to highlight his humanity. Harold was just some guy, living his life largely outside the public eye.
"Harold" may be hiding his inner anguish, but Arató doesn't have much pain to hide. Another quality that makes him unique amongst viral internet stars is that he's a happy guy who's lived a fulfilling life.
"Right now, I spend time with my family and taking care of my wife and our cat, "Arató said. "My daily life is pretty normal. Two or three times a week, I go swimming in a nearby swimming pool. We also like to explore places in Budapest when the weather is nice and other places throughout Hungary."
Arató takes pride in his career as a lighting technician and once told a Hungarian news outlet he'd rather be known for that than for his late-in-life viral fame as Harold. About his work and legacy, he told the Daily Dot, "One of my proudest achievements was during my time as vice president of the Hungarian Lighting Society. I've also been invited to lecture at many universities and conferences, which gave me a chance to pass on my passions to the next generation."
But Arató knows the internet will remember him as Harold, and he's come to terms with that.
For many people conscripted into unexpected viral fame, it's an exhausting, traumatic experience. It's a little ironic that, behind the character who best expresses our suppressed sadness and distress, there's a man who's enjoying life.