Mixing ketchup and mayonnaise, a concoction some people call "fry sauce" or occasionally "fancy sauce," is nothing new. When both condiments are sitting in front of you, it's not that much of a leap to add them to the same container. People have been doing that for a long, long time.
So it is not surprising that when Heinz recently starting promoting "Mayochup," everyone wanted the brand to know it hadn't stumbled across anything new.
Want #mayochup in stores? 500,000 votes for "yes" and we'll release it to you saucy Americans.

— Heinz Ketchup (@HeinzKetchup_US) April 11, 2018
According to a report by Insider, the Heinz version of the sauce is currently only available in Kuwait, but they are debating whether or not to bring it to the United States, hence the Twitter poll. It's a move that sparked more controversy than the brand probably anticipated.
To be fair, Heinz did make "Nah, I'll make my own" one of the options, implying they knew they were not the first to think of the idea, but that didn't stop people from taking them to task.
https://twitter.com/Kalyx_Alanna/status/984481598715252736
This is Fry Sauce. Wtf is Mayochup

— Lambozoid ☃️ (@LivingLele) April 11, 2018
Nope, it's Fancy Sauce.

— jone2tone (@jone2tone) April 11, 2018
Do you mean Fry Sauce?

— Nathan Wigger (@t3hw1gg3r) April 11, 2018
https://twitter.com/Zcausley/status/984528317310267394
Some people feel strongly that it was invented in Utah, where you can actually buy a name brand version called "Some Dude's Fry Sauce."
It's not 'Mayochup' or 'Mayoketchup'… it's Fry Sauce, and I'm 160% sure it was invented in Utah… because it was. Get it right. pic.twitter.com/178hitAgGt

— Will (@wjboston96) April 12, 2018
Eater seemed to agree with these people. An article from 2016 states the mixture was invented in the 1940s by a Salt Lake City man named Don Carlos Edwards.  It's quite possible the Edwards did coin the name "Fry Sauce," but was he the first person to mix mayonnaise with ketchup? Doubtful.
A lot of people seemed pretty convinced it has Latin American roots.
https://twitter.com/oriana_swift13/status/984419834061615105
https://twitter.com/yasiel72/status/984204848139849734
Others said it was Russian dressing.
This is called Russian dressing and it isn't new

— Jacob @ PTPHockey (@PTPJacob) April 12, 2018
Russian dressing's base is, in fact, ketchup and mayonnaise, but it also contains additional herbs and spices. So sorry to fans of that particular condiment, but your argument is hereby thrown out on a technicality.
Heinz tried to smooth over the debate by finding some common ground.
No matter where you live and what you call it, we can all agree ketchup & mayo are better together.

— Heinz Ketchup (@HeinzKetchup_US) April 12, 2018
But people weren't buying it.
Except it's existed in Utah as fry sauce for at least the 20 years. Is fry sauce copyrighted? Is there a reason you can't use the right name??

— Mrs L (@MrsForCute) April 12, 2018
Which lead to even more debate about the sauce's origins and prevalence.
You Utah people really need to chill lol. I've literally only lived in Wyoming Colorado Washington and Arizona and all of these staes have fry sauce.

— Reyno Martinez Jr. (@Mistirio) April 12, 2018
Even wakanda has fry sauce and that's not real. Please explain

— Reyno Martinez Jr. (@Mistirio) April 12, 2018
Heinz even tried getting a little saucy with some of its customers.
and burger sauce.

— Heinz Ketchup (@HeinzKetchup_US) April 11, 2018
The company might have set off a larger debate then they intended, but at the very least they were able to make one guy happy.
This one's just for you, Andy. pic.twitter.com/r3N2kmAkG2

— Heinz Ketchup (@HeinzKetchup_US) April 11, 2018
It's also not as if the company is even leading the "put two things people use together in the same container" revolution. Smucker's "Goober," which is peanut butter and jelly in the same jar, has been around forever.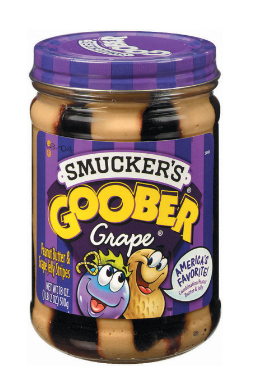 And although it, unfortunately (fortunately?) was never a real product, Mr. Show's Mustmayostardayonnaise was introduced over twenty years ago.
Ketchup and mayonnaise were probably mixed together the first time they showed up in the same room at the same time. If the two ingredients can get along so well, maybe we can too.