A cycling group in Australia rode for over seven hours and 200 km, which is certainly admirable work any day, but what's really impressive is that when they got done, their route was in the shape of a goat.
https://www.instagram.com/p/BRht2qLh4b2/?taken-by=jen.bonez
This was no accident, but a carefully planned route dreamed up by Ben Jones, one of four members of "Fight Club," an amateur cycling club based in Perth, Australia. Jones told ABC radio Perth that he chose a goat because "Goats are badass and they're an easy animal to draw in profile," which is pretty inarguable.
Jones and company used Strava, a mapping and social media tool for cyclist and runners, to create their work of art. They not only managed to ride for over 200 km and 7 hours, but they also dealt with some pretty intense elevation changes while managing to keep a pace near 30kph. Pretty impressive for a group of guys who were simultaneously drawing a goat.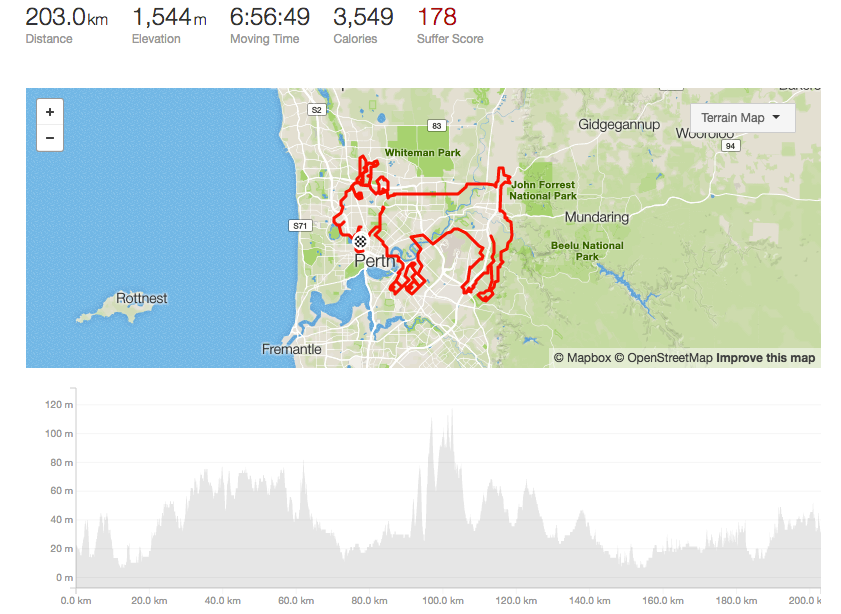 Here they are taking a mid-ride break, looking sweaty but happy.
https://www.instagram.com/p/BRhgT0nhiaq/?taken-by=jen.bonez
This isn't the first time people have used mapping programs to create art. One woman even got in shape by drawing a series of dicks all over San Francisco. Cyclist and runners have done everything from simple hearts.
Happy with my attempt at @FCRC @Strava Feb 'Draw a Heart' challenge. Heart shaped balloon ❤️ #stravaart #ukrunchat pic.twitter.com/sfkh6rpSZJ

— Neil Smith (@smuff74) February 3, 2017
To giant dinosaurs
I bloody love #StravaArt really need to do one one day: https://t.co/LvpxY5hMqk @RhodriOwen @timgburns @owenten4 @AledCaled @rhyslewisdavies pic.twitter.com/NKMxaYz7Ui

— Morgan Hope Phillips (@MorganHPhillips) March 10, 2017
One guy in Portland, Oregon even created a portrait of Barack Obama complete with a tiny (although actually huge) American flag.
New benchmark for GPS art creativity? https://t.co/lhpgM33uPy pic.twitter.com/hZFDc5nlaD

— Canadian Running (@CanadianRunning) January 17, 2017
And we can't leave out the kid who ran five-and-a-half miles to ask his girlfriend to prom.
But did your prom date run 5.5 miles to ask you pic.twitter.com/1cp2R2IvTp

— Claire Short (@claire_short_13) March 11, 2017
She said yes, but how great would it have been if she had run around her neighborhood until she spelled out "I think we should just be friends."?
Jones said he and the team are already discussing the idea of drawing more animals for us to enjoy.
"There is talk of doing a quokka or a numbat or some other iconic West Australian animal," he said, but that might need to wait a bit as Jones is about to become a very busy man. "Part of the reason we actually did this now is that my partner is nine months pregnant, she's due in about four days," he said, "It was something fun to do before I have a kid."