Thanks to some clever coding by the gents behind Giphy, a popular GIF search engine, Facebook can now support GIF animations.
To take advantage of this glorious new feature, all you need to do is search Giphy for an animation, copy the link to the GIF, and paste it into your Facebook status window. Once your GIF is posted, a "play" sign will appear to get your image moving.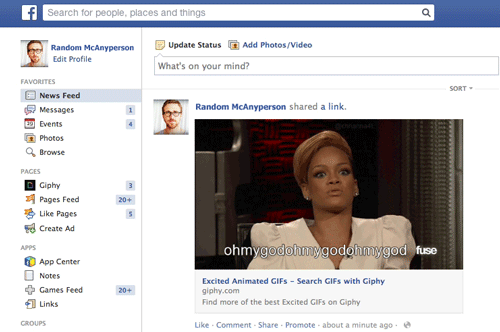 It's even Facebook-approved, Giphy says.
@bluechoochoo @ItsRyanWerner FB-approved workaround.

— Giphy (@giphy) August 29, 2013
GIphy was launched in February by Alex Chung and Jace Cooke as way for people to not only find the best GIFs on the web, but give credit to artists behind them. Since then the search engine has thrived under its stylish interface and its partnerships with illustrators like Frank Macchia, Dain Fagerholm, and our very own Jason "Challenger" Reed. 
GIFs made a huge comeback in 2012 thanks to Tumblr's artist community. The 26-year-old image format was embraced by politicians, celebrities, and art critics. Despite its growing popularity, Twitter and Facebook have yet to formally embrace the format. Twitter has banned GIFs from being used as profile images (despite some workarounds) and Facebook won't animate them when uploaded directly to the site.
Long live the GIF.