Less than three weeks after the Cinnamon Toast Crunch shrimp tail saga of 2021, a TikToker is alleging that she found a frog in her mashed potatoes from The Cheesecake Factory.
In the viral TikTok video, which has been viewed over 3.5 million times since being posted on Tuesday, user @bethanybutwith2arms uses her fork to poke at a mystery item in her to-go container of mashed potatoes as she says, "What the fuck? What is this? … It's like indestructible."
What she is moving around with her fork is covered in mashed potatoes. She stabs it with the fork before taking it to the sink to rinse it, uncovering what it appears to be. "I deadass think this is a baby frog," text across the video reads.
By the end of the clip, a teary-eyed @bethanybutwith2arms appears to be gagging. "There was a FROG in my cheesecake factory order should i sue," the TikToker captioned the video.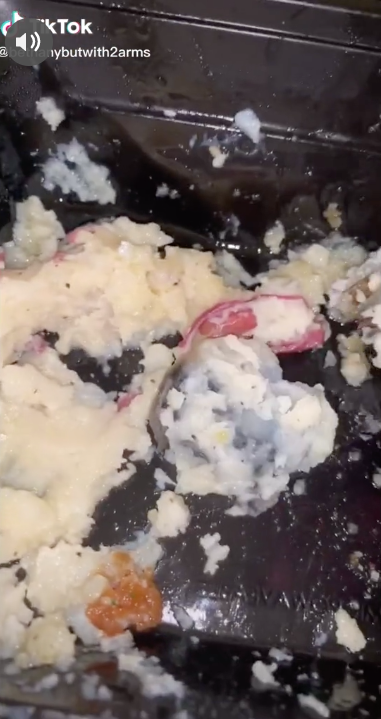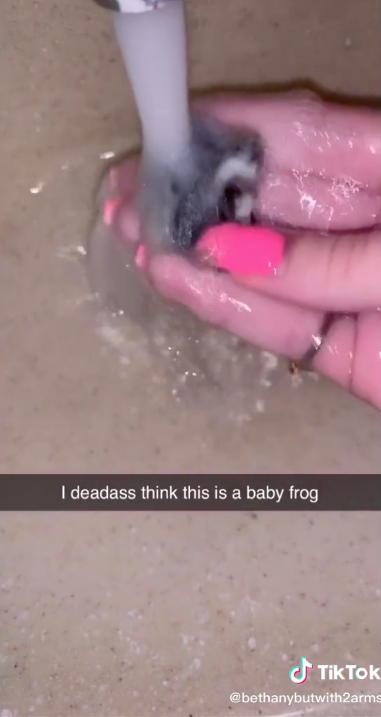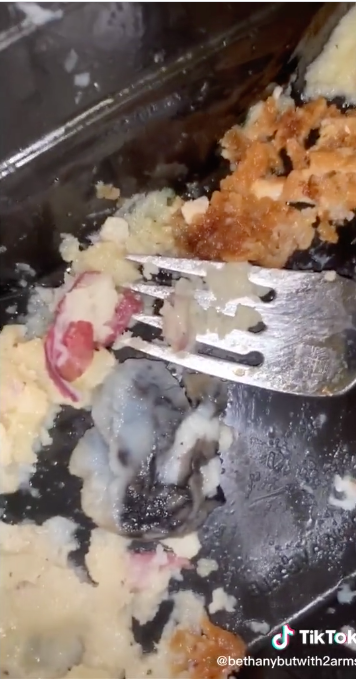 In a statement to the Daily Dot, The Cheesecake Factory said it is "very concerned to hear of this incident" and has "been in touch with" @bethanybutwith2arms.
"We take food safety and sanitation very seriously and are committed to providing a safe dining experience to all of our guests whether they dine-in or order take-out and delivery," it added.
TikTokers who watched @bethanybutwith2arms' video are absolutely horrified, with one saying they would "simply die" and another saying they would "simply drink acid."
"I would simply never consume food again," a third commented.
"I don't think I'd stop crying," another lamented.
Others remarked on the way @bethanybutwith2arms seemed to be nearly finished with her meal and how she stabbed it with a fork before realizing what it was.
"Omg the way that her plate was completely devoured," one commented. "I'd cry myself to sleep."
"The fact that you stabbed it with your fork so aggressively too," another said.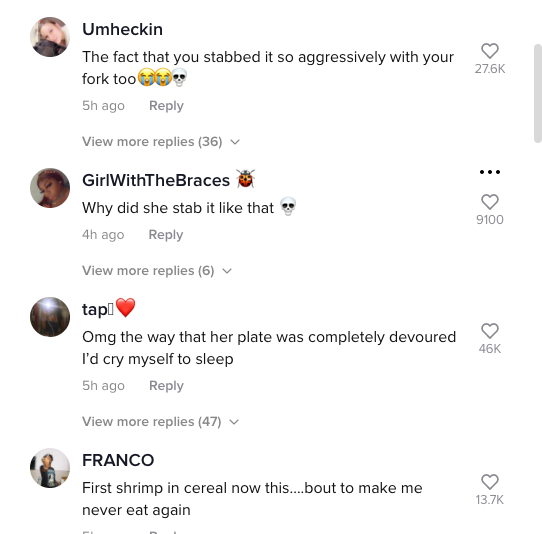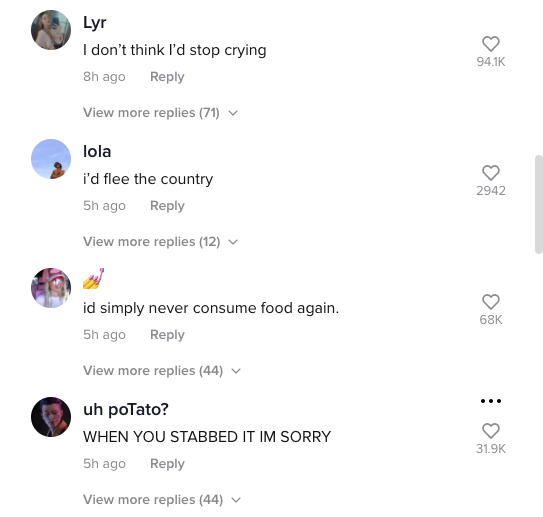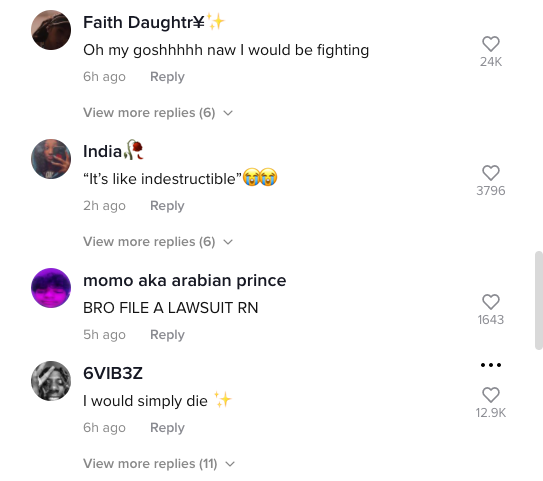 People online are still reeling from the Cinnamon Toast shrimp tail controversy, in which Jensen Karp—who has since been accused of abuse by several women—claimed he found shrimp tails in his Cinnamon Toast Crunch cereal box and said he was going to get them DNA-tested after allegedly getting publicly gaslighting by the company.
"First shrimp in cereal now this….bout to make me never eat again," one said on @bethanybutwith2arms' video.
And like Karp, @bethanybutwith2arms is determined to get to the bottom of what the mystery item in her mashed potatoes is. She revealed in a followup TikTok video that she sought help from a professor at the University of Florida, where she seems to go to school.
"I am not one of your students at UF but I would really appreciate some help in dissecting something I found. This may sound ridiculous but I was eating a dinner tonight from the cheesecake factory, and i believe there was a frog in my mashed potatoes. I know this may sound funny but if you can help me dissect this and determine if it's a frog I would appreciate it," @bethanybutwith2arms wrote in an email to the professor.
The professor, a plant biologist, referred her to a "herpetologist colleague."
The TikToker noted she was going to meet with that professor at 3pm local time Wednesday. She also shared screenshots featuring the official Cheesecake Factory TikTok account following her, making her the only person the restaurant chain follows. When the Daily Dot checked on Wednesday, The Cheesecake Factory wasn't following anyone.
In the most recent updates on the TikToker's account, @bethanybutwith2arms says the scientist "believes it's black mold" and jokes about ruining The Cheesecake Factory's "reputation."
The Daily Dot has reached out to @bethanybutwith2arms.