In the span of just three days, the saga of Jensen Karp, a.k.a. Cinnamon Toast Crunch guy, grew from a baffling internet tale to a fevered pop-culture excavation to a reckoning by women who claim he's an abuser.
On Monday, Karp, a writer and podcast host who at one time rapped under the alias Hot Karl, posted evidence of what appeared to be shrimp tails in his box of Cinnamon Toast Crunch. This went viral, and he kept up the momentum by tweeting out new developments, each one more absurd than the next. By Tuesday, stories about Karp's character started to circulate, as did questions about the validity of his shrimp tale. The internet braced for the inevitable Milkshake Duck—when a person who's gone viral for something that seems harmless or benign is later unmasked for past tweets, views, or behavior. The most recent example is John Roderick, a.k.a. Bean Dad, who kicked off 2021 with a wild new flavor of Milkshake Duck.
By Wednesday, stories from women who claim Karp has a history of being abusive and manipulative started coming out. Actor and writer Melissa Stetten referenced a trending L.A. Times Twitter headline about Karp's viral moment, asserting that he is a "manipulative gaslighting narcissistic ex-boyfriend who once told me he was surprised I hadn't killed myself because my life was so worthless." Writer Stephanie Mickus said she was previously blocked by Karp on Twitter "b/c I was not gracious enough after a surprise threesome! But not before I was told to 'be careful or I would never work in this town again.'"
In response to Mickus' tweet, writer Rory Uphold said: "I ended up in the hospital. Took me a year to recover mentally and I still struggle." Elsewhere, she said Karp is "the most abusive person I have ever been with." We've reached out for comment.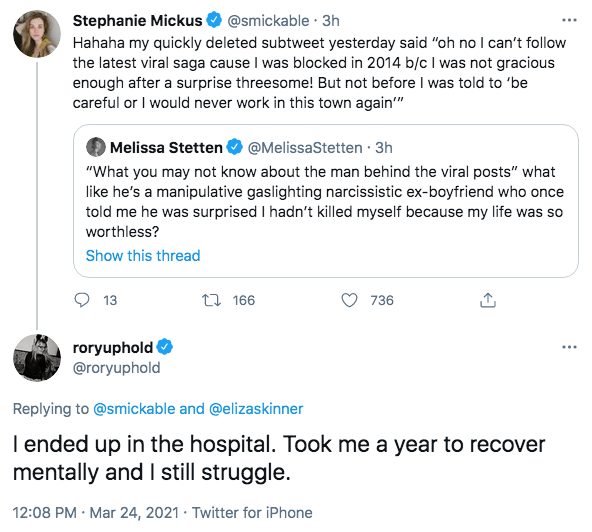 Mickus and Stetten both claimed there are multiple women who've reached out this week with stories about Karp, or who had previously been victimized by him.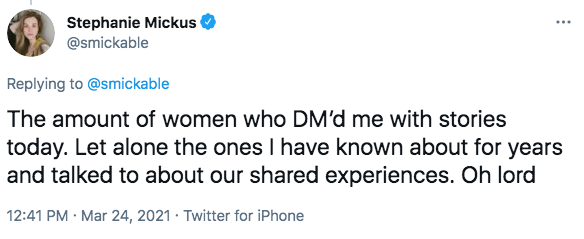 Comic Brittani Nichols spoke about her time working with Karp on season 2 of celebrity rap-battle series Drop the Mic, being uncomfortable with his rewrites, and fighting to get a line about sexual assault taken out of one battle rap.
Karp has not yet addressed these claims, but we reached out for comment. Around the time tweets about his abusive behavior started circulating, Karp tweeted that he's "not posting about this bullshit all day again," after two straight days of shrimp tweets.
---
Today's top stories