Fans are counting the number of spins in her dances, analyzing the colors she wears, zooming in on her hat to see if it says "Help." What's going on with the Free Britney movement?
The movement has long advocated to help free singer Britney Spears of her conservatorship, which has been in effect since 2008. All life decisions or finances had to be run past Spears' father, Jamie, and lawyer Andrew Wallet for approval. Wallet stepped down in March 2019, and six months later her father stepped down as well, after his health declined. Professional conservator Jodi Montgomery was appointed in September 2019. 
Last week, the Instagram account Free Britney L.A. documented protests outside a Los Angeles courthouse where Montgomery was attending a hearing, and is planning one for August. Free Britney L.A.'s Kevin Wu tells the Daily Dot: "The movement seeks to end the conservatorship of Britney Spears and raise awareness about conservatorship abuse. Probate conservatorship is a protective measure for incapacitated individuals, and Britney's achievements over the last decade prove that she is far from incapacitated." There's also been renewed discussion, in this election year, about whether Spears can vote. A 2016 change in California law made it easier for the conservatee to do so.
Fans share Free Britney theories
While there is ongoing IRL support for Spears, the Free Britney movement has gotten a little weirder online. As Naomi Fry detailed for the New Yorker: "Spears's Instagram feed has become a Rosetta stone, with master semioticians parsing its merest signs for hidden meaning. In her posts, what had once seemed merely kooky now appeared sinister to some."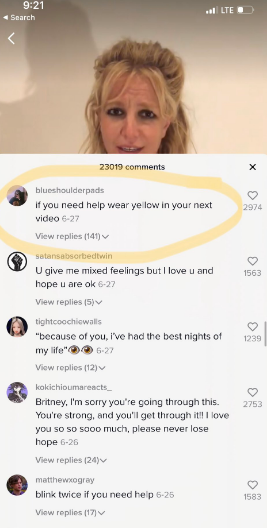 There are fans who believe Spears is being held hostage, or in distress, or covertly asking fans for help via Instagram and TikTok. Commenters think certain colors Spears wears in her videos are calls for help, or that her dance routines are coded messages, or that a Q&A is more ominous: "She looks like someone's telling her what to say."
Instead of being viewed as another person bored in the house during a pandemic, her videos are psychoanalyzed (by people also likely bored in their houses). Spears responded to some of this misinfo and hate on July 10, and said the free-form dances are just an expression of her "being happy."
The #FreeBritney tag exploded on TikTok, which plunged the movement into even more conspiratorial territory. One video of Spears twirling a white hat was enhanced to show she allegedly has "Help" written on it. Elsewhere, people think she's spelling out different letters of the alphabet with her body, or acknowledging comments from previous videos to show she needs help, or somehow reflecting the Twin Towers falling on Sept. 11 in her right eye to signal 911.
Another theory posits that Spears is referencing a scene from Frozen during a recent Q&A, covertly using her answer about when she goes to bed ("11:30, 12") as code for the time stamp in the film where Elsa says, "You have to tell them to let me go." TikTok is also where Spears' former photographer, Andrew Gallery, shared a letter, written in third person, that Spears allegedly gave him in 2008, insinuating that the conservatorship gives her no control. Gallery said he was the anonymous source that leaked the letter to the Daily Mail in 2019.
Is Britney being gaslit?
Asked about the uptick in conspiracy theories, Wu said: "While I don't subscribe to many of the conspiracy theories, I recognize that they're a consequence of the team's mystifying lack of transparency and appreciate that they spread awareness about the movement."
Proponents of the movement believe the 38-year-old, who still works and makes money performing, deserves to make her own personal and financial decisions after a decade. But Spears has never publicly stated that she's unhappy with the situation. According to court documents, Spears allegedly did not show up for a September 2019 hearing because she "does not object" to the conservatorship. Last year, the Los Angeles Times investigated the conservatorship and found "no independent evidence that Spears was being harmed by the arrangement." Her attorney, Stanton Stein, told the paper, "She's always involved in every career and business decision."
But Wu thinks it's more complex than that. He says there's "evidence that she has been coerced or gaslit into not fighting" the conservatorship, and that "Britney has her own way of making her voice heard."