After much teasing, Bethesda Game Studios debuted the first trailer for Fallout 76 Wednesday, complete with tons of clues to mine through for fans hungry for more information. Here's everything we know so far about Fallout 76.
Fallout 76 trailer
Between Alien: Covenant, Kingsman: The Golden Circle, and Logan Lucky, the John Denver estate must be raking in the dough. Set to Denver's classic "Take Me Home, Country Roads," the Fallout 76 teaser takes us inside what we can only assume is Vault 76, where we see a Pip-Boy device resting in a bedroom. On a nearby table sits the board game version of the Unstoppables, the Fallout universe's equivalent of the Avengers, composed of Silver Shroud, Grognak the Barbarian, and others. There's an acoustic guitar, a set of chairs, some party hats, and a tape recorder, but it's all left a bit askew.
We then see a television playing some sort of press conference (it's unclear who is giving it, but it's likely a government or Vault-Tec official), and a voiceover implores "when the fighting has stopped, and the fallout has settled, you must rebuild." That's followed by a shot of a trophy case, most notably featuring an award for "your commitment to our isolation program, sacrificing many so some can live," clearly referencing Vault-Tec's stated (but ultimately false) goal. A neon green computer screen flashes "you are invited!" before switching to a shot of an abandoned kitchen table, then a wide shot of Vault 76's interior, full of party decorations and a giant banner that reads "celebrate Reclamation Day!"
The trailer closes with an unidentified person wearing a Vault 76 jumpsuit attaching his Pip-Boy to his arm, a voiceover saying "in Vault 76, our future begins." The Pip-Boy also has the date Oct. 27, 2102, on it. That's also the year that character Richard Grey mutated into the Master, a horribly mutated brain that controlled the super mutant army that roamed the California wastes in 2161. Grey was originally an inhabitant of Vault 8, so it's unclear if he'll play a significant role in this plot.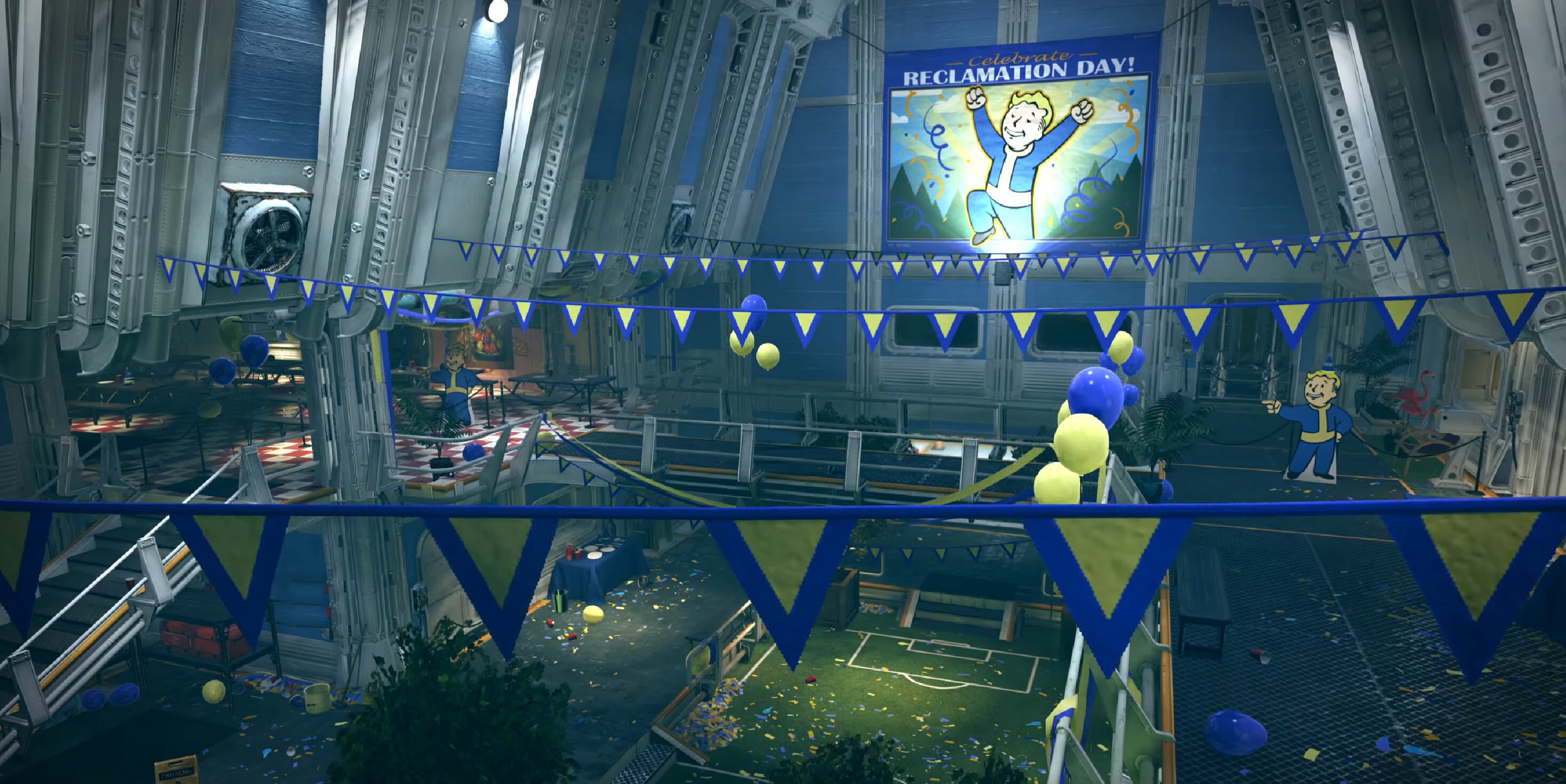 What is Vault 76?
If you're unfamiliar with Fallout lore, it's time to catch up. The Vault-Tec vaults were essentially advertised as a subterranean safeguard against nuclear annihilation. There are about 120 publicly known vaults in the American wasteland, each of which held roughly 1,000 occupants, and Vault-Tec claimed its life-support systems could last about 900 years. Unfortunately for most vault dwellers, Vault-Tec's actual intentions were far more sinister. Most vaults were the sites of manipulative, often life-threatening social experiments on their populaces. Some experiments included gene therapy resulting in super mutant mutation, the release of psychoactive drugs, and imprisoning dwellers in virtual reality where they were "killed" over and over again, to name only a few.
Vault 76 was one of the 17 supposed "control" vaults, designed to open 20 years after nuclear impact without any major issue. The "Reclamation Day" banner suggests that the vault inhabitants are preparing to reenter the Wasteland, or perhaps the mission went awry, resulting in a sudden abandonment of the vault, as evidenced by the mess left behind.
Vault 76 debuted during America's tricentennial in 2076, shortly before the events that led to nuclear impact in 2077. It was previously unknown where Vault 76 was located, but the John Denver tunes and the Fallout series' fascination with the American northeast would suggest West Virginia or somewhere within the Appalachian Mountains. Files on Bethesda's official site reference the game by the code name "Mountain," so it's looking quite likely.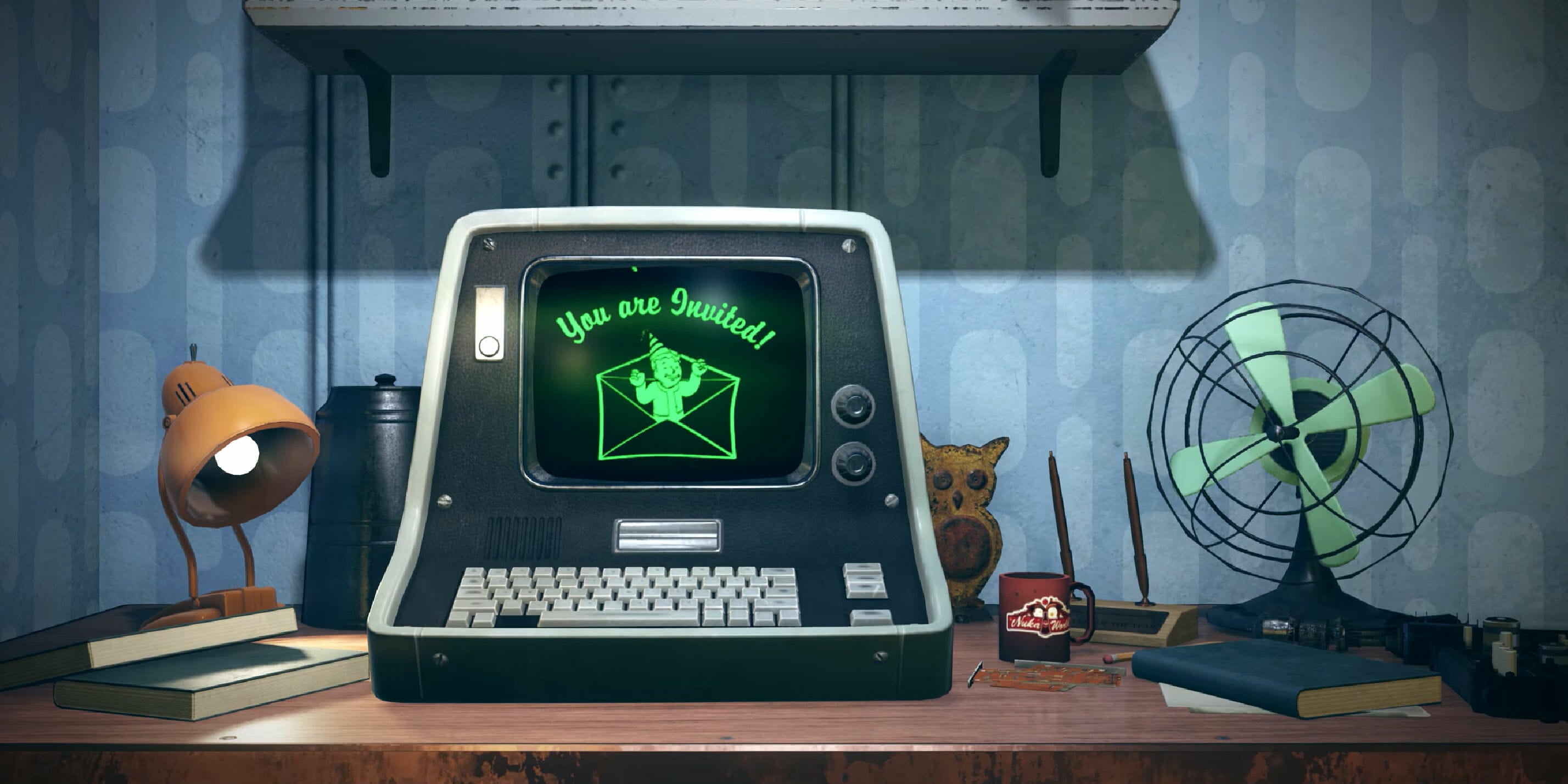 Fallout 76 gameplay
Fallout 4 released in November 2015, seven years after Fallout 3, so it's incredibly unlikely that Bethesda is developing a standard first-person role-playing game in the vein of Fallout 3 or Fallout 4. One report by Kotaku suggests that the game will "be an online game of some sort." Three sources told Kotaku it's "an online survival RPG that's heavily inspired by games like DayZ and Rust."
Bethesda has had success with The Elder Scrolls Online, so it's entirely possible that the company is hoping to replicate that MMO community with the Fallout fandom. If it's an MMO, it would be weird to see its final title actually being Fallout 76, considering Vault 76 only held 500 people, and the mountains of West Virginia are nowhere near as vast or varied as Elder Scrolls Online's Morrowind and Summerset Isles.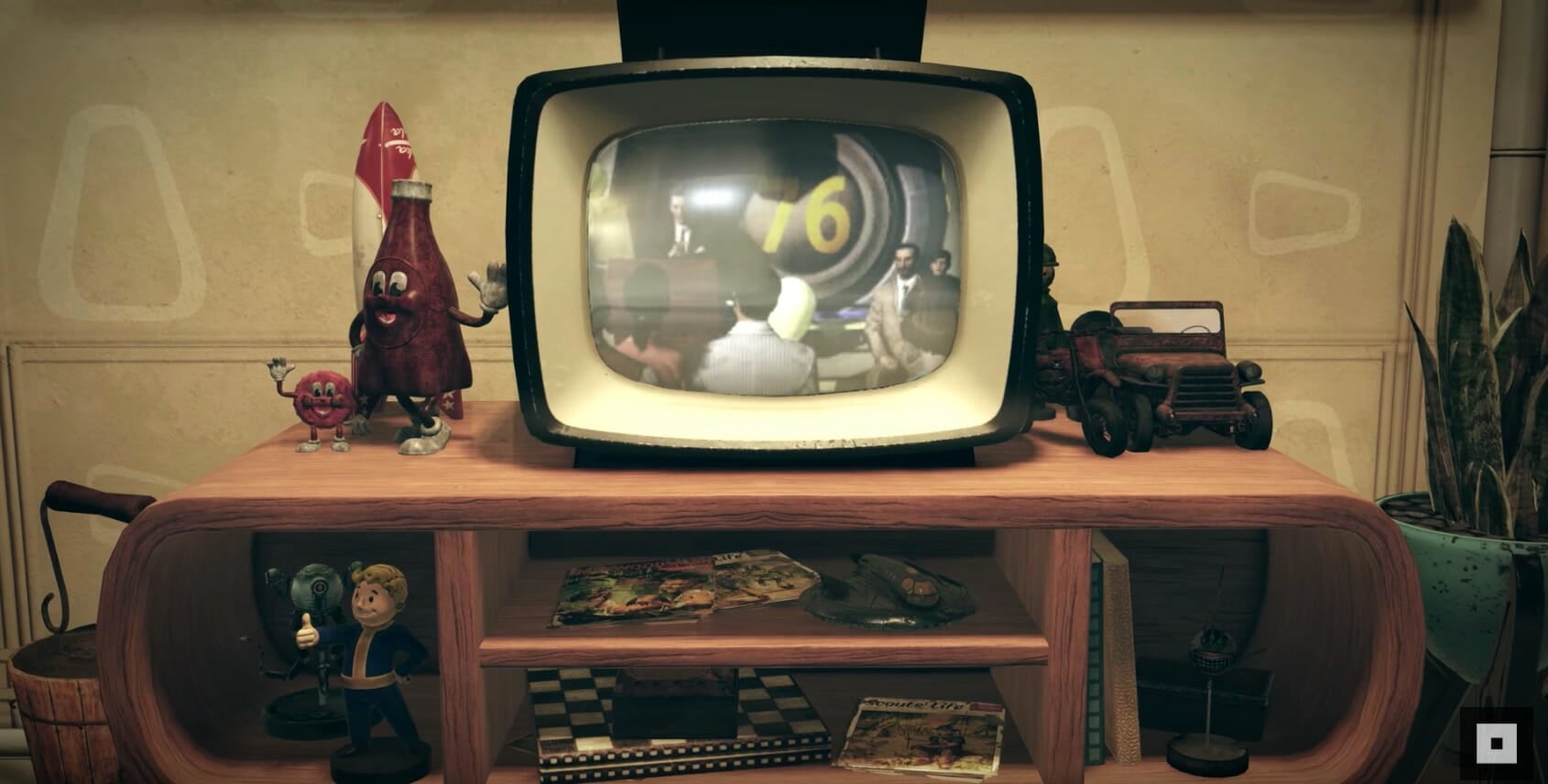 Fallout 76 release date
An Amazon listing discovered by Massively Overpowered claimed the Fallout 76 release date is a Tuesday, June 31.
It could just be a placeholder date a webmaster included, but Bethesda historically has announced their games only a few months before release. The window from E3 in early June to that date in late July is tight, but it's not outside the realm of possibility. The mobile game Fallout Shelter released the same day it was announced, but that's obviously a much smaller project than a major Fallout installment.
The initial report by Kotaku states that the game is being developed by the core Bethesda development team in Maryland, as well as the Austin office, formerly known as Battlecry Studios.
We'll know more at Bethesda's E3 press conference, which is scheduled for June 10 at 6:30pm PT. Check out our full E3 schedule for a rundown of all the major press conferences.
Editor's note: This article is regularly updated for relevance.