Mediatonic and Devolver Digital's hit multiplayer game Fall Guys: Ultimate Knockout is teaming up with Untitled Goose Game to offer three special goose and goose-adjacent skins. You'll have to act fast to get them, though, especially if you want the crown jewel of the promotion: The Goose.
Here's everything you need to know for the Fall Guys and Untitled Goose Game skins, and how to acquire them.
How do Fall Guys skins work?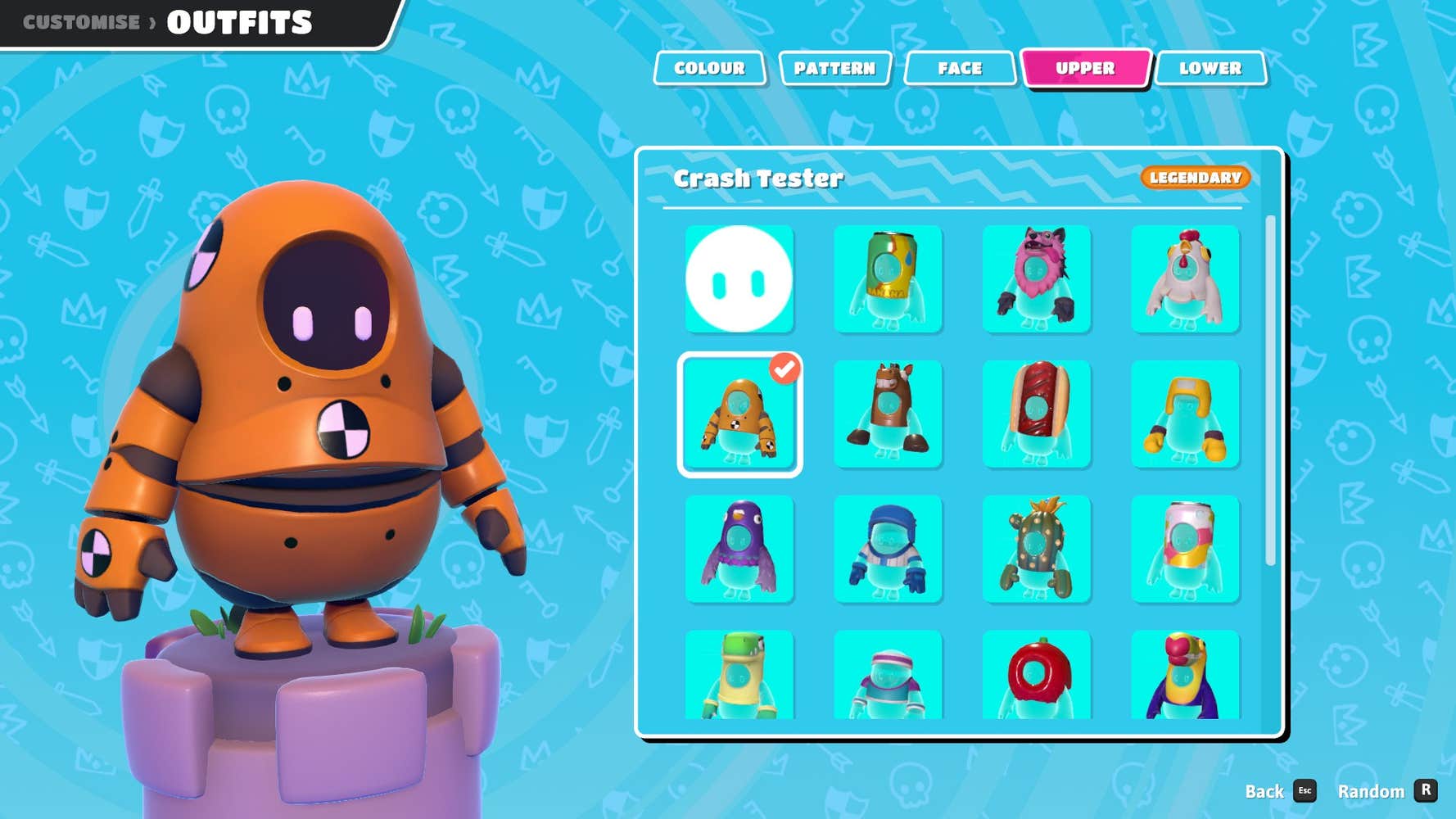 Fall Guys players can acquire skins in several ways. Some are available through leveling up your character's rank during seasons. Others are given away for special events, such as the Crash Tester and Big Bad skins available for Fall Guys beta playtesters and customers that played during the game's launch week, respectively. But the most common way to get Fall Guys skins is through its in-game store.
Like Fortnite, Fall Guys offers a cosmetics store where players can purchase skins, emblems, and other items for their avatar. Both games cycle items in and out for a limited time, so if you want to stay on top of the latest offerings, you'll have to check in daily and play matches frequently. Granted, players can use real money to purchase currency for skins. In Fall Guys, this purchasable currency is called "Kudos."
But Fall Guys also offers a second cosmetics tier for far rarer (and thus prestigious) skins. These are called Featured Items, and they usually last for a little longer than your standard Regular Items. In return, they require either a massive amount of Kudos or an even rarer currency: Crowns.
Fall Guys Crowns are only available through winning matches or, occasionally, by leveling up your character. They cannot be purchased, thus making Crown skins some of the most coveted in the game. Earning Crowns, by the way, is not an easy feat. Winning just one match in Fall Guys is an accomplishment; many Featured Items skins cost five Crowns per Upper and Lower half, or 10 Crowns in total for the full outfit.
How can I get The Goose?
The Goose outfit is one of Fall Guys' Featured Items. It comes in two parts: an Upper half, and a Lower half. Each half mimics the Goose from Untitled Goose Game. To build the full outfit, you'll need 10 Crowns in total.
The Goose launched in the Fall Guys store on Nov. 13, and it will remain as a Featured Item for "the next few days," the official Fall Guys Twitter notes. But if you want to run around dressed up as The Goose, you'll need to start winning matches ASAP. Featured Items generally last for 72 hours at a time. In this case, that means players have the weekend to earn enough Crowns to purchase the outfit's Upper and Lower skins.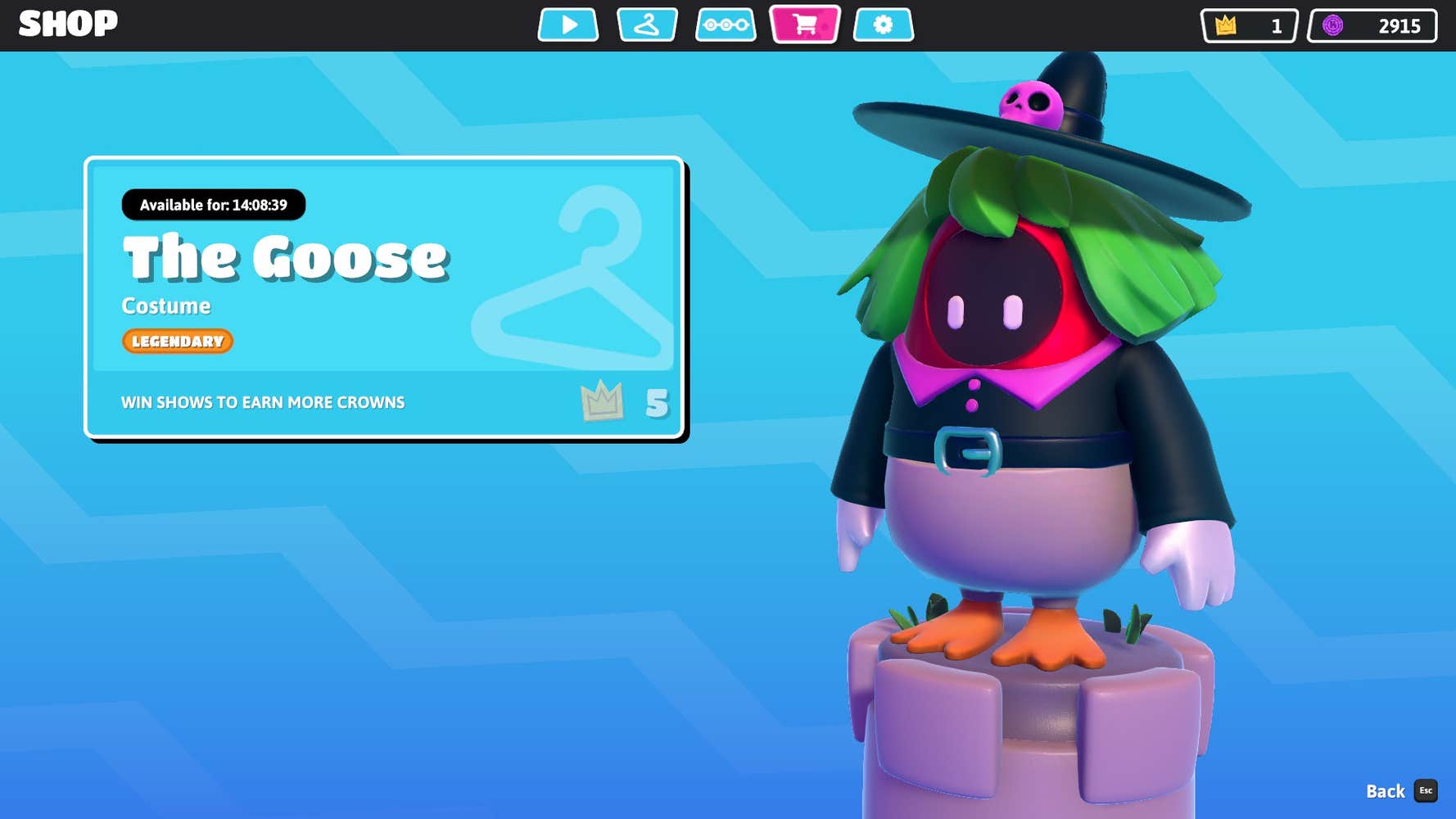 Granted, if you miss The Goose, you may still have a chance to pick up the skin again in the near future. As Looper notes, the Scout costume appeared in both September and October 2020, and similar promotional Featured Items like the Bulletkin and P-Body appear "temporarily at unpredictable times."
So if you're a little too late to grab The Goose, start working on your Crowns now for the next time it appears.
What are the other Untitled Goose Game cosmetics?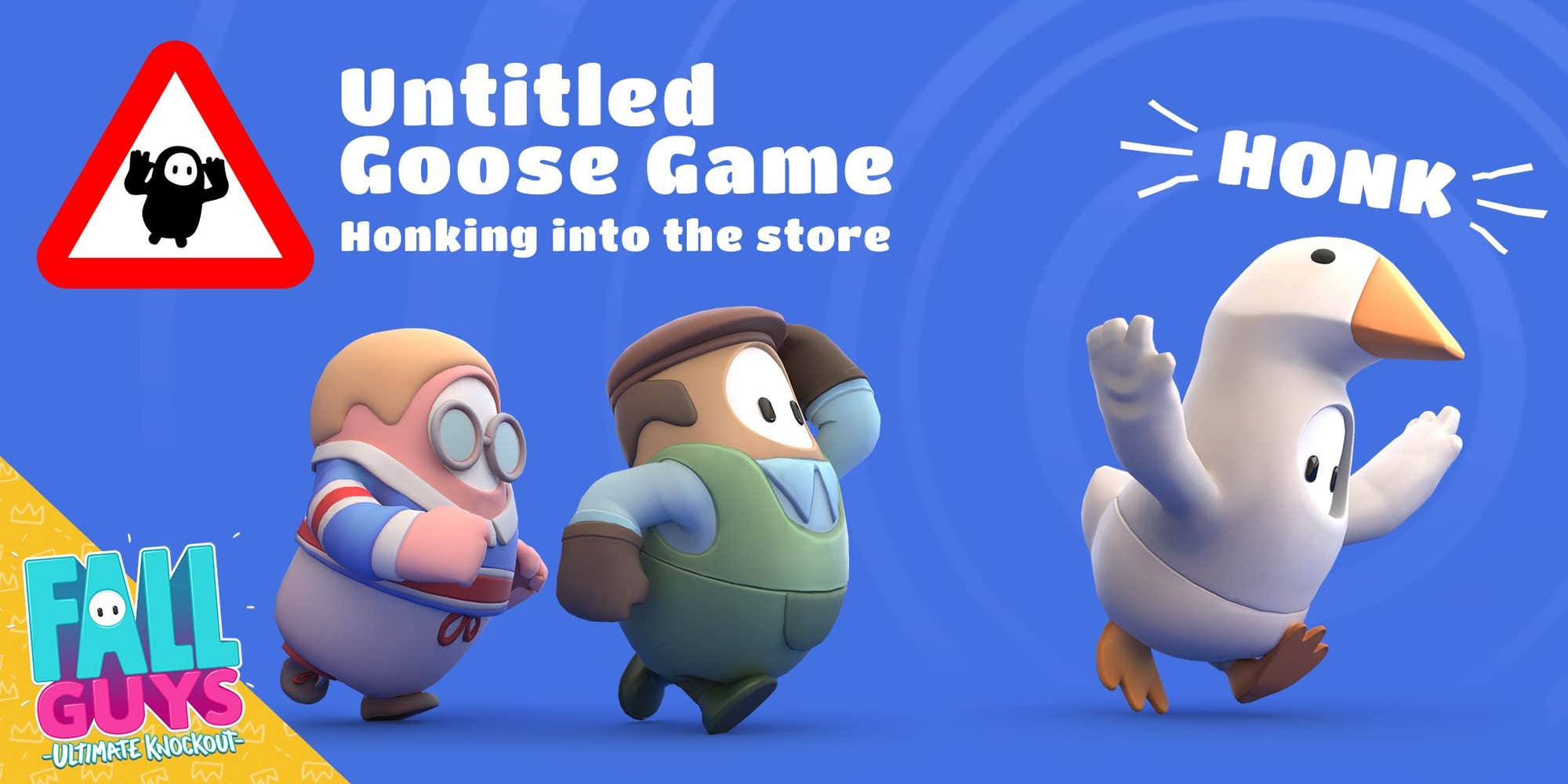 Two other Untitled Goose Game cosmetics are coming to Fall Guys, each of which based on villagers from the game. It remains unclear how much these cosmetics will cost, although given previous promotional Featured Items' prices, they will most likely be 10 Crowns each, five per half. Players can also purchase a "HONK" emote, inspired by the Goose's iconic honk noise.