Foursquare, take notice: Over half of your users are the mayors of the bathroom.
According to a new survey  from CreditDonkey that's sure to lead to a scientific breakthrough, 52 percent of social networkers have updated their Facebook status while relieving themselves.
A 2008 study found that 53 percent of Americans occasionally worked from the bathroom, usually while on the phone. This new poll reveals that with the advent of the smartphone, Americans have expanded their phone habits to accessing Twitter and Facebook with even greater frequency. And it also reveals that almost 20 percent of Facebook users had used Facebook while driving.
That might not sound like much, until you consider that it's potentially 20 percent of one billion active Facebook users. Which means that at any time, you could be sharing the road with one of the 200 million Facebook and 70 million Twitter users who are totally OK with scrolling through their feeds while behind the wheel (and hopefully only while stuck in traffic).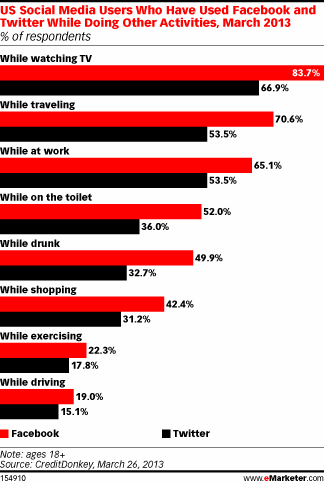 Illustration via eMarketer.com
In general, Facebook users indulged in social networking more often and from more locations than Twitter users—most often while watching TV, traveling, or working. While the stats remained consistent between Facebook and Twitter, behavior patterns shifted when the study looked at gender. Men were more likely to 'fess up to tweeting and using Facebook while working, or while drunk. And while the stereotype of bad driving plagues women, men were 3 percent more likely than women to network from the road.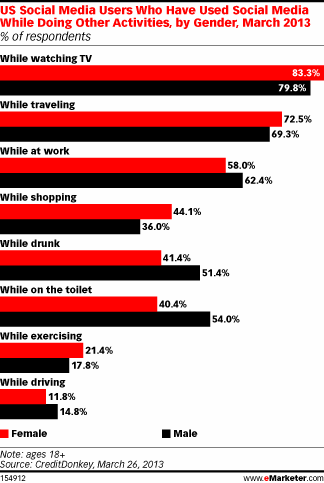 Illustration via eMarketer.com
Guys are also more likely to tweet and Facebook as they use the bathroom—a particularly impressive feat since most women sit down twice as often as men.
The study may be a boon to people who advocate different ways of measuring a TV show's popularity apart from Nielsen Ratings. (Reportedly 80 percent of Facebook and 60 percent of Twitter users are integrating their status updates with the television shows they're watching.) But while studies like these could affect marketing research (not to mention the focus of your local highway patrol), they probably still won't save Community.
Still, it might be a good stat to refer back on the next time you're in need of a challenge. Can you tweet while drunk, exercising, and watching TV?  After all, there seems little point in having a smart phone with you 80 percent of the time if you can't use it to expand the possibilities—or, at least, all the locations—where you can potentially embarrass yourself on the Internet.
H/T MediaBistro | Photo via tobyotter/Flickr