What happens when you try to combine Sen. Elizabeth Warren's (D-Mass.) careful brand of well-planned optimism with the chaos of internet memes? 
One man is brave enough to find out.
At the beginning of November, the internet was introduced to a Twitter account called @WarrensMemeTeam, which announced its noble aim of "Saving the nation with selfies & memes. Organizing writers/artists/marketers to make/spread creation templates."
The account, which is not affiliated with the Elizabeth Warren campaign, began its life with an over-thirty tweet thread detailing the potential of memes for Warren's candidacy and exactly how the team planned to go to meme war on their candidate's behalf.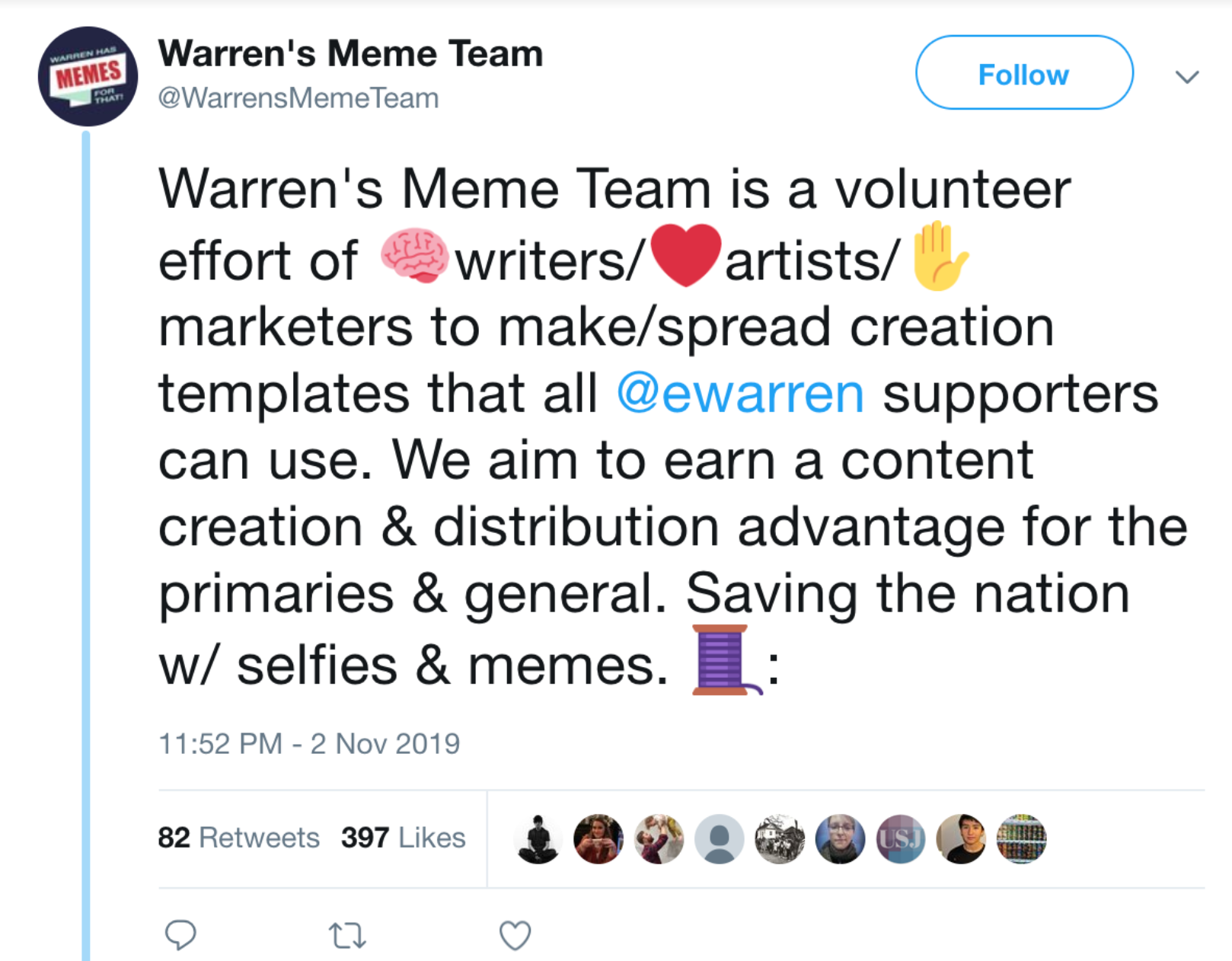 The thread, since deleted, embodied much of what people love and loathe about Warren. With great detail and plenty of emojis, @WarrensMemeTeam outlined a kinder, wonkier, nerdier approach to meme-making.
In the thread's second tweet, FDR's fireside chats are referenced. In the sixth tweet, we find the sentence, "Online organizational tools now let distributed networks do complex collabs."
The thirteenth defines the word "meme."
The thread still exists as a nine-page Google Doc—including four sections and three appendices—on the Warren's Meme Team website. 
The Daily Dot spoke to the man behind @WarrensMemeTeam, Misha Leybovich, an MIT-educated engineer and start-up veteran turned political organizer, about his plans for the Meme Team.
Warren's Meme Team's plan states, "President Trump has successfully outsourced creativity to his supporters. For Senator Warren to win, we must outperform the Meme efforts of our primary and general election competitors."
When asked to elaborate, Leybovich said, "It occurred to me there is sort of a gap in capability between right and left. The advantage swings back and forth all the time … What can we do to close that gap?"
From Pepe to "Build the Wall" to weird God-Emperor imagery of an unrealistically buff Trump, there is no denying that memes have been central to the president's social media success.
Warren's Meme Team also presents a contrast to the few Democratic figures who have found social media success. On the left, "Dank Meme Stash" Facebook pages have become repositories for, well, dank memes. Pages like "Bernie Sanders' Dank Meme Stash" (393,588 members) and "Alexandria Ocasio-Cortez's Dank Meme Stash (18,762 members) have a chaotic vibe and irreverent sensibility, an extension of the "Dirtbag Left" mentality.
Andrew Yang has an equally potent meme army, inheriting Reddit and 4chan memelords who have grown disenchanted with Trump but are no less extremely online than they were in 2016. While the positions of Trump, Yang, Sanders, and Ocasio-Cortez differ, the energy and tone of the memes made by their adherents have a lot of similarities.
Another masterpiece to hype up tonight's debate. Attack on Yang.#YangGang pic.twitter.com/65aA6002vs

— Jonathan D. Chang (@jdschang) October 15, 2019
Warren's Meme Team is betting that they can take the edgy (and sometimes edgelord) chaos out of meme-making and produce internet content that mirrors the candidate. Though he hasn't released anything yet, Leybovich says he's is going to try a variety of things to see what memes have legs among Warren supporters.
In the same way that Warren's camp has tried to translate populist anger into technocratic progressive policy, WMT wants to offer memes that feel planned, smart, and fun; to match "We have a plan for that" with "We have a meme for that."
Leybovich isn't sure exactly what the best meme format is going to be for Warren supporters yet, though his hunch is "AR lenses"—which social media users often encounter as SnapChat filters or TikTok lenses—could be it. He is somewhat agnostic on meme format though. As long as they, "create something that propagates, a piece of information that makes its way forward and passes from person to person," Leybovich will call that a win.
On his site, Leybovich says Warren's Meme Team plans to "fight back, in a way that's authentic to our values."
I asked him what he meant by that and he said, "I think a lot of what Warren talks about is what she's fighting for rather than what she's fighting against … I like that [her campaign is] trying to stay focused on the substance of her plans."
Leybovich is aware that the kind of values he wants reflect: earnest, optimistic, nerdy wonkery, will invite trolls. When you try to sign up for Warren's Meme Team, you are greeted with a "WMT Application Screen" that asked for Facebook and Twitter URLs and an avatar picture.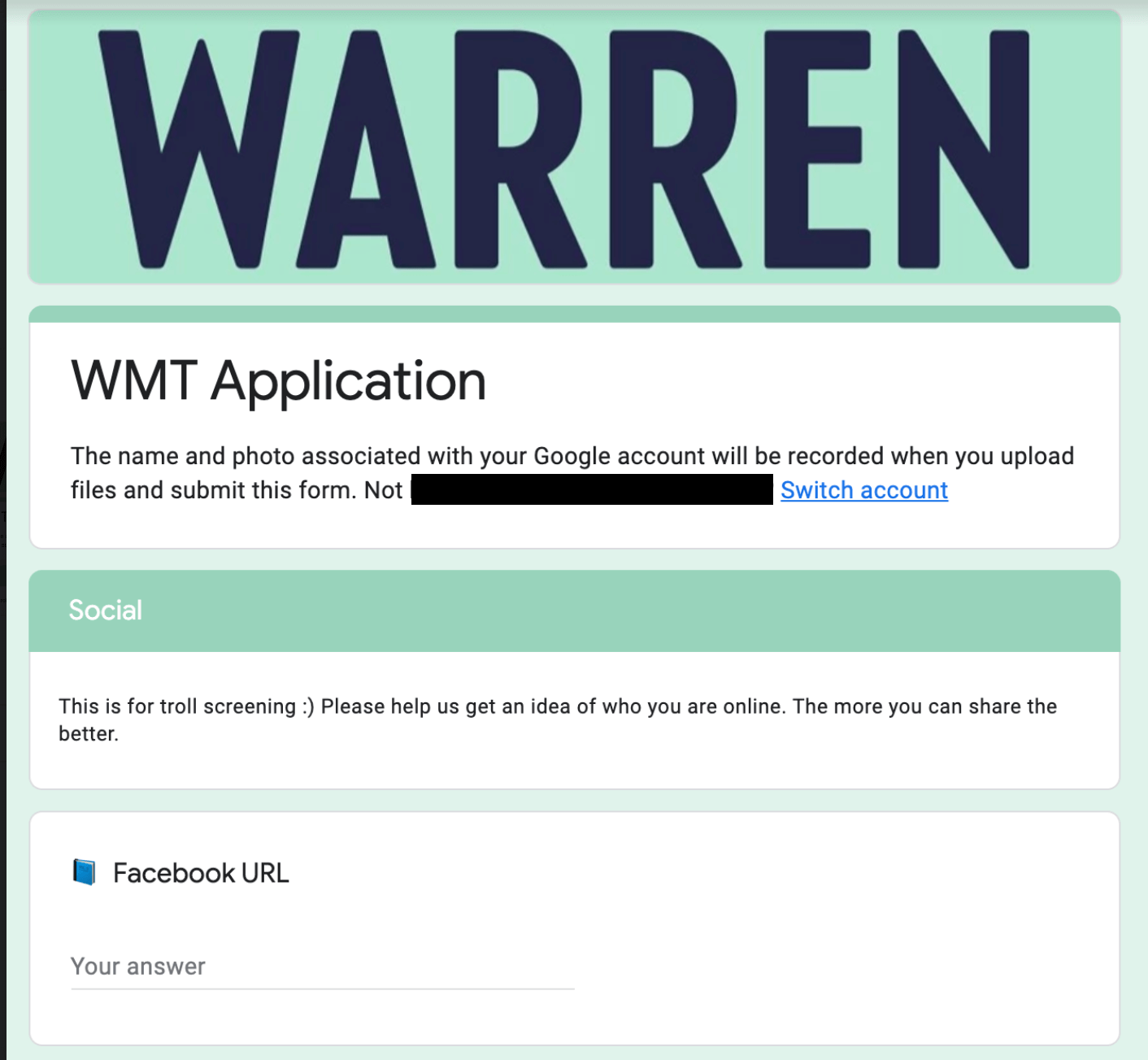 Nonetheless, Leybovich sees an advantage in putting his thoughts out on the internet, even if it draws criticism.
"Whatever downsides you get," he says, "you get people who are going to hate on you whether they read it or not. I'm putting my work out there in a detailed fashion that allows the right people and the right ideas to find me."
The Meme Team was right to expect trolls. Though Leybovich deleted his thread, you can still find plenty of dunks coming from the left and right on the WMT's tweets. Know Your Meme has declared, "The campaign was widely mocked online for attempting to organize meme culture."
https://twitter.com/NotTheRealMarco/status/1191011215138607104
November 3, 2019
I saved this meme, that was made by a proud Warren supporter, because it was so awesome! We need to make more great memes like this one, so that Elizbeth can WIN!
Warren's Wagon!!! YAY!!!!!! pic.twitter.com/Q1P9Ru7Imw

— Nate Notfollowedbyanyoneyourefollowing (@NRhinoman) November 4, 2019
The one tweet that remains on @WarrensMemeTeam's account has been ratioed: 20 retweets, 70 faves, 546 replies. Many of the replies are owns. 
#YangGang pic.twitter.com/IqkIDYmXNB

— D 4 N K ⚔️ B 0 T (@d4nkb0t) November 5, 2019
https://twitter.com/jonnyboyca/status/1191642874783289344
There is also a conservative parody account. 
https://twitter.com/WarrenMemeTeam/status/1191427555053776897
Leybovich has kept a positive attitude despite the trolling. 
"I was kind of tickled by the attention," he said. "I thought we were going to take a while to ramp up and get some oxygen behind things. When trolls go to town, it brings people in and lets them hear about it."
He added: "That's the internet. Trolls gonna troll. What are you going to do? You move on."
Warren's supporters and surrogates may be wise to listen to Leybovich. It could take some trial and error for Warren world to translate their plans for big structural change into internet content, but people have shown they are hungry for it. 
There have been successes. Warren's selfie line, "I've got a plan for that," and the massive inflatable of her dog, dubbed "Big Structural Bailey," have been viral wins.
That's my big boy! #LJ19 pic.twitter.com/Sa983rPKHY

— Elizabeth Warren (@ewarren) November 1, 2019
In that sense, Leybovich might be right that the what works for Warren may look nothing like the memes you would find in a dank stash.
Warren wants to bring some order to a chaotic world right now. Why shouldn't a memetic campaign match those sensibilities?
READ MORE:
Disclosure: Brenden Gallagher supports Bernie Sanders for president