"I don't want public attention because I don't want the story to be about me," NSA whistleblower Edward Snowden said in this weekend's interview with the Guardian. "I want it to be about what the U.S. government is doing."
But this 24-hour news cycle has made predictable delights out of all of us. With nothing more to report on Edward Snowden himself, and because digging up new intel on PRISM is getting difficult, the media have turned to his presumed girlfriend, Lindsay Mills—or at least her blog. 
So the Internet's biggest hero, the 29-year-old ex-CIA worker who risked his neck to take a stand for privacy, finds his girlfriend's thoughts, body, dress, and entire life dissected by strangers.
Surely you can see the problem here.
Media, outraged by NSA's violation of privacy, snoop into life of Edward Snowden's girlfriend @nymag nymag.com/daily/intellig…

— Christian Wolan (@ChristianWolan) June 11, 2013
If delving into Lindsay Mills's life didn't excite you enough, get the smelling salts: The girlfriend of the man at the center of a political and national security firestorm is someone who pole dances for fun. 
Bring out the revolting sexism.



She's also a burlesque performer, ballerina, and acrobat. Naturally, her activities leave her open to scrutiny about her body, her choices, and her skills as a dancer.
The blog, L's Journey, has now been taken down, but a cache is still available on Google. It's too late. All over the Web, you'll find photos of Mills in her underwear or videos of her dancing around the Internet. It's a nice tangent off of the main story, about our government using social media to covertly spy on us.
Commenters on BuzzFeed are having a field day picking Mills apart; New York magazine called her blog "dramatic." At their worst, people are mocking Mills: mocking her appearance because her underwear shots aren't "sexy" and she might have "crazy eyes"; mocking her pain by saying Snowden only leaked the information to stealthily break up with her; mocking her personal blog for being "insufferable," as if it were any different from anyone else's personal blog; mocking her dancing, calling her a stripper (Note: Mills does not get naked in her performance. Pole dancing ? stripping.); mocking her for being "left behind" in Hawaii.
People blogging weirdly wondering why the NSA leaker didn't take his GF when he ran: have you stopped to think about this for even 5 seconds

— Jonathan Bernhardt (@jonbernhardt) June 11, 2013
It's important to note that Mills is a small-time performer, dancer, and artist in her late 20s who performs with a local acrobatics troupe in Waikiki. She's not trying to go professional. Her boyfriend of four years just left home and became an enemy of the state; he might not return to the U.S. The NSA is visiting her repeatedly. She's rushing to scrub her online presence, because apparently she learned where her boyfriend was and what he was up to on Sunday along with everyone else in the world and basically had her universe turned upside down, at least according to the last post on her blog where she vaguely expressed anguish and surprise.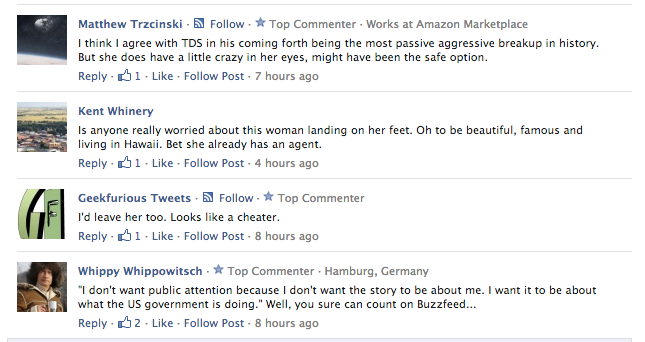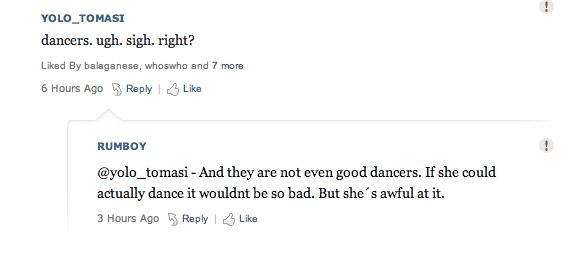 Mills's hobbies are so irrelevant to this case they might as well be NBA stats or the number of times Leonardo DiCaprio has farted in the last year. People are calling her dumb, naive, self-involved, and insufferable on a national scale—for doing nothing except living her life.

A personal blog is like a diary. The woman wasn't submitting to the New Yorker. She wasn't trying to publish a book. It's a guileless, earnest chronicle of Mills's life. Her prose doesn't have to be polished or Saunders-level rich. And regarding her dancing: She wasn't looking to join Alvin Ailey. She lived, as far as she knew, a small life in Hawaii with her boyfriend until that life was torn apart. I fail to see how any decent person could be amused by making fun of this woman.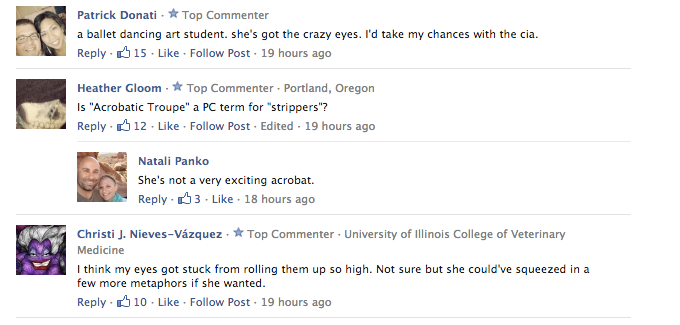 Snowden's leak is arguably the most important in national security history. On Tuesday, that all took a backseat to belittling some random woman. 
Luckily, it'll all show up in your government files one day, you jerks.
Photo via Sarah Ackerman/Flickr