If you've never seen one of the many YouTube videos of a dog being startled by a fart, you really owe it to yourself to check it out. It's one of life's purest joys.
What else startles dogs awake, besides farts? Sometimes their own snoring.
In a video posted to Twitter on March 15, a woman captured her sweet boy named Moose waking himself up by snoring too loudly.
His own snoring woke him up and I cannot stop laughing pic.twitter.com/wBV4rELESw

— lex (@axwaclawski) March 16, 2018
The look on his face when he wakes up is probably the best thing you'll see all day.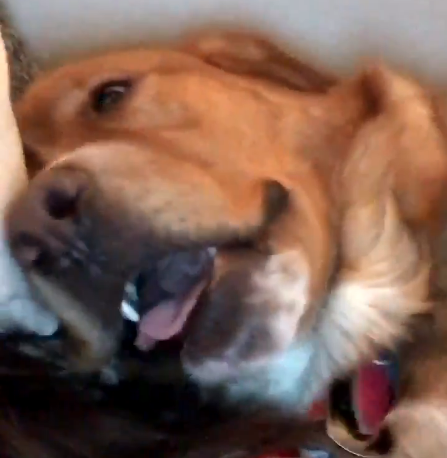 Obviously, Twitter fell in love with Moose immediately.
This is the funniest / cutest thing everrrrr 😍😭😂😍

— caralho ♉️ (@hoebertovittar) March 18, 2018
https://twitter.com/sincekidrauhl/status/975251788365467648
https://twitter.com/litdeluna/status/975144433992830978
https://twitter.com/ughxjesse/status/975210478640054272
And people shared pictures of their own cute pooches snoring it up.
Mine does the same pic.twitter.com/sjgiAKAuQr

— Mr. J (@RedskinDad) March 18, 2018
MY DOG DOES THE SAME THING pic.twitter.com/WImoxIUZbG

— wikolia (@wik0lia) March 19, 2018
Just so everyone knows that Moose isn't afraid of everything, his owner shared this picture of the big guy braving the snow.
March 18, 2018
Besides, Moose doesn't need to feel embarrassed for being a little frighted of his own tremendous snoring. After all, there are dogs out there who are petrified by the sight of a hamster.