He should really see a doctor about his swag levels. Blaming fatigue and a lack of preparation (birthdays really sneak up on you, don't they?), the artist formerly known as Puff Daddy and P. Diddy became the artist formerly born on Nov. 4. 
Diddy tweeted Saturday: "It's my Birthday Monday and I'm just not ready! TIRED. Real talk." A day later, he clarified by taking a screengrab of the tweet and posting it on Instagram.
"ATTENTION!!!!!!" Diddy wrote in all caps. "MY BIRTHDAY IS NOV 4TH BUT THIS YEAR ONLY IM CHANGING IT TO NOV 16TH. THE 4TH CAME TO EARLY IM NOT PREPARED! IM TIRED, MY SWAG IS OFF AND BOTTON LINE IS IM JUST NOT READY! SO LET'S BE CLEAR! I CHANGED MY BIRTHDAY JUST FOR THIS YEAR TO NOV 16th! SHOUT OUT TO ALL THE SCORPIOS!!! #diddyNewBday"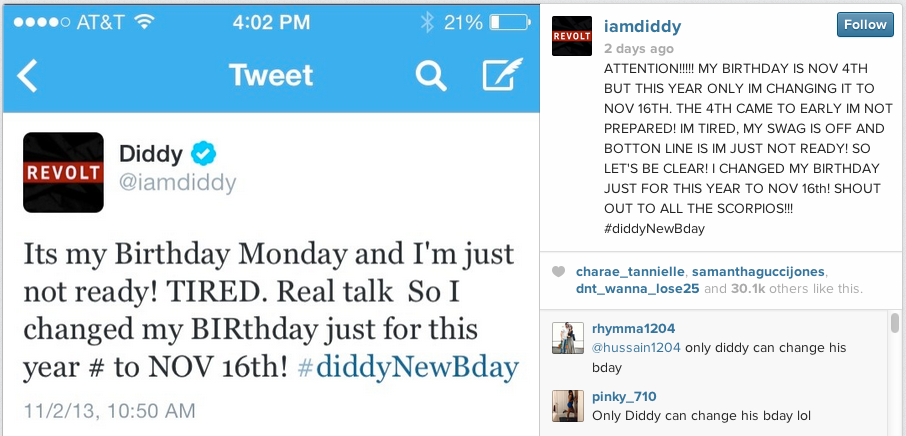 Birthday changes should normally be reserved for kids unfortunately born during winter months so they can have water fights and pool parties, but Sean Combs is a busy man these days. He's going door-to-door to promote his own cable network for Time Warner, and he finished the New York City Marathon, coming in 11,359th out of 35,100. That's more than most of us can say! So who cares if he's bending the rules of calendars and logic like only a Sean John–sporting Time Lord could. 
Happy birthday (in 11 days), Diddy.
H/T Time NewsFeed | Photo via LeoAmadeus/Flickr