While party slogans aren't all that important in presidential elections—whatever the top candidate uses always supercedes—they can have a profound impact on midterm elections. Former House Speaker Newt Gingrich and Republicans "Contract with America" was extremely influential in retaking Congress in 1994 and grinding Bill Clinton's presidency to halt.
Democrats are hoping to do the same thing in 2018, and…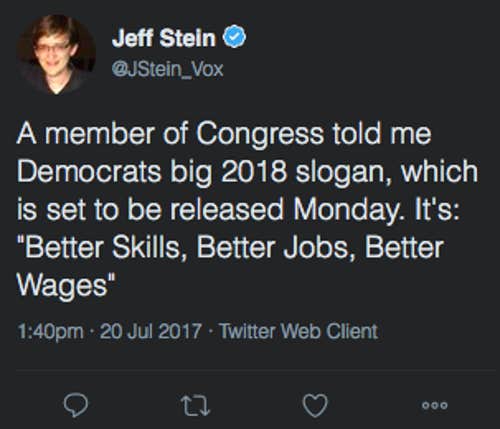 The language comes from former vice presidential candidate Sen. Tim Kaine (D-Va.), who coined the triumvirate in a May op-ed pushing for new Democratic policies on the economy.
Look, it worked for Papa John, which runs the slogan "Better ingredients. Better pizza." Who can argue with that? People think Papa John's just tastes better. That still didn't make people on the left happy.
Papa John's.

— Virgil Texas (@virgiltexas) July 20, 2017
Are they running for office or trying to get hired at Papa John's https://t.co/KSlz2eB1ND

— Vince Mancini (@VinceMancini) July 20, 2017
Anyone else want pizza? https://t.co/Dh6BJjewdx

— King of Jakes (@JakeMHS) July 20, 2017
Papa Johns wants royalties https://t.co/ekVWAcbIdZ

— Sam Stein (@samstein) July 20, 2017
lmaoooo wat? Are we ordering a pizza? https://t.co/tLCQBPvsT2

— 🗣 BARTOLO (@LadyBlueICU) July 20, 2017
working on 2018 slogans now

1. Welcome to the new economy, stupid
2. Better ingredients, better jobs
3. Jobapp
https://t.co/xRMqLCJk5T

— condom taste tester (@ByYourLogic) July 20, 2017
People are not optimistic about the tedious, verbose phrasing.
This is why we needed firings and accountability after the election.

This. https://t.co/ztbpDPY5GT

— emptywheel (@emptywheel) July 20, 2017
https://twitter.com/theshrillest/status/888092042558963712
https://twitter.com/inthesedeserts/status/888095593687638017
Hey, you never know what will resonate. But this probably won't.
Update 2:57pm CT: It's actually longer, and not much better.
https://twitter.com/JStein_Vox/status/888119019688964096