DC and Marvel have been pretty slow when it comes to trans and nonbinary representation, but DC's upcoming Future State crossover event will introduce an exciting new character: Kid Quick, a nonbinary addition to the Flash franchise.
Future State will launch a bunch of new comics for iconic DC heroes next year, along with a handful of newbies. Kid Quick, aka Jess Chambers, will become the new Flash in Future State: Justice League, joining the Justice League team from the alternate universe Earth-11. (Yes, that's a rather elaborate tangent from the main DC timeline, but hey, what do you expect from superhero comics?) They've appeared on a few pieces of promo art already, along with these costume sketches by artist Eleonora Carlini: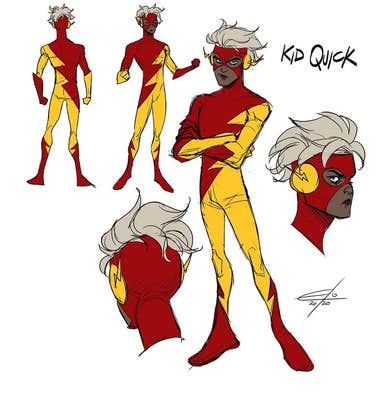 Working with writer Ivan Cohen, Carlini will introduce Jess Chambers in a one-shot story in the Merry Multiverse holiday special next month, so fans can meet the character ahead of the main Future State event. At that point they'll still be known as Kid Quick, a member of the Teen Justice team. As for their more high-profile role in Future State: Justice League, they sound like a pretty standard Flash spinoff, fulfilling the same super-speedy role as Wally West or Barry Allen.
There are a handful of transgender characters in mainstream superhero comics, including the relatively well-known Sera and Koi Boi (Marvel) and Alysia Yeoh (DC). Nonbinary characters are much more rare, especially in terms of real-life human gender identity, as opposed to robots or aliens. Marvel's Loki is the most high-profile example, a villain/antihero who is generally depicted as male but has a fluid gender identity in line with Loki's role in Norse mythology. However, Marvel was widely criticized for its first nonbinary superhero earlier this year—a character named Snowflake, with a twin named Safespace. Their names, costume design, and overall concept were instantly pilloried for being clueless and offensive, whereas DC's Kid Quick/Flash just looks and sounds like, well, a regular minor-league superhero.
While DC and Marvel have both made an effort to diversify their lineup in recent years, characters with marginalized identities rarely get the A-list treatment. Kid Quick's introduction is pretty typical: A short, one-off debut in an anthology comic, followed by a supporting role in a team book anchored by more famous heroes.
With a few exceptions like America Chavez and Kate Kane (Batwoman), this is why new LGBTQ+ superheroes often debut in a flurry of publicity before sinking without a trace. Established characters who later come out as queer (Harley Quinn; Iceman) are more likely to go the distance. So Kid Quick's longevity relies on whether they become a breakout character during the Future State event next year.
---
More essential culture reads
---