Tech

Tech

The gadgets, platforms, and software that make your digital life possible. if it bleeps, clicks or blinks, you'll find it here.

Internet Culture

Internet Culture

There's a community for everyone online.

Streaming

Streaming

You've cut the cord—now what?

IRL

IRL

Where your off- and online identities collide.

Social

Social

If it happens online, it's here.

Bazaar

Bazaar

The Bazaar specializes in the stuff you don't actually need…but you really, really want.
This Spider-Man dancing to 'Take On Me' is perfect
Spider-Man has saved a lot of people with his powers, but he really shines when he gets on the dance floor.
Peter Parker wears a mask to protect his loved ones. Perhaps this young man, dancing to "Take On Me" in a GameStop, was doing the same thing.
https://www.instagram.com/p/Bebo1P5ACPN/?taken-by=ghetto.spiderman
Although with sweet dance moves like that, you'd imagine his family would be overcome with pride.
Twitter was certainly impressed.
spider-man homecoming alternate ending where peter goes to liz's party pic.twitter.com/fk7MkL05cU

— bai (@tightyspidey) January 31, 2018
https://twitter.com/FanaticalFanBoy/status/957854665131155456
How Spider-Man gets down before the new Infinity War later this year 😂 pic.twitter.com/G2LOpvvwYl

— Long Phi Nguyen (@LPN510) January 29, 2018
The video was posted by a 16-year-old who goes by "Ghetto Spiderman" on Instagram, and it's not the first time he's shown off his dance prowess in the costume.
https://www.instagram.com/p/BeeGr0igSpm/?taken-by=ghetto.spiderman
https://www.instagram.com/p/Bc0NsPagkXE/?taken-by=ghetto.spiderman
Although sometimes he has to go shopping just like the rest of us.
https://www.instagram.com/p/BcYLSvFgxwD/?taken-by=ghetto.spiderman
It's interesting that he's wearing a different Spidey costume in the shopping video. Does he just have a different suit for shopping day, or are we dealing with a new Clone Saga?
Whoever this kid is, he's following in a proud tradition of dancing Spider-Men.
There is, of course, the classic GIF that was first posted to the London-based blog "Pants On Head" in June of 2002: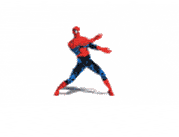 And who can forget Tobey Maguire's somewhat baffling dance scene from Spiderman 3?
In 2015, a group of Spideys formed a Soul Train-esque dance line at Wintercon in New York.
In 2016, a group of web-heads attending Stan Lee's Los Angeles Comic Con created a video where they danced to an electronic version of the Ah-ha's "Take on Me."
Somehow the song seemed like the perfect accompaniment for superhero dancing. It inspired both a Batman and a Pokémon version, among others.
For some reason, the internet just can't get enough of dancing Spidey. You can see him dancing with Darth Maul and Mary Jane.
…and having dance-offs with Storm Troopers.
And, of course, with Deadpool.
Maybe it's about Peter Parker being a teenager, maybe it's the form-fitting costume, maybe it's his scientifically enhanced super agility, but there's just something about Spider-Man that makes people want to see him dance. Naturally, your friendly neighborhood web-slinger is happy to oblige. After all, with great moves comes great responsibility.
David Britton is a writer and comedian based in Rhinebeck, New York who focuses on internet culture, memes, and viral news stories. He also writes for the Hard Times and is the creator of StoriesAboutWizards.com.
© The Daily Dot, all rights reserved.
Represented by Complex Media, Inc. for advertising sales.