Peter Parker wears a mask to protect his loved ones. Perhaps this young man, dancing to "Take On Me" in a GameStop, was doing the same thing.
https://www.instagram.com/p/Bebo1P5ACPN/?taken-by=ghetto.spiderman
Although with sweet dance moves like that, you'd imagine his family would be overcome with pride.
Twitter was certainly impressed.
spider-man homecoming alternate ending where peter goes to liz's party pic.twitter.com/fk7MkL05cU

— baí (@tightyspidey) January 31, 2018
https://twitter.com/FanaticalFanBoy/status/957854665131155456
https://twitter.com/LPN510/status/958045359732793344
The video was posted by a 16-year-old who goes by "Ghetto Spiderman" on Instagram, and it's not the first time he's shown off his dance prowess in the costume.
https://www.instagram.com/p/BeeGr0igSpm/?taken-by=ghetto.spiderman
https://www.instagram.com/p/Bc0NsPagkXE/?taken-by=ghetto.spiderman
Although sometimes he has to go shopping just like the rest of us.
https://www.instagram.com/p/BcYLSvFgxwD/?taken-by=ghetto.spiderman
It's interesting that he's wearing a different Spidey costume in the shopping video. Does he just have a different suit for shopping day, or are we dealing with a new Clone Saga?
Whoever this kid is, he's following in a proud tradition of dancing Spider-Men.
There is, of course, the classic GIF that was first posted to the London-based blog "Pants On Head" in June of 2002: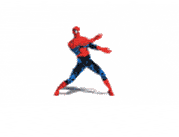 And who can forget Tobey Maguire's somewhat baffling dance scene from Spiderman 3?
In 2015, a group of Spideys formed a Soul Train-esque dance line at Wintercon in New York.
In 2016, a group of web-heads attending Stan Lee's Los Angeles Comic Con created a video where they danced to an electronic version of the Ah-ha's "Take on Me."
Somehow the song seemed like the perfect accompaniment for superhero dancing. It inspired both a Batman and a Pokémon version, among others.
For some reason, the internet just can't get enough of dancing Spidey. You can see him dancing with Darth Maul and Mary Jane.
…and having dance-offs with Storm Troopers.
And, of course, with Deadpool.
https://www.youtube.com/watch?v=Hatdrk8hoCs
Maybe it's about Peter Parker being a teenager, maybe it's the form-fitting costume, maybe it's his scientifically enhanced super agility, but there's just something about Spider-Man that makes people want to see him dance. Naturally, your friendly neighborhood web-slinger is happy to oblige. After all, with great moves comes great responsibility.