It's understandable that people get duped during natural disasters, given the hyperfast pace of information. But one person you would hope wouldn't be fooled is the man running social media for the president of the United States.
On Sunday, Dan Scavino, Jr., President Donald Trump's social media director, tweeted out a video of a flooded Miami airport during Hurricane Irma.
Only one problem: It wasn't Miami International Airport. It wasn't Miami at all.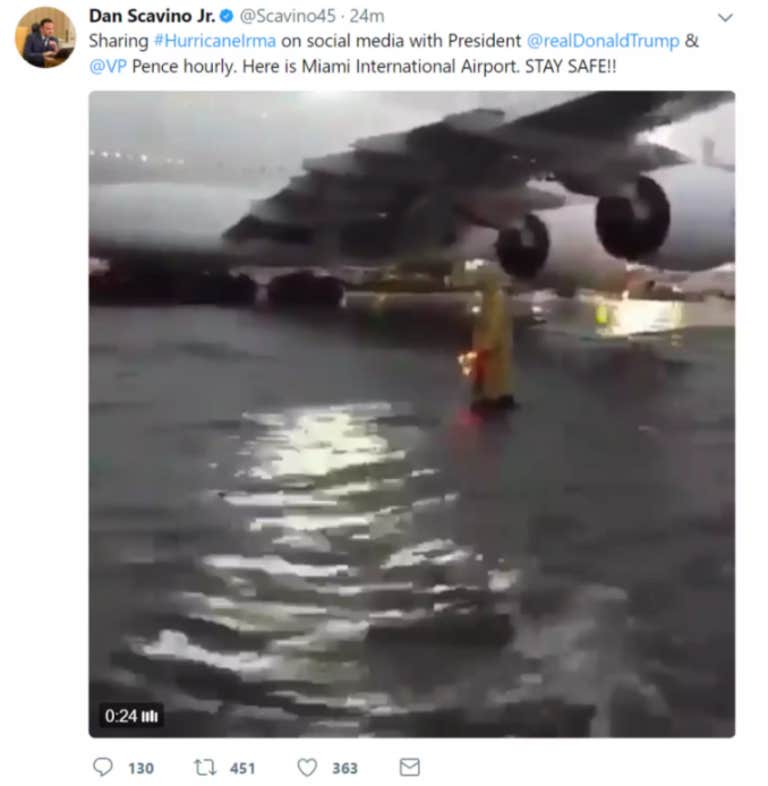 In any natural disaster or emergency situation, Twitter is always awash in fake videos and misinformation. Who hasn't, since Hurricane Harvey hit, seen that shark picture everyone tweets during any storm?
So, people get tricked, which usually isn't a big deal. The difference here is, Scavino specifically mentions he was sharing this information with the both the president and the vice president.
Thankfully, Miami International Airport was right there to let him know the truth.
This video is not from Miami International Airport.

— Miami Int'l Airport (@iflymia) September 10, 2017
The video is, according to the Washington Post, at least a week old and purportedly shows an airport in Mexico City.
https://www.youtube.com/watch?v=14XKq1V3bgQ
For his part, Scavino deleted the tweet and apologized, blaming the rapid influx of posts he was receiving.
Thank you. It was among 100s of videos/pics I am receiving re: Irma from public. In trying to notify all, I shared – have deleted. Be safe!

— Dan Scavino Jr. Archived (@Scavino45) September 10, 2017
The airport appreciated the swift correction.
Thanks, Dan.

— Miami Int'l Airport (@iflymia) September 10, 2017
While it's extremely hard to verify breaking news on social, it makes for a good rule of thumb: If you aren't certain, don't tweet it.
H/T Josh Billingson