We crawl the web so you don't have to.
Sign up for the Daily Dot newsletter to get the best and worst of the internet in your inbox every day.
Hello fellow citizens of the internet! Andrew here. Welcome to today's edition of web_crawlr.

Our top stories today are about: A couple warning about how they were "scammed into buying a $30,000 vacation," how Sen. Mitch McConnell (R-Ky.) was heckled with jeers and boos during a recent speech in front of his own constituents, a look at what Oppenheimer left out about Jean Tatlock, and an Amazon driver detailing how his GPS led him to get stuck in mud in a cornfield.
After that, we've got a "Problematic on TikTok" column from our IRL Reporter Tricia.
See you tomorrow!
— A.W.
---
⚡ Today's top stories
A content creator and her boyfriend had gone to Punta Cana in the Dominican Republic to enjoy a little fun on the beach. But according to her, they both found themselves the victims of a vacation scam.
Sen. Mitch McConnell (R-Ky.) was heckled with jeers, boos, and chants to "retire" during a speech in his home state of Kentucky.
An Amazon delivery driver went viral when he posted a series of videos documenting how he got stuck in a cornfield.
Many details about her life are not shown in the Christopher Nolan film.
---
We crawl the web so you don't have to. Sign up to receive web_crawlr, a daily newsletter from the Daily Dot, in your inbox each day.
---
🔒 Ask us a question!
Do you have questions about how to surf the 'net safely? We can help.
Just click the button below to ask our Tech Reporter Mikael an internet security question. If your question gets picked to be answered in a future column, you'll get this pretty sweet "Your Password Sucks" shirt to show off.
Got a question you want answered? Sign up for web_crawlr here so you can learn how to surf the 'net safely.
---
😬 Problematic on TikTok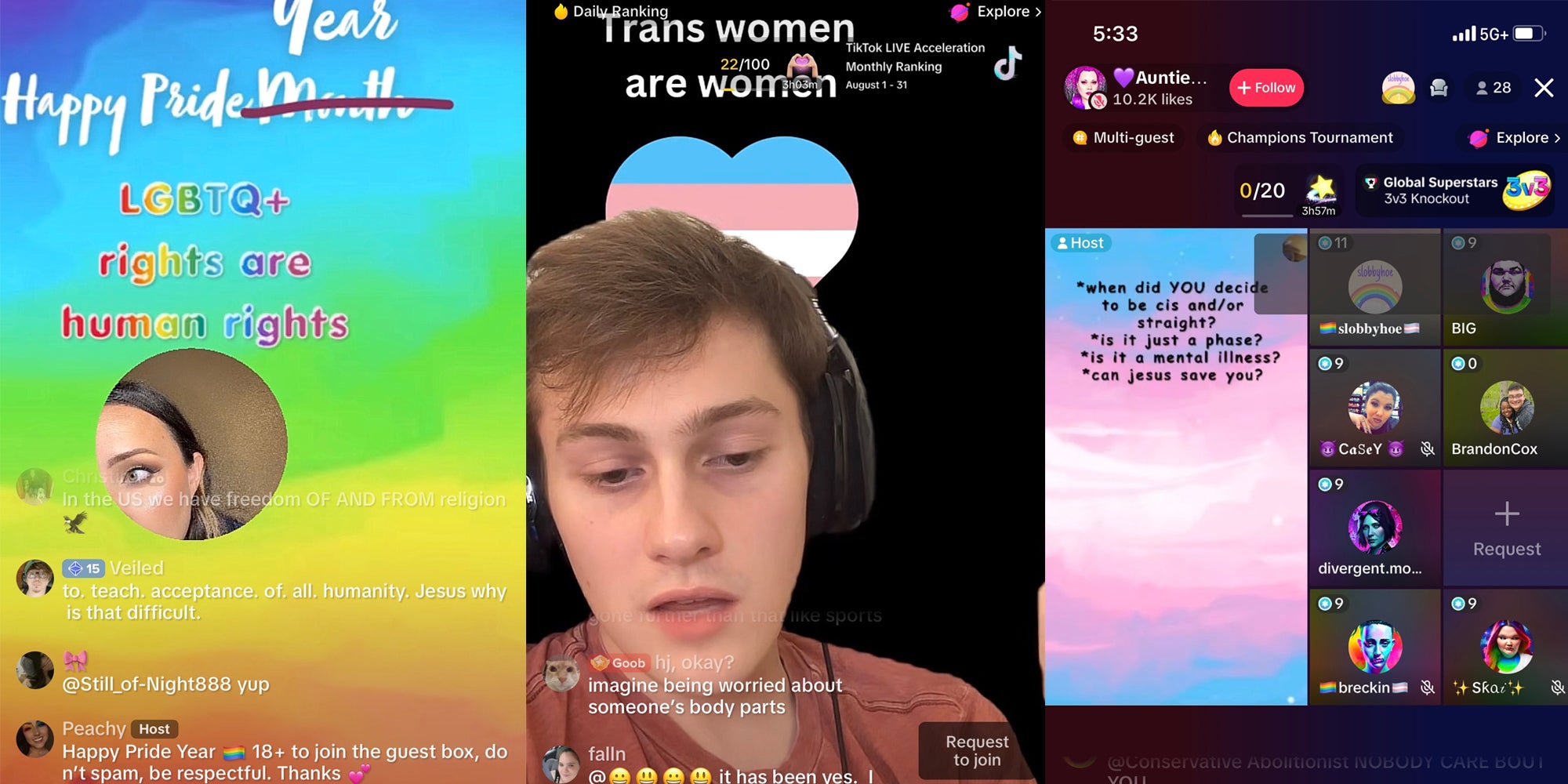 Who benefits from 'debate me' TikTok lives?
In each edition of web_crawlr we have exclusive original content every day. On Tuesdays our IRL Reporter Tricia Crimmins breaks down the trends on the popular app that will make you cringe in her "Problematic on TikTok" column. If you want to read columns like this before everyone else, subscribe to web_crawlr to get your daily scoop of internet culture delivered straight to you inbox.
---
🕸️ Crawling the web
Here is what else is happening across the 'net.
🏨 One woman is calling out Comfort Inn & Suites after she says she was scammed out of her cash deposit by the hotel's worker.
🧼 In this economy, it's important to find ways to lower your household expenses and one TikToker recently went viral after showing users how to get free containers of Bath and Body Works soap.
🚽 In a Reddit post, a Walmart worker said their boss retaliated against them for taking a bathroom break they deemed too long.
🛒 Getting through checkout at Costco isn't as simple as you might think.
🦈 Heading to the beach this summer? Think again. These shark movies may make you want to stay on dry land for just a bit longer.*
🚙 In a viral video, a Denver man shows how his car's front window was smashed in by the automatic carwash, stoking fears among viewers.
💼 An entrepreneur went viral after sharing that she added salary information to every full-time job she has listed on her LinkedIn page.
🛍️ From the Daily Dot archive: #TikTokMadeMeBuyIt: Why TikTok shopping isnow the ordinary.
*The Daily Dot may receive a commission in connection with purchases of products or services featured here.
---
👋 Before you go
Instacart customers can be demanding.
Two months ago, an Instacart driver went viral after claiming that a customer requested that their milk be delivered at a temperature "40 degrees or below."
A month before that, in May, a Reddit post showing a very picky customer got shared around the internet. The customer in question made odd requests such as asking for grape tomatoes that would last for 3 to 4 weeks and eggs that would last for two months.
Now, another customer's peculiar request has gone viral. In a Reddit post entitled "Insta-cancel," Redditor u/Hannerlore shares a wild series of demands they received from a customer.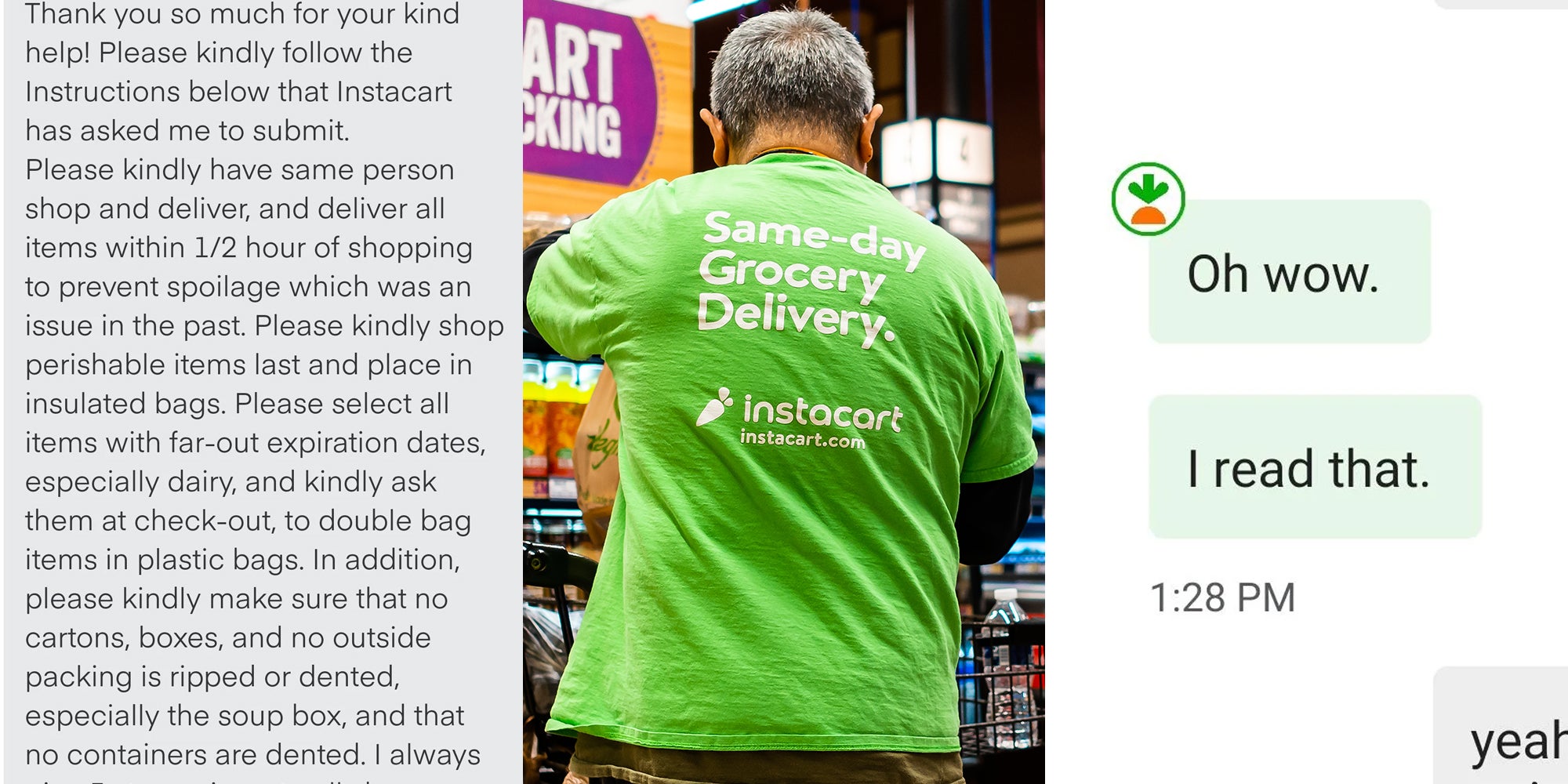 ---
🎶 Now Playing: "Sever the Blight" by Hemlocke Springs 🎶