Eating at McDonald's always comes with risks, but for one TikToker it allegedly came with a Hepatitis A vaccine.
Earlier this week, a woman named Kirsten (@hurricanekirsten) shared a TikTok, presented as a slideshow, that has more than 184,000 views. The first slide shows an Instagram post from Vancouver Coastal Health, advising anyone who ate at a specific Vancouver McDonald's from April 29-May 9 get a Hepatitis A vaccine, due to a "possible exposure."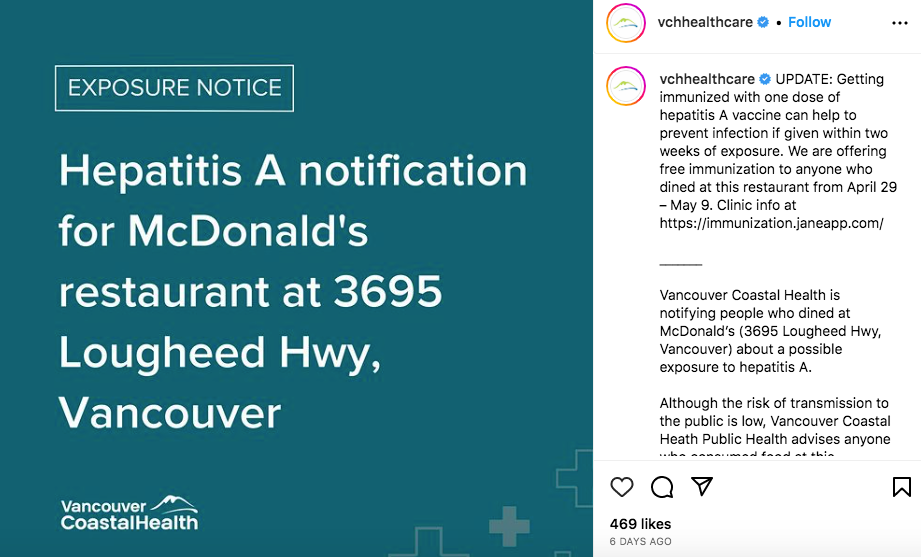 Kirsten then showed screenshots of her recent McDonald's orders, as well as photos from the immunization clinic, set to Wesley Willis' "Rock N Roll McDonald's."
"Thank you for your public service because I've just realised I've been exposed too," said one commenter.
In the comments, Kirsten says there were two exposure notices, and on the Vancouver Coastal Health site, the dates range from April 19 to May 9. In response to another comment, she says she'll "probably go back to McDonald's next week tbh hahahha."
Last month, a TikToker named Kira claimed she received an Egg McMuffin with drops of blood on it, and after bringing it back to the location half eaten, an employee confirmed someone had cut their hand around the time of her order. Kira was pregnant at the time and worried that she or the baby would get sick, though said her comment about getting Hepatitis was a joke. In March, a Hepatitis A outbreak was attributed to frozen organic strawberries in California, Oregon, and Washington.
We reached out to Kirsten via Instagram DM, and McDonald's via email.