Step aside, hot celebrity beef coming through: TMZ has released video of what appears to be a physical altercation between R&B singer Solange Knowles and Jay Z in an elevator as they departed a Met Gala after-party held at New York's Standard Hotel. Also, Beyoncé was there!
What could have prompted Solange to viciously kick her brother-in-law with high heels that probably qualify as deadly instruments? Well, that's a matter of some speculation.
@SLeasca I know some people that are extremely extremely close to JayZ's entourage, and evidently, JayZ innocently offered Solange a TicTac.

— Kevin Gant (@gantman) May 12, 2014
#WhatJayZSaidToSolange "You look like Gus from Breaking Bad" pic.twitter.com/Qtu21AH154

— colin (@c0linmarsh) May 12, 2014
#WhatJayZSaidToSolange Solange: You think I'll ever be as talented as my sister? Jay: pic.twitter.com/dX3GSnaGdl

— Kevin Hart (@KevinHeart2Real) May 12, 2014
#WhatJayZSaidToSolange "if you need help paying your rent we are here for you" solange was like pic.twitter.com/s98yLnbUq6

— Akiel (@Akiel_) May 12, 2014
Y'all gotta leave Solange alone lmfao #WhatJayZSaidToSolange pic.twitter.com/TdVrWT4Ztu

— (@ItsKingTitus) May 12, 2014
My lips are bigger than your career #WhatJayZSaidToSolange

— black nigga (@TrapHouseMario) May 12, 2014
#WhatJayZSaidToSolange "no we are not taking you home" pic.twitter.com/oJHdURxu6o

— Ãèröbīč (@__InhalePoison) May 12, 2014
#WhatJayZSaidToSolange grumpy cat died

— Löwenäffchen (@Lowenaffchen) May 12, 2014
#WhatJayZSaidToSolange "why you gotta use our curtains as clothes" pic.twitter.com/rwMv2jjOKv

— Lloyd (@thatyoungblood) May 12, 2014
#WhatJayZSaidToSolange lasagna is a sandwich

— Patrick (@pattymo) May 12, 2014
#WhatJayZSaidToSolange "I loved you on the Goldmember soundtrack." pic.twitter.com/wvRU0mC17N

— The Geek Twins (@Thegeektwins) May 12, 2014
Jay-Z probably just farted in that elevator.

— Jay Onrait (@JayOnrait) May 12, 2014
A critical question: could Beyoncé's eyewitness testimony clear anything up?
Of course, there's always a chance this is another one of Jimmy Kimmel's irritating hoaxes.
wait…wat. pic.twitter.com/ogqvgwGd5b

— darth™ (@darth) May 12, 2014
Or maybe Solange just felt like a Real Hero that night.
Solange in that elevator like pic.twitter.com/NQzkljcJmB

— I'm Gary (@noyokono) May 12, 2014
We're also not prepared to rule out anime cosplay run amok.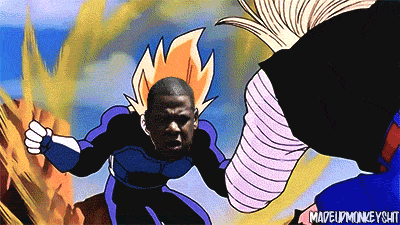 via madeupmonkeyshit.tumblr.com
Then there are the darker theories—you know, the Illuminati stuff.
Solange probably knows Jay-Z is an illuminati demon & not an actual decent human being

— Gette (@DeMiSoule) May 12, 2014
Solange found out she was the illuminati sacrifice and resisted. That's the only explanation I can come up with…

— Marcus Harris (@entitledtodance) May 12, 2014
Jay probably ain't allow Solange to use him as a reference on her illuminati application

— Tah MF'n Breeziiy (@Tah_Skywalker) May 12, 2014
BREAKING: Solange attacks Jay Z, and the ILLUMINATI is behind all of it pic.twitter.com/KMEau2FrZy

— Krystie Lee Yandoli (@KrystieLYandoli) May 12, 2014
But some suspected that a different sort of cover-up lay at the heart of the fight.
Maybe Solange just realised that her sisters daughter is named after Jays ex and first love Blu Cantrell

— Carmell R (@carmell_r) May 12, 2014
Some internet conspiracy theorists think Solange is actually Beyoncé's daughter. https://t.co/HmTTXgOdpt

— Jessica Misener (@jessmisener) May 12, 2014
My sources at #BlackTwitter are reporting that Solange went off cause she wants full custody of her biological daughter, Blue Ivy.

— Adele Dazeem (@Bwoods12) May 12, 2014
Will the world ever know the truth? Yeah, like we're ready for that.
Photo by Braden Fletcher/Flickr (CC BY-NC-SA 2.0)