The man responsible for the iconic "10 Guy" meme has come forward to reveal his identity after a decade of remaining anonymous.
In a post on Twitter in April, 10 Guy, whose real name is Connor Sinclair, announced that he would be auctioning off the rights to the meme as a non-fungible token, or NFT, to celebrate "10 years of 10 Guy."
The announcement went largely unnoticed until this week when a YouTube video uploaded by the U.K. native was picked up by the internet meme database and news site Know Your Meme.
In the video, Sinclair states that he intends to unveil further surprises in the near future while offering internet users an inside look into the man behind the meme.
Since emerging on the pro-cannabis subreddit r/trees in 2011, 10 Guy, also known as Stoner Stanley and Really High Guy, has remained a popular meme as few others have.
Speaking with the Daily Dot, Sinclair said that the meme's connection with cannabis was one of the reasons he chose to remain anonymous for as long as he did.
"I was only 19 when it first went viral and still at University," he said. "I didn't want to lean into the 'fame' too much and have it potentially affect my future."
Sinclair pointed to the emergence of NFTs, which can be used to prove ownership of digital art, as one of the primary reasons he finally decided to embrace his status as a meme legend.
"My meme is 10 years old—basically ancient history in terms of internet culture. I'm amazed it's had the staying power it has had and I'm amazed people are still interested," Sinclair said. "I've never made any money from the meme but it's still been a part of my life for a decade. I really want to seize the opportunity. I don't want to look back and say 'What if?'"
The recent NFT craze has seen the ownership rights to some of the most iconic memes being auctioned off for significant amounts of money. The creator of Nyan Cat, an animated flying feline with a Pop-Tart body that emits a rainbow in its wake, sold his meme for an astonishing $454,000 last February.
When looking back, Sinclair said that despite his initial hesitancy to reveal his identity, 10 Guy has brought him almost nothing but good things—including his current girlfriend.
"At this point in life I'm a lot more settled. If i think about it I've never really had anything negative from the meme apart from maybe the odd comment online, so in retrospect I was being overly cautious," he said. "I met my girlfriend of six years because she asked to take a photo with me so it certainly hasn't been all bad."
As far as future plans, Sinclair said he's now ready to take on every opportunity that comes his way and has even decided to get back to his roots—literally and figuratively.
Sinclair said he's teamed up with r/trees in order to tackle climate-related issues.
"I've been thinking about ways to offset the carbon issues around NFT's and I'm working on a collaboration with the /r/trees subreddit to do a themed NFT for a climate charity – hopefully planting trees with /r/trees!" he said.
But for those who grew up with 10 Guy, only one question truly matters: Was Sinclair actually stoned in his now-historic photo?
Providing context, Sinclair told the Daily Dot that the photo was taken during a summer holiday with his mates on the Spanish island of Ibiza prior to his first year at university.
Sinclair blamed his appearance in part on the lack of air conditioning in the cheap hotel. And as for whether cannabis was involved, Sinclair referenced the Daily Dot to a meme, ironically enough, to answer the question.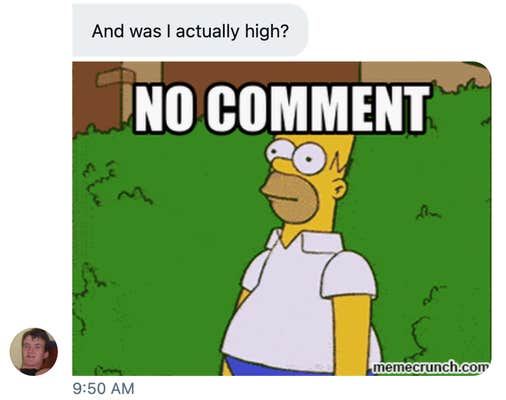 ---
More essential culture reads
---