Connect Four, combined with basketball, seems like the greatest sport ever invented.
In the 1998 movie BASEketball, Trey Parker and Matt Stone play men who are too lazy to play actual basketball, so they invent a new sport where they don't have to run or really exert themselves at all. Now some guys in Australia have one upped them by combining basketball with something even less physically strenuous than baseball: the beloved game of Connect Four.
Obviously, Connect Four is trademarked by Milton Bradley, so the fellas refer to the game as "Four in a Row." The game actually predates Milton Bradley and has been around in various forms for at least a century, where it had names like Four Up, Plot Four, Find Four and, oddly enough, Captain's Mistress (supposedly because British Captain James Cook spent so much time in his cabin playing it).
This new version of the game was invented by the guys at How Ridiculous, three Australian dudes who love doing, well, ridiculous things, like constructing a giant KFC chicken bucket, or dropping an exercise ball filled with water off a 147-foot tower.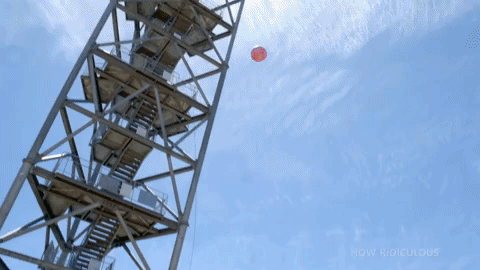 But this basketball/Connect Four hybrid has to be their magnum opus. It's played exactly how you'd imagine. Players take turns shooting different colored basketballs, trying to get four in a row on a grid.
This thing looks amazingly fun. Especially when played in "Mayhem" mode, where instead of taking turns players just shoot wildly. It also leads to great moments like this.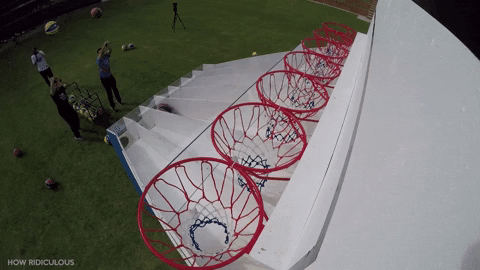 If you want to try out the game, and we know you do, your out of luck unless you can make to Curtin University in Western Australia by August 6th, where the guys will be letting people try out their contraption. That having been said, as fun as this thing looks, it might just be a matter of time before they start popping up all over the world.
H/T Mashable