Curious about the future of online news media? Look no further than CNN's laughable iReport website, where users can upload any gibberish they like and call it journalism. Take this article about a fictitious asteroid expected to wipe out life on earth, for example.
Sure, the splashy image of a Manhattan-sized space rock's extinction-level impact on the surface of our fragile planet carries the legend "NOT VETTED BY CNN," and the probable collision is scheduled for "March 35, 2041," but that didn't stop some 54,000 readers from eagerly sharing Marcus575's crackpot story with friends. Neither was anyone bothered by the appearance of unrelated tags including "beiber, war, gaming, stocks, cyrus, obama," and "states," clearly indicative of a cynical ploy to artificially boost the pageview count.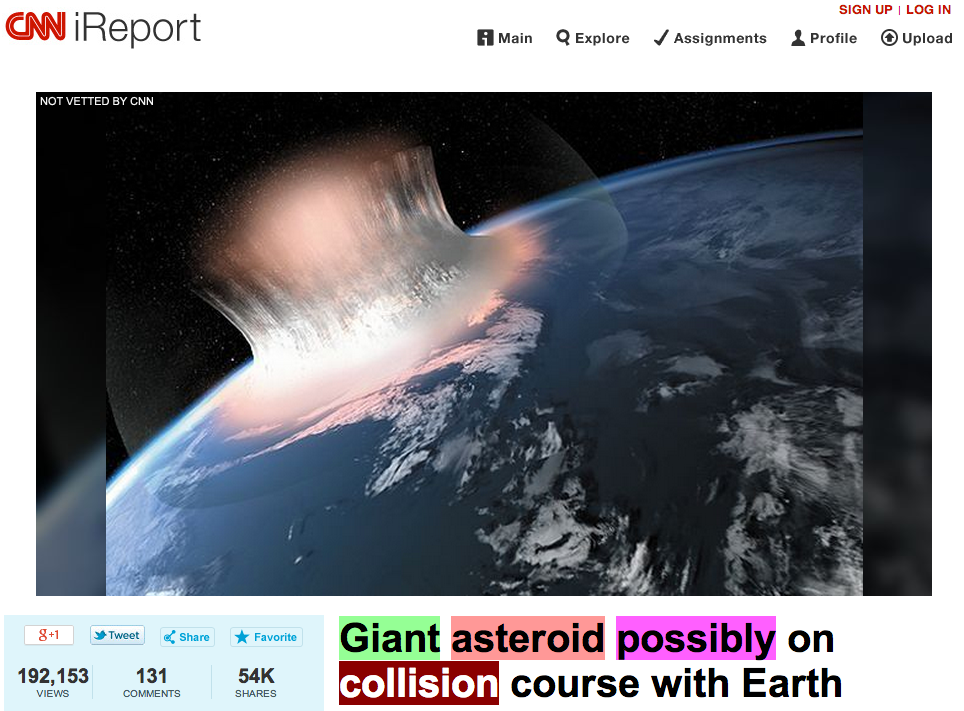 You could argue that the iReport system works, given how CNN eventually pulled the post for violating community guidelines and issued a quick correction: "NASA has confirmed via email that this story is false," the page now reads. "A spokeswoman for the Jet Propulsion Laboratory says that the largest object detected by [Near-Earth Object Wide-field Infrared Survey Explorer] measures 3 km in diameter and poses no risk to Earth."
Sadly, the misinformation is already out of the bag, and quite a few people may really think that we've got just 27 short years before we're pulverized into cosmic dust. But at the rate our national gullibility is expanding, armageddon can't come soon enough. 
H/T The Independent | Photo by Steve Jurvetson/Flickr (CC BY 2.0)