A ghost hunter on TikTok visited the Cecil Hotel, known for the mysterious deaths, including suicides and murders, that have occurred there; its serial killer guests; and, perhaps, most infamously, Elisa Lam's passing.
Kris Star, a TikToker with nearly 250,000 followers, visited the Los Angeles hotel with her team to specifically look for the spirit of Lam, who was the subject of a true crime documentary that recently launched on Netflix.
Star has so far posted two videos of her time at the hotel. One video that was posted on Wednesday and went viral, with nearly 200,000 views, features the room Lam stayed in, room 506. Star claims the noises that can be heard in the background are "the elevator going off" by itself. "I don't knwo who's doing it. There's nobody over here," she says.
However, Star never actually shows the elevator in the video.
The second TikTok video she posted shows the group attempting to communicate with Lam via a spirit box, a device often used by ghost hunters to try and contact paranormal beings through radio frequencies. Words, including Elisa Lam's name, do appear to come through the box, with sharper than average clarity for such a device.
The TikToker claims the group got exclusive access to the hotel, which was closed in 2017 for extensive renovations after being bought by a a real estate developer.
Lam's body was found in 2013 in a water tank on top of the hotel.
Due to the documentary, The Vanishing at the Cecil Hotel, there's been a resurgence of interest in the tragic case. The 21-year-old Canadian student's death was ruled an accidental drowning due to the absence of physical trauma on her body. However, questions remain about how she managed to get on the roof in the first place or what was going on in the infamous elevator security footage, where she was apparently last seen. The water tank she was found in was also reportedly sealed with her inside and the roof's door locked. Prior to the release of the documentary, a TikToker resurfaced the elevator footage, which shows Lam acting strangely while in the elevator. In the footage, she pushes multiple buttons, briefly exits just to re-enter, makes gestures, and even appears to hide.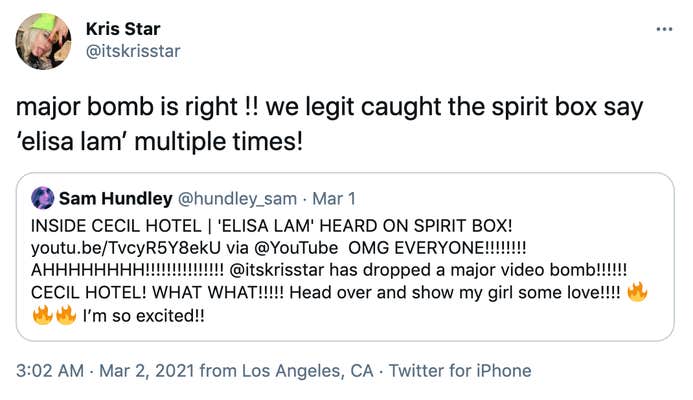 Star posted a longer video featuring her attempts to contact Lam's spirit and the group exploring the hotel further to her YouTube channel. Oscillating between excitement and claims Star is working with the utmost respect to give Lam a voice, the video is both sad and unsettling.