The first Burger King in South Africa opened to a raucous, excited, and confused response on social media. Lines for the Cape Town branch of the King were reportedly 40 to 50 people deep. But the real commotion happened online.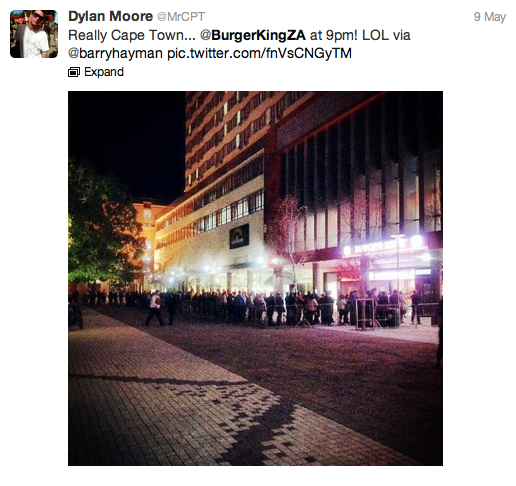 The official South African Burger King Twitter account (@BurgerKingZA) has been fielding questions and requests since the restaurant opened, including people checking how long the lines are, when the best time would be to come in, and asking questions about the menu.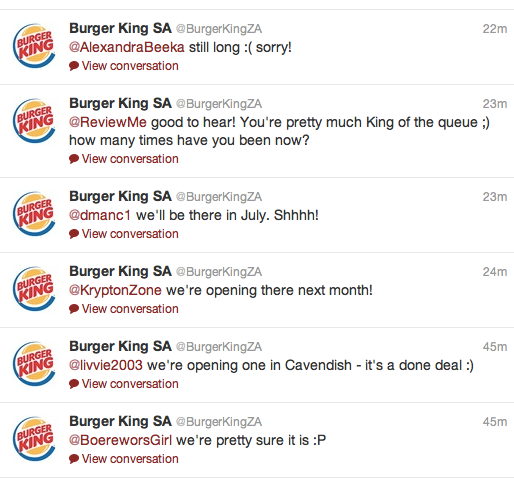 The latest tweet today reveals that a second Burger King will be opening in South Africa, in Cavendish Square in Cape Town's southern suburbs. The tweet was met with much celebration. Most of the social media chatter has centered around the huge, long lines at the new Burger King. When it finally gets to be your turn to order, you better make it worth it: For example, one patron tweeted a photo of himself with the 47 (!!!) Whoppers he purchased. 
@burgerkingza @themaske1 was hungry so he ordered 47 whoppers hahaha :'D twitter.com/Chris_Taylor_D…

— Chris Taylor (@Chris_Taylor_DJ) May 31, 2013
Some South Africans did not get the hype. Youtuber Anton Taylor uploaded a video showing the crazy lines at the BK SA, and after an hour, he finally taste-tested a burger.
Though he acknowledged the excitement was due to some people having never traveled abroad and tasted good ol' American Burger King, he was distressed that the lines for BK seemed to be longer than any line he's seen for municipal voting.
Maybe if they gave out Whoppers at the voting booths? Just a thought.
H/T HyperVocal | Photo via @Chris_Taylor_DJ