Brianna Wu, the game developer and activist who is now running for Congress, unveiled a potential new logo Wednesday. To say the internet is roasting it is a tremendous understatement. A design hasn't been this creatively, viciously critiqued since Under Armour released the much-maligned Curry 2 Low 'Chef Curry' shoe nearly a year ago.
Here's what Wu's idea for a bumper sticker design looks like, in a now deleted tweet: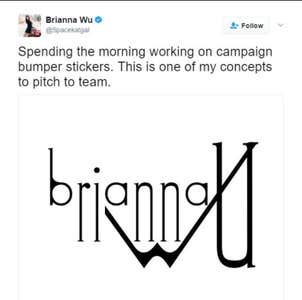 And here's what people are saying about it:
people with synesthesia see Brianna Wu's logo and smell a combination of cloves, crushed velvet and sugar free Monster

— bonkers in yonkers (@jimpjorps) April 12, 2017
https://twitter.com/bransonbranson/status/852216618390347776
the Brianna Wu logo is on the label of an exclusive line of studded leather collars only available at Spencer's Gifts

— bonkers in yonkers (@jimpjorps) April 12, 2017
LMFAO fitting that Brianna Wu will use a log fit for a 70s acrid rock band in her bid to be congressperson for the moon pic.twitter.com/BSqvbwSRY4

— #Doomberg ⌬ (@delmoi) April 12, 2017
when does brianna wu's logo get added to @metalband_exe

— aura (@aurahack) April 12, 2017
Brianna Wu is starting a swedish death metal band. https://t.co/kgk8elrc56

— Liam Pendergast (@neonwhite900) April 12, 2017
— Pimpnasty McMotherfucker (@Good_Guy69) April 12, 2017
The savage roast-a-thon seems to have begun when Zack Parsons, a Something Awful writer and centerpiece of Weird Twitter, retweeted the logo:
holy shit aaaahhha https://t.co/vLvBVbkC1z

— Goop Labs Escapee (@sexyfacts4u) April 12, 2017
The sick burns aren't coming from Gamergaters, the group of misogynistic gamers and 4chan denizens that's been harassing and threatening Wu since she stood up to them in 2014. They're mostly coming from the segment of Weird Twitter that's best equipped to spend dozens of tweets comedically trashing a design on aesthetic grounds.
It's reminiscent of the time Something Awful veterans Jon "Fart" Hendren and David "Arr" Thorpe got into a Twitter feud over Hendren's monumentally ugly sneakers. The Comedy Roast of Fart's Shoes went on in earnest for eight months and is still occasionally revived when someone remembers how funny it was.
Well, Wu's logo is now getting the same treatment as those hideous leopard-print Vans. It's what Twitter does best.
I can't believe this is going to be Brianna Wu's official campaign logo pic.twitter.com/ETI0PePREM

— Maryland Man Son (@fearwig) April 12, 2017
And they're not letting up:
Designed a better logo for Brianna Wu. The backwards-facing R represents the lessons we've learned from the past. pic.twitter.com/lxLL8b0Dqu

— big time dumb ass (@boring_as_heck) April 12, 2017
https://twitter.com/ali_west/status/852211791954419713
— K. Thor Jensen (@kthorjensen) April 12, 2017
i'm sorry this is actually fucking killing me pic.twitter.com/IO928SQTAL

— chris person (@Papapishu) April 12, 2017
Wu hasn't commented on the buzz around her potential logo, but she did delete the tweet Wednesday afternoon. She also posted this reply to someone who gently suggested it could be more legible:
The odds of using it are very low for that reason.

— Brianna Wu (@BriannaWu) April 12, 2017
It's not a total waste if she doesn't use it. A whole bunch of clowns on Twitter already have.