Comments from the CEO of Goya Foods Robert Unanue have spurred a boycott of the company's products.
Unanue made comments in support of President Donald Trump at the Rose Garden Thursday. Noting that his business is the largest Hispanic-owned food company in America, the CEO praised the president for his abilities as "a builder."
"We're all truly blessed at the same time to have a leader like President Trump who is a builder, and that's what my grandfather did. He came to this country to build, to grow, to prosper," Unanue said. "And so we have an incredible builder, and we pray for our leadership, our president, and we pray for our country that we will continue to prosper and to grow."
Unanue's words, intended as praise of the president's executive order pledging to improve Hispanic Americans' educational and economic access, soon prompted a new trend on Twitter. Within hours after his comments, both #Goya and #BoycottGoya were trending, along with #Goyaway.
The company's customer base slammed Unanue for his praise of the president. Noting Trump's history of damaging rhetoric and policies when it comes to the Latinx community, people took to Twitter to drag Unanue and announce their intent to boycott his business. A few high-level U.S. politicians even joined in. Rep. Alexandria Ocasio-Cortez (D-N.Y.) was quick to add her thoughts to the discussion.
"Oh look, it's the sound of me Googling 'how to make your own Adobo,'" she wrote.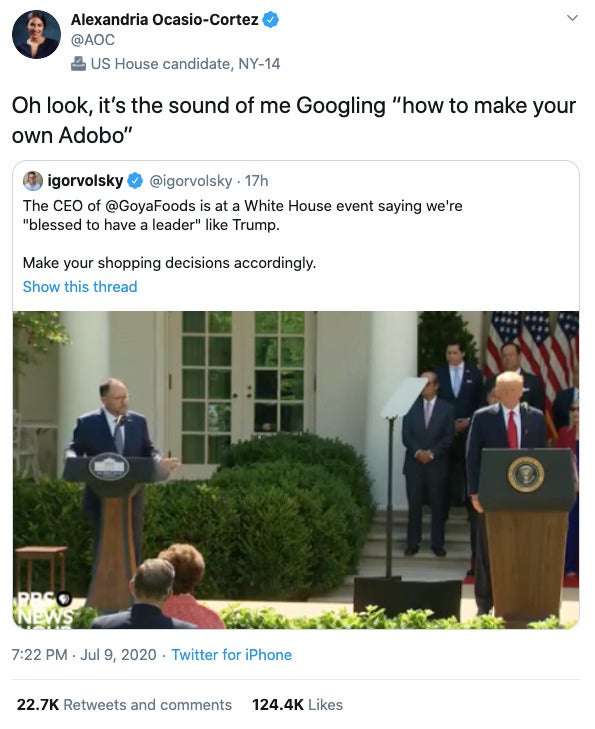 Chrissy Teigen, who is also known for her cookbooks and cooking website, weighed in as well. She called Unanue's comments "a shame."
Boycotters emphasized the fact that the majority of Goya's customer base is Latinx. Trump's history with the Hispanic community—including calling Mexicans "rapists" and "criminals"—has been an argument in favor of the boycott.
"Don't buy @GoyaFoods, it tastes like white supremacy," one commenter wrote.
While many people were hurling insults and announcing their new shopping destinations, some users turned their focus elsewhere. Dozens of tweets reveal users seeking new recipes in an effort to side-step the need for a Goya purchase.
"This news about the Goya CEO got me on Pinterest looking up how to make sazón," one user wrote.
Thankfully, their calls are being answered by other users. Recipes are cropping up all over Twitter in response to the boycott. Now, you can make a "racism or bigotry" free batch of sazón all on your own. Or, for those merely looking for an alternative product, users are also sharing brands that have not voiced support for Trump.
While hundreds of people piled onto the Goya hate train, hundreds more stood in defense of the company. A responding horde began tweeting out their support of the "patriotic" company, promising to negate the actions of the boycotters.
Again, U.S. politicians added fuel to the fire. Even former Arkansas Governor Mike Huckabee weighed in.
"Petulant leftist cry-babies call for boycott. I'll now buy massive amounts of Goya beans," the 64-year-old politician wrote. "Goya told @realDonaldTrump they'll give 1million cans to hungry/homeless. Cancel-culture leftists don't need beans. Their speeches & whining already produce all the gas the planet can take."
Many people are calling on Goya to fire Unanue. To do otherwise, according to many boycotters, would be "brand suicide."
READ MORE: