Billie Eilish released a video slamming body-shamers, and now people are sharing their own body-positive messages on social media.
The "bad guy" singer uploaded a video late Tuesday titled "Not My Responsibility." In it, she's seen slowly taking off her jack and shirt. As she does that, she discusses people judging her appearance.
"The body I was born with is it not what you wanted?" she said in the video. "Is my value based only on your perception, or is your opinion of me not my responsibility?"
In the video, Eilish discusses sexism and body-shaming. She points out that she gets heat for "not being a woman" when she's wearing loose and baggy clothes, but if she wears tight clothes, people start calling her a "slut."
Following the video's release, teens took to Twitter to share pictures and thoughts with the hashtag #notmyresponsibility.
Some people are using the hashtag to share full-bodied photos that they said they don't normally post.
"I've never posted full body pics before because I'm still insecure about it, but f*ck it," one Twitter user wrote.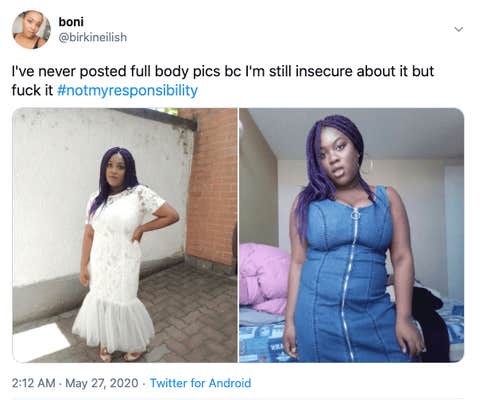 Other teens on Twitter identified with the part about clothing choice. Some teens used it to clap back at people judging them for ethnic and cultural clothing, while others used it to discuss wearing clothes outside of gender norms.
"If I wear what is comfortable, I am not a woman?" one Twitter user questioned alongside a photo of her in a jean jacket over a black sweatshirt.
But more than anything people are posting pictures of themselves alongside lyrics from Eilish's video to stand up to body-shamers. They're also using the hashtag to post parts of their bodies that have been shamed others.
"We make assumptions about people based on their size," a Twitter user tweeted alongside photos of herself. "We decide who they are, what they're worth. Or is your opinion of me #notmyresponsibility."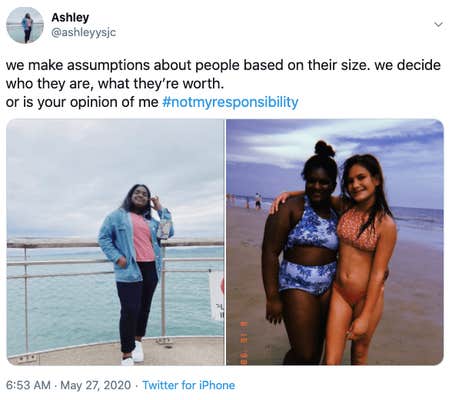 The video is from a speech she delivered back in early March at her world tour kickoff.
Time and time again, the 18-year-old singer said she's had to defend her baggy clothing choices, which she said she wears to avoid being sexualized. In the video, she said that she has realized that people's opinions are no longer her "responsibility."
"So while I feel your stares, your disapproval or your sighs of relief, if I lived by them, I'd never be able to move," she said.
READ MORE: