Despite being known for a wonderful rapport with fans, 18-year-old Eilish has recently been called out for her rudeness in public. Several YouTube videos claim that, after being spotted in public, the Grammy-winner was rude and unresponsive to fans.
But those videos are fake.
YouTube is littered with videos of impersonators donning Eilish's instantly recognizable look and attempting to trick fans, and Eilish is not having it. She is calling out the impersonators and asking them to stop.
Eilish took to Instagram to plead with the impersonators. "Please stop doing this shit," she wrote on her Instagram story this week. "It is not safe for you and it is mean to the people who don't know any better. You make me look bad."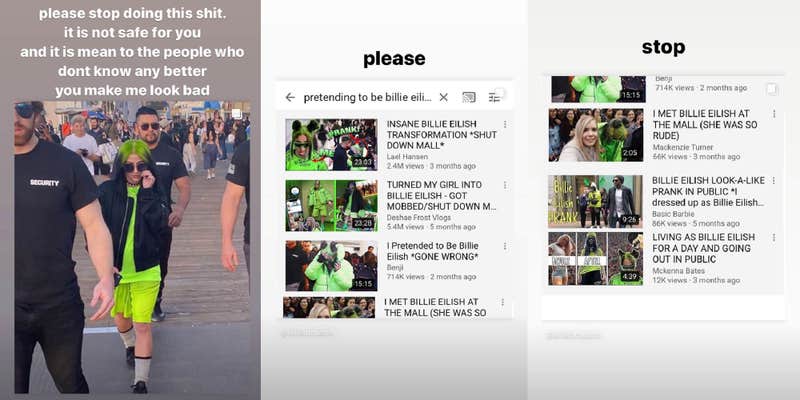 Imitation may be the sincerest form of flattery, but Eilish isn't wrong. For one thing, as you can see in several of the YouTube videos, the prank really does have the potential to be unsafe. Throngs of people quickly flock to anyone they suspect may be Eilish, and without a real security retinue, things could get dangerous.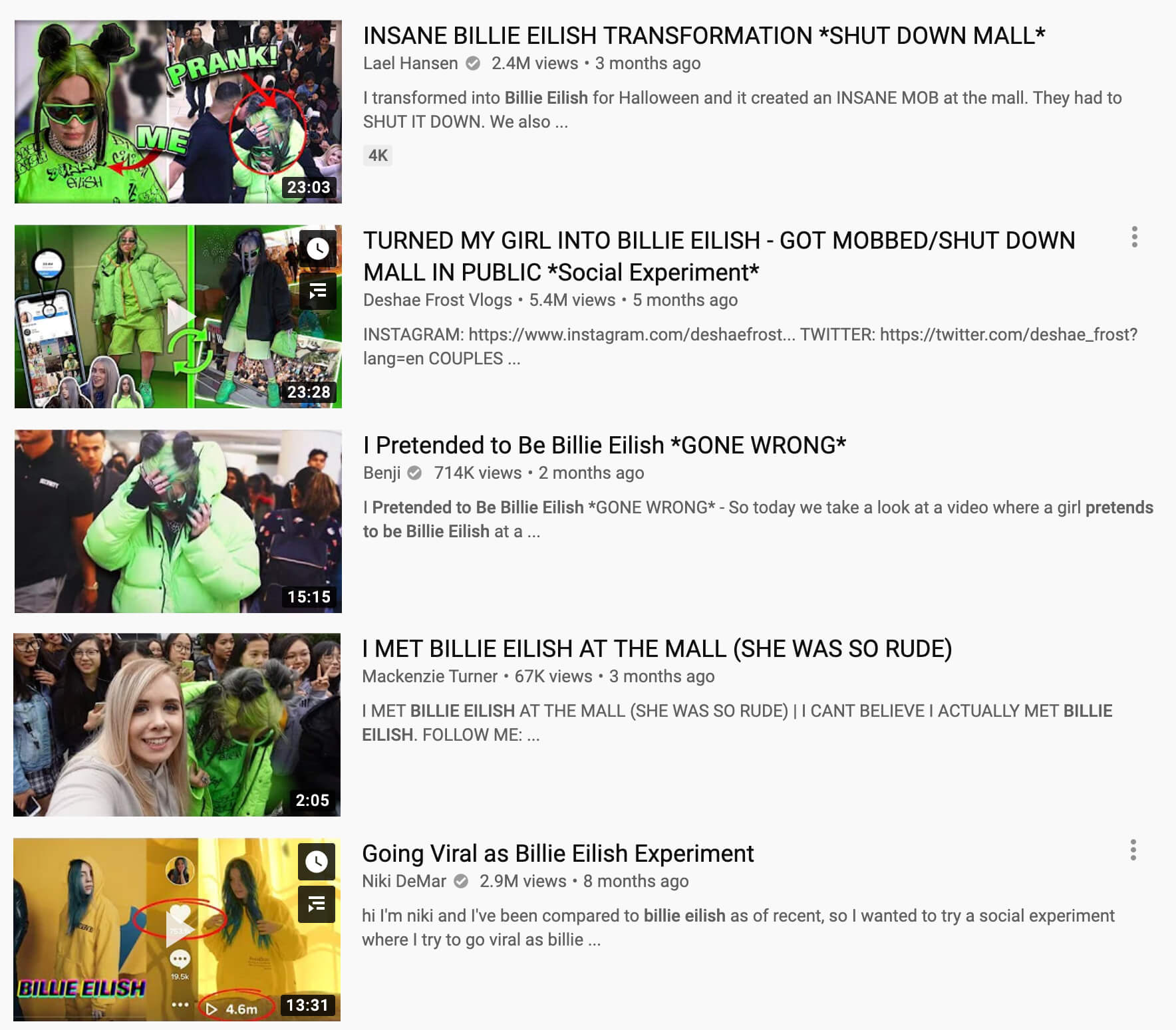 To top it off, some of the impersonators are being rude to Eilish fans. This, and a pair of unassuming grey socks, appear to be the most offensive aspects of the ruse for Eilish. The "Bad Guy" singer has a reputation for friendliness among her fans, so anyone sullying that is sure to get on her bad side. To top it off, Eilish's fashion-sense—unique though it may be—is a big part of her brand, and one impersonator's poor imitation caught the singer's attention.
"Also soooo disrespectful that you'd go out pretending to be me wearing THIS," she joked.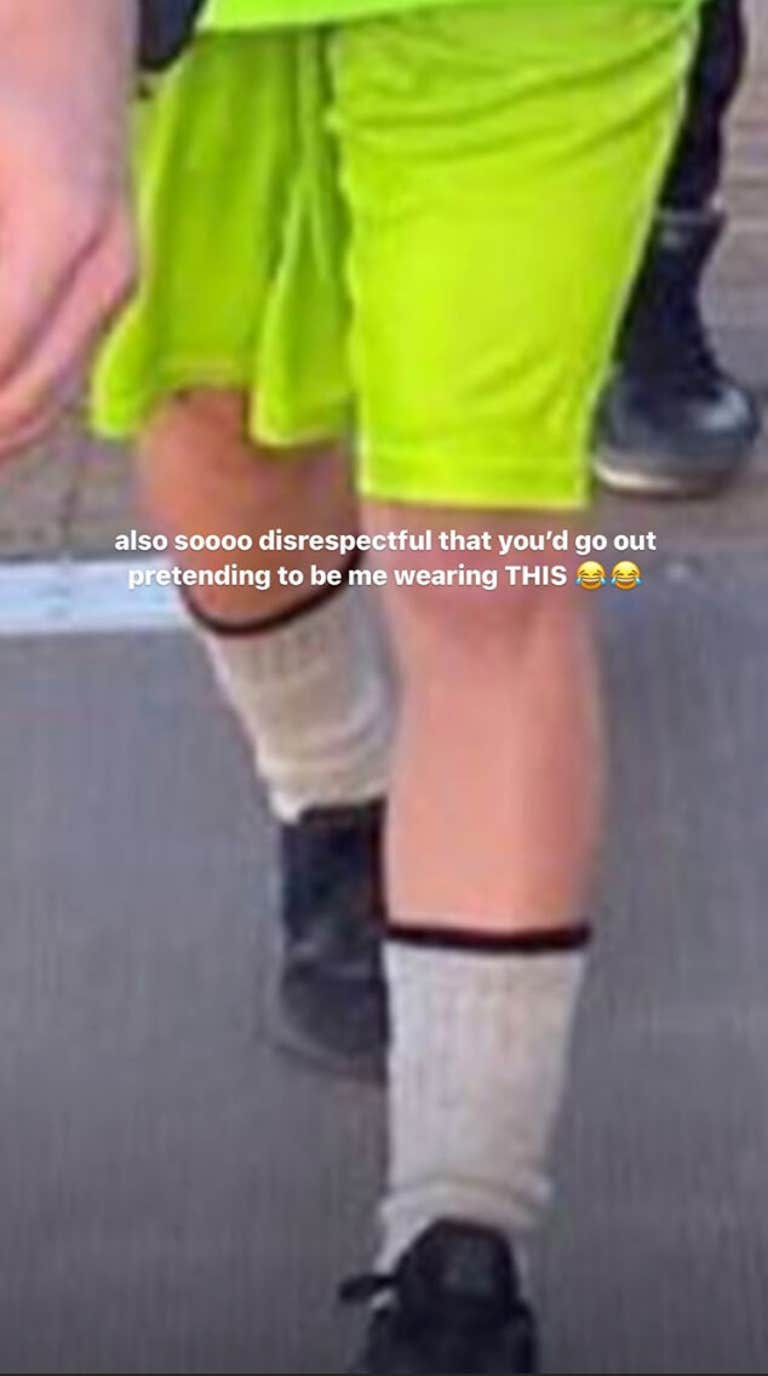 This offending YouTuber, Jordan Matter, immediately removed the video featuring the grey-sock adorned imitator following Eilish's request. In a post to Instagram this week, he apologized.
"I gathered a crowd and had an acrobat pretending to be Billie do a huge cheer flip, which revealed it was not Billie," Matter wrote. "I had absolutely no intention of disrespecting Billie. I'm a big fan, like everyone else… I felt it was completely harmless since at no time in the video are we pretending that she is actually Billie. I have reached out directly to Billie and Maggie and apologized, and I will not post the video without their permission."
Though the video has been removed from YouTube, Matter posted his explanation alongside a photo of the acrobatics. "I am posting the photo to show everyone what we were doing," he noted, after commenters criticized him. "Once again, I'm not pretending this is Bille. That was not the intention."
Much of Eilish's criticism seemed to be in jest. While her warnings about safety—and hurting her reputation—are seemingly real, she likely doesn't mind those grey socks as much.
READ MORE:
H/T E Online