More than a half hour had gone by and all Rachel had discovered was that her gift giver was named Bill, he liked packing peanuts, and he apparently thought she liked cow stuffed animals.
"I had this whole image of this poor guy named Bill trying to navigate my wishlist full of makeup, nailpolish, glittery things to buy me," Rachel wrote on Reddit. "Quite frankly I felt bad for this 'Bill' since I'm a self identified pain in the ass to shop for."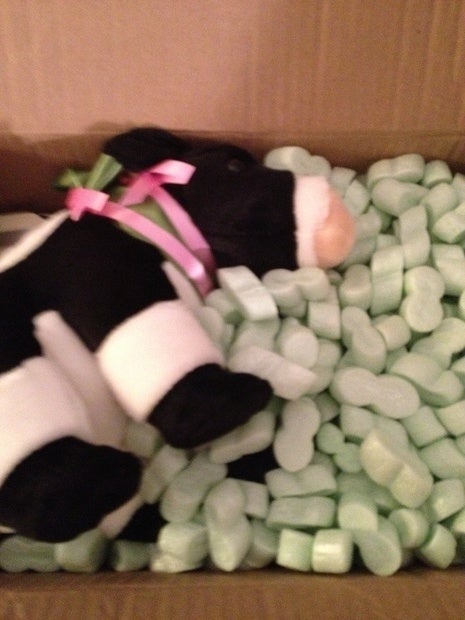 It was only after Rachel opened the card that she discovered that Bill wasn't just some zit faced redditor trying to pull one over on her.
It was Bill Gates.
The cow was a symbol for a donation he had made on Rachel's behalf to Heifer International, a charity that "gives families in need the right tools—such as animals, seeds, clean water, safe stoves or a chance for girls to go to school."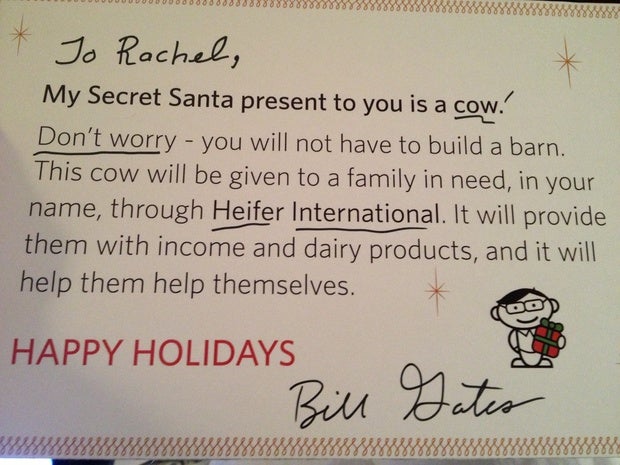 Also included in the package was National Geographic's Journeys of a Lifetime, a book with 500 can't miss trips.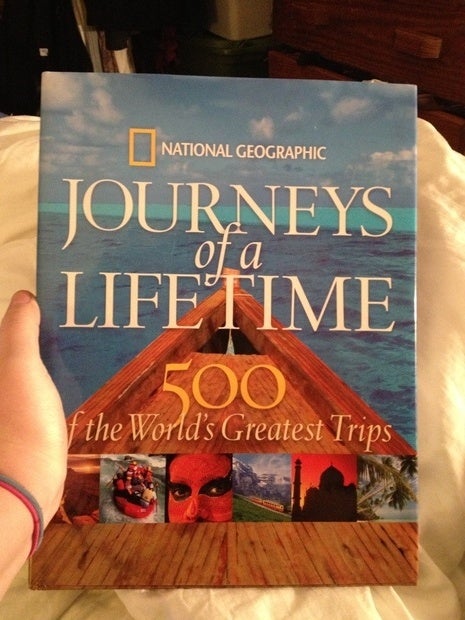 "Never in my entire life did I imagine, ever, ever, ever that Bill would get me," Rachel added. "I am SO SO thankful for the time, thought and energy he put into my gift, and especially thankful for him over-nighting it."
Although not many people have had the unbridled joy of receiving a gift from one of the most wealthy and altruistic people on earth, Reddit's Guinness World Record setting Secret Santa gift exchange has made plenty of people smile.
Last Christmas Rose Cahalan's life was changed after her gift giver gave her a month of Reddit gold, a Reddit alien ornament, and a brand new MacBook Air worth more than $1,000.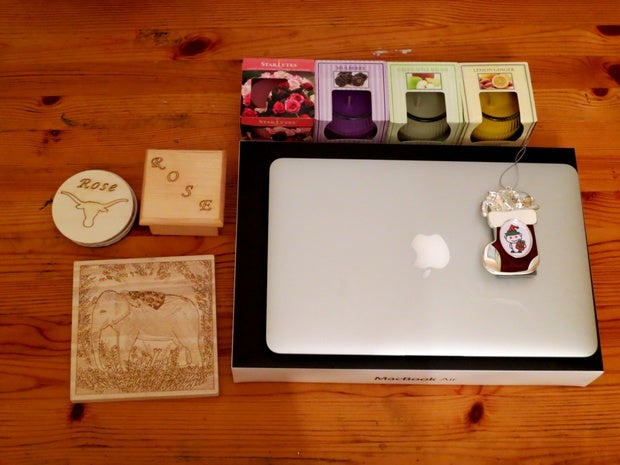 "When I opened the package, my guess was that it would be an iPad," Cahalan told the Daily Dot. "A Macbook Air was way better, though. There's something surreal about a random stranger being so thoughtful."
In 2012, Reddit Gifts had 44,805 people participate in Secret Santa. This year the company hopes to break that record once again.
Photos via Rachel