With the World Cup less than 40 days away, it's a critical month for players breaking their backs to make national team rosters, while avoiding injury, and simultaneously earning paydays with needle-twitching touches.
The club soccer calendar mirrors the American school year's—late August to mid-May. In the world's most competitive leagues, the points race for hardware is in the home stretch. The English Premier League and Spain's La Liga will come down to the end (May 11 for the EPL, May 18 for La Liga), while Germany's Bundesliga and Italy's Serie A have been settled by Bayern Munich and Juventus, respectively. The Copa Libertadores is down to the quarters. Liga MX is down to the semifinals.
Fasten your seatbelt and scour local listings for fringe channels—the goals are coming. To the week's finest.
1) Cristiano Ronaldo of Real Madrid vs. Valencia, La Liga, May 4
Real Madrid had a fine week, dispatching Bayern Munich in the Champions League semis and coming into its own as an expensive collection of mercenaries. Real, unfortunately, has a perpetual pebble in its shoe: crosstown rivals Atletico Madrid. It's a rivalry that's never been bigger. Atletico and Real will meet May 24 in Lisbon for the Champions League title, and domestically, they're tangled in a two-club race for the La Liga crown. Real underperformed Sunday, and it took a Ronaldo stoppage time karate kick to keep Real's title hopes alive.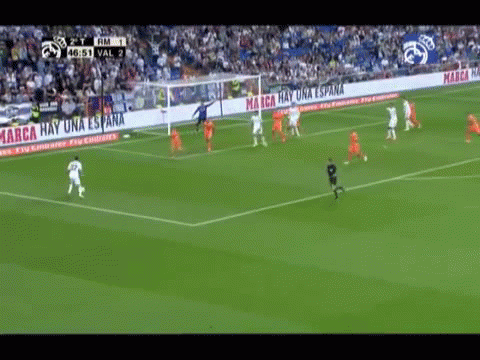 Off the field, regrettably, it's becoming harder and harder to ignore the rampant racism that plagues La Liga. Make no mistake: It's one of the world's most renown leagues, and it fields three of the 10 best clubs on earth. But as world soccer's sun sets on Madrid this month, its fans continue to display unacceptable and racist behavior. From Sunday's Atletico Madrid home loss:
2) Mikel San Jose of Athletic Bilbao vs. Rayo Vallecano, La Liga, May 2
Pretty much the same play as Ronaldo's but with decidedly lower stakes. A hearty round of applause is still in order.
3) Yoshohito Fujita of Yokohama F. Marinos vs. Gamba Osaka,  J. League Division 1, May 2
In Japan's  J. League Division 1, Fujita turned heads with a cold-hearted back heel volley that snaked through traffic like a moped. The great strikers unearth paths to the net.
4) Raul Bobadilla of Augsburg vs. Braunschweig, German Bundesliga, May 4
How about a parachuting game-winner with all the fixins?
5) Raul Jimenez of Club America vs. Santos Laguna, Liga MX Quarterfinals Leg 1, April 30
Santos and America played the most entertaining series of the Liga MX's postseason, running up a 6-6 aggregate tab across two games. Santos advances on away goals, but America's Jimenez did his part—putting up a Game 1 hat trick to keep pace. For his third goal, Jimenez overruns his target, turns his back to the goal, flicks it in.
6) Troy Deeney of Watford vs. Charlton Athletic, English Championship, April 29
After a nifty touch and volley, Deeney shoots from deep and no one can get to it.
7) Nicolas Olivera of Defensor Sporting vs. The Strongest, Copa Libertadores Sweet 16 Leg 2, April 29
Olivera's second goal would complete a comeback from a 2-0 deficit. It takes a dash of special sauce to strike so thunderously off a pass without first making a play on the ball.
8) Zoran Tosic of CSKA Moscow vs. FK Amkar Perm', Russian Premier League, May 2
These lonely teardrop, sweet free kicks are stunning. Tosic's took his club to a  3-1 victory.
9) Christian Lara of Deportivo Quito vs. El Nacional, Ecuadorian Primera A, May 2
Big free kicks and securing wins—that's what the Ecuadorian Primera A does. 
10) Jorge Correa of Velez Sarsfield vs. Nacional Asuncion, Copa Libertadores Sweet 16 Leg 2, April 29
The ball falls right to Correa who blasts it, corner pocket, for 2-1 advantage in 85th minute. It'd be too little, too late as Paraguay's Nacional Asuncion edged out the two-leg series. You want a fun Cinderella to follow, pick Nacional and its 4,500-capacity home stadium.
Ramon Ramirez is one half of the International Player's Anthem soccer podcast.
Photo by Jan S0L0/Flickr (CC BY-SA 2.0)