Over the course of the 2016 primary and election, the world came to know "Bernie bros," or male supporters of Sen. Bernie Sanders' (I-Vt.) insurgent bid for the Democratic primary.
Sanders lost the nomination to Hillary Clinton, and when Clinton lost to Trump, his supporters became one of many scapegoats for the results.
Years later, they've become digital baba yagas for centrists, online monsters hellbent on sinking even any discourse about Democratic candidates who aren't Sanders. They've been accused in the past of wielding misogyny and crude language, but it appears with everything at stake in 2020, they are trying an even more intense tactic.
Calling someone a "Wine mom."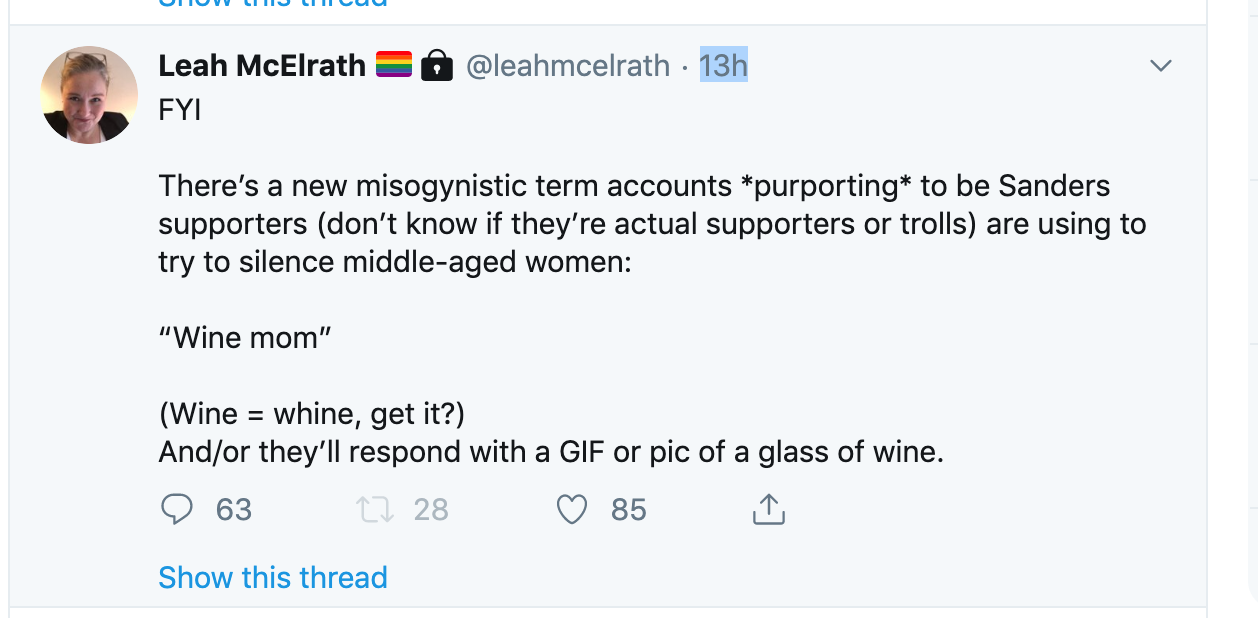 That comes from extremely online and centrist political commentator Leah McElrath, who says that being dubbed a "wine mom" is now a derogatory political slur.
"FYI," she wrote. "There's a new misogynistic term accounts *purporting* to be Sanders supporters (don't know if they're actual supporters or trolls) are using to try to silence middle-aged women: 'Wine mom.' (Wine = whine, get it?)"
But "wine mom" has been a popular phrase in the cultural lexicon for nearly a decade. It's not born out of politics, but referring to a caricature of a boozy, somewhat carefree lady who enjoys an oaky chardonnay at the end of the day and makes the consumption of that alcohol part of her brand.
It has nothing to do with complaining and is as much of a slur as referring to a guy who buys shoes with a thick sole as "dad."
A search for recent tweets does show an ongoing conversation about "wine moms" and politics, but not necessarily from Sanders supporters.
TIRED: It's good to scrutinize middle-aged armchair activists who only want Trump out of office and no actual societal change

WIRED: Wine Mom is a slur

— Julius (@nuclear_iceland) August 14, 2019
For her part, McElrath is responsible for one of the most wine mom moves in Twitter history, when she went viral in November for graphically describing what she thought sex with Beto O'Rourke would be like. He makes you "cum until your calves cramp," she tweeted at 10pm one night.
McElrath went on to insist that although everyone was telling her she didn't know what a wine mom was, she was right and they were wrong.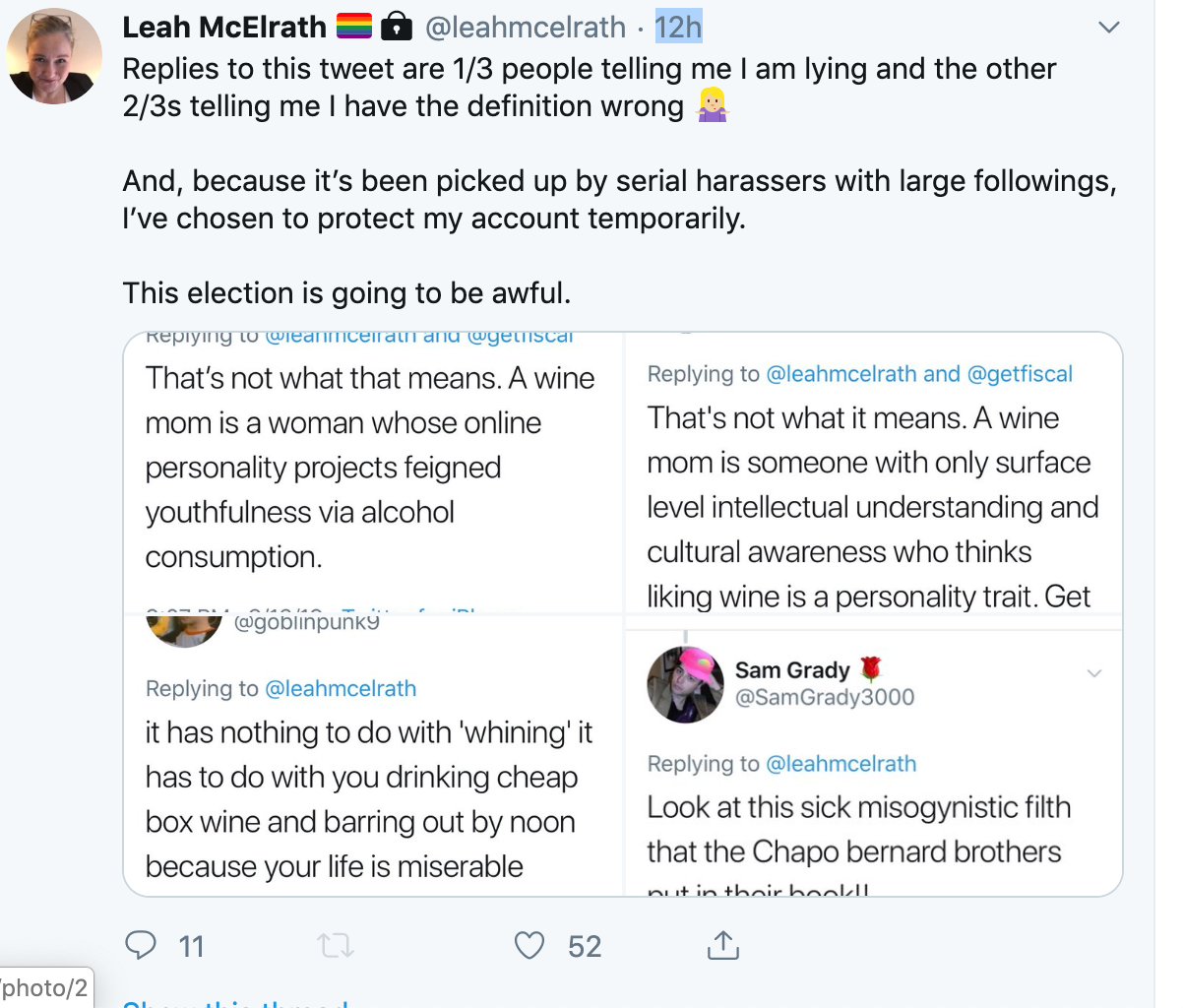 If two-thirds of your followers are saying you got the definition wrong,  it's possible you did.
Or maybe wine moms are the new NASCAR dads?
READ MORE
Got five minutes? We'd love to hear from you. Help shape our journalism and be entered to win an Amazon gift card by filling out our 2019 reader survey.