Tech

Tech

The gadgets, platforms, and software that make your digital life possible. If it bleeps, clicks or blinks, you'll find it here.

Internet Culture

Internet Culture

There's a community for everyone online.

Streaming

Streaming

News, reviews, and guides for the world of online entertainment.
When scattering grandma's ashes doesn't go quite as planned
Scattering grandma's ashes probably shouldn't be this fun.
People react differently to losing a loved one. The crazy stir of emotions can lead to crying for sure, but if you've ever found yourself laughing at a funeral, you're far from alone. It's like Dolly Parton said in Steel Magnolias. "Laughter thorough tears in my favorite emotion."
Besides, sometimes the situation is just too funny to hold it in. Like this story from writer Mitch Feltscheer, who tried his best to keep a straight face while his family scattered his grandmother's ashes.
The hardest I've ever laughed in my entire life was a few years ago at my grandma's ashes scattering ceremony. A Thread:

— Mitch Feltscheer (@mitchfel) May 29, 2018
So a year to the day after her funeral the extended Feltscheer family gathered at her favourite spot in the world, with the idea being every one would take some of grandma's ashes and find a place to have a private moment of reflection and scatter her.

— Mitch Feltscheer (@mitchfel) May 29, 2018
Sounds kind of nice right?
Or as my dad (who was inexplicably in charge of proceedings) described it "everyone grabs a placcy cup and a scoop of grandma and you can go chuck her wherever you want".

— Mitch Feltscheer (@mitchfel) May 29, 2018
Well, that's blunt, but not untrue.
Grandma's favourite spot by the way, was a clearing atop a headland overlooking beachside cliffs and like literally every other day ever, it was insanely windy up there.

— Mitch Feltscheer (@mitchfel) May 29, 2018
I'm talking borderline cyclonic, like, you couldn't even crack open her urn without a bit of grandma escaping and flitting straight into the nearest cousin's face.

— Mitch Feltscheer (@mitchfel) May 29, 2018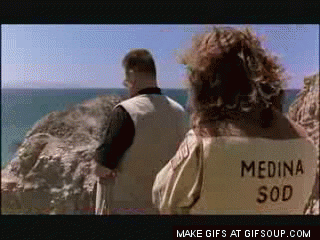 Luckily there was a plan B.
A new plan was quickly hatched. We'd somehow traverse the cliff face to get down to sea level where it would hopefully be less windy and dad would wade out a few metres and scatter her in the water as we'd watch. Easy.

— Mitch Feltscheer (@mitchfel) May 29, 2018
After the task of getting a couple of 50 year-old aunties in heels down a steep path (fun!), we gathered in the winter sun and Dad hitched up his pants and awkwardly hobbled out into the sea.

— Mitch Feltscheer (@mitchfel) May 29, 2018
Despite the setbacks so far, at this point it was looking like we'd actually salvaged the whole event and we held eachother and looked on as dad yelled back "HERE WE GO!" opening the urn to a sudden explosive gust of wind, ejecting grandma into the air like a firework.

— Mitch Feltscheer (@mitchfel) May 29, 2018
They don't just churn through grandmas ashes, they literally chuck a hard turn right in the middle of her, shooting grandma-soup up into the air. I'm pretty sure an aunty literally clutched her pearls.

— Mitch Feltscheer (@mitchfel) May 29, 2018
My brothers and I are in physical agony trying not to laugh at this point, as dad comes ambling back to the shore to a dozen or so silent Feltscheers trying to comprehend what just happened.

— Mitch Feltscheer (@mitchfel) May 29, 2018
Dad pauses and turns back to the sea. He puts his hands on his hips and with an utterly straight face sighs melancholically and says "Well. She always loved jetskis".

— Mitch Feltscheer (@mitchfel) May 29, 2018
And thats how I ended up sprawled on the sand on a Sunday morning, clutching my sides laughing as my dead grandma's ashes get churned out the back of a jetski. FIN.

— Mitch Feltscheer (@mitchfel) May 29, 2018
Twitter loved the story, and the initial tweet has liked over seven thousand times.
OMG I'm crying! Absolutely hilarious. Rest well Grandma xx

— Ry Lisson (@RyLisson) May 29, 2018
https://twitter.com/bensherman72/status/1001721661610233857
I haven't laughed that hard in ages. Thank you, your Grandma, and your Dad.

— Meaningful Bling (@MeaningfulB) May 30, 2018
And a few people decided to use the opportunity to share some ash-scattering stories of their own.
When we scattered my mom's ashes in the Atlantic, my 9 year old nephew was there, flinging his cup of ashes into the wind. He came running back to my Dad and asked, "Can I have some more?" Our own Oliver Twist.

— jaynemorgan (@jemknox) May 30, 2018
A friend of mine wanted to scatter his late grandma's ashes on a local pond which was a favourite spot of hers. All was going beautifully until the moment the ashes were scattered, landing delicately on the water, only for a family of ducks to charge over and eat them.

— Brian Aris (@brianjaris) May 30, 2018
One woman thought to ask if the Grandmother did, in fact, love Jet Skis.
https://twitter.com/katsterevin/status/1001724768893235200
Unfortunately, the answer seems to be "no".
I don't think she would've even known what a jetski was tbh...

— Mitch Feltscheer (@mitchfel) May 30, 2018
Well, it's nice she got to ride one at the end of her long journey. Congrats Grandma on taking a Jet Ski into heaven. We're sure Saint Peter was impressed when you showed up.
David Britton is a writer and comedian based in Rhinebeck, New York who focuses on internet culture, memes, and viral news stories. He also writes for the Hard Times and is the creator of StoriesAboutWizards.com.
© The Daily Dot, all rights reserved.
Represented by Complex Media, Inc. for advertising sales.