It's enough to drive music fans/armchair physicist mad. How exactly is Ariana Grande balancing on that stool in that pose?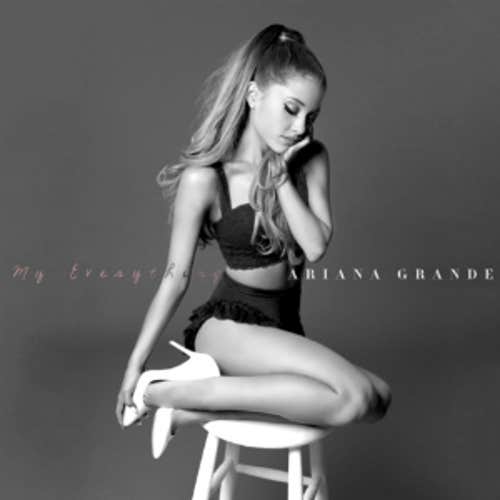 The photo comes from her 2014 album My Everything ,and even though it's over three years old now, BuzzFeed writer Jesse McLaren ignited a small storm on Twitter when he stated that the cover was somehow fake.
I've done the research and there's no way her ass is sitting on that stool. pic.twitter.com/AIGNpcJn6G

— Jesse McLaren (@McJesse) October 15, 2017
Clearly, people weren't just going to let such a statement stand. McLaren had issued a challenge, and Twitter loves a good challenge.
They began by questioning his scientific method.
You're only seeing one photo of an album

— Jesse McLaren (@McJesse) October 15, 2017
Nice try. pic.twitter.com/suAW82a8Q9

— Jesse McLaren (@McJesse) October 15, 2017
For what it's worth, Olympic gold medalist Gabby Douglas weighed in, and although, as a gymnast, she probably could have put this argument to bed instantly, she chose to react solely to McLaren's hairdo.
NOOO… I'm donneeee

— Gabby Douglas (@gabrielledoug) October 16, 2017
That's it. She just popped in and left. No talk about the benefits of core strength and how it relates to balance or anything. Let that be a lesson to all of us. When Gabby Douglas says "I'm doneeee," she means it.
That left the photo defenders no choice but to recreate the album cover themselves.
hard to control for variables like stool size but i think it's real pic.twitter.com/gWMKgC5gvW

— Michael Gregory from the Schmoyoho Cinematic Unive (@schmoyoho) October 17, 2017
https://twitter.com/Slhut/status/919995380938391552
It's a bit beside the point, but "I strive for perfectionist" might be the best sentence anyone has ever typed into a computer.
It's just too bad Grande herself never saw the tweet and reacted to it so we could know the truth… oh wait she totally did.
next week on mythbusters https://t.co/1tgyXtfyC6

— Ariana Grande (@ArianaGrande) October 16, 2017
She just didn't resolve anything.
It turns out that might be because she's not sure herself. As one intrepid tweeter noted, Grande already addressed this issue on Alan Carr's show not long after the album first came out.
https://twitter.com/ariftlou/status/920052224113496064
That's right. It turns out Grande herself has no idea how she pulled off such an amazing feat of acrobatics. It's just another pop music mystery, like how Lemonade didn't win best album or T. Rex isn't in the Rock and Roll Hall of Fame. Some things can just never be explained.
H/T Billboard